One of the greatest players that hockey has ever seen, Jaromir Jagr, is presently 45 years old. There is a great deal of speculation—possibly too much—about where he will be playing for his 28th professional season (at the time of writing this). Certainly, there have been aged talents like Jagr before. "Mr. Hockey," Gordie Howe, played his final NHL season at the age of 52. Not so long ago, Hall-of-Fame defenseman Chris Chelios finally retired from the game at 48. A handful of other greats played into their 40s too.
But one of the finest performances of a hockey player in his twilight years came from Detroit Red Wings legend Alex Delvecchio. Few players over 40 ever put together as strong a year as he did during the 1972-73 NHL season.
Delvecchio's History as a Red Wing
Let's set the stage first for this discussion.
Few players mean more to the history of the Detroit Red Wings than Delvecchio. Howe most assuredly is at the top of the list. Steve Yzerman would likely be second. After that, Delvecchio is certainly within the top five, perhaps along with Nicklas Lidstrom and Terry Sawchuk.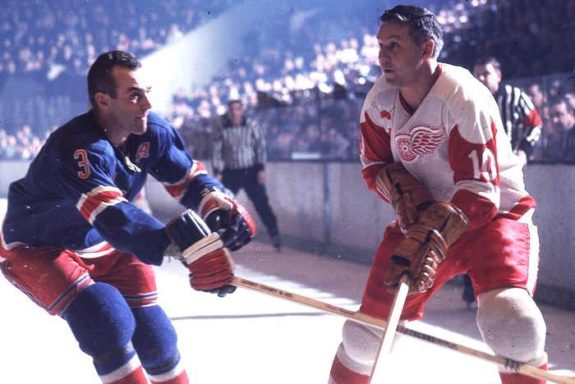 Only Howe and Lidstrom played more games for Detroit than Delvecchio did. The sleek centerman nicknamed "Fats" played his entire career with the Red Wings. That career spans from the 1950-51 season until the 1973-74 season when Delvecchio stepped off the ice for good and assumed the coaching duties after playing in 11 games his final year.
In his 24 seasons with Detroit, Delvecchio played 1,549 games. He scored 456 goals, 825 assists and 1,281 points. His almost unbelievable, minuscule 383 penalty minutes in over 1,500 games played saw Delvecchio receive the Lady Byng Trophy three times for his sportsmanship and dedication.
Most importantly, Delvecchio helped the Red Wings win three Stanley Cup championships.
Time Spent On "The Production Line"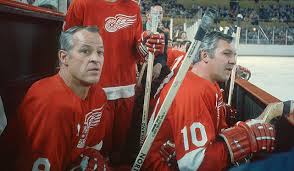 After the original center on the fabled line, Sid Abel, was sent to the Chicago Blackhawks in a trade, Delvecchio centered one of the greatest forward lines in hockey history. With Howe on the right side and "Terrible" Ted Lindsay on the left, the trio was known as "The Production Line". In their first full season as a unit—1952-53—the trio finished in the top five scorers in the league: Howe first with 95 points, Lindsay second at 71, and Delvecchio tied at fourth overall with 59 points. They would play five straight seasons together before Lindsay was shipped to Chicago. They would be briefly reunited for the 1964-65 season when Lindsay came out of retirement to play another season with the "Winged Wheels".
Delvecchio and his two linemates brought the Cup to "Motown" in 1952, 1954 and 1955. In the Stanley Cup Finals for each of those Cup runs Delvecchio was at his finest. Though officially a rookie for the 1952 championship, he still played in all four games of the Final against the Montreal Canadiens. He would have a lone assist in the four games while Detroit goaltender Terry Sawchuk stood on his head and allowed a mere two goals all series long.
The Back-To-Back Cups of '54 and '55
The next two Cups that were won back-to-back seemingly belonged to Delvecchio in many ways, or at least placed him at the forefront. For the '54 Cup, he led the Red Wings in scoring for the Final. In the epic seven-game finale against the Habs, Delvecchio commandeered victory with two goals and four assists in the Final alone. He and Howe would tie for the team lead in postseason scoring with nine points apiece.
The '55 trophy would be the last Detroit would win until 1997. Once again Delvecchio and the Wings would have to take Montreal to a full seven games to get the victory. He would finish with 10 points in the Finals behind Howe's 12 and Lindsay's 11, but would lead the way with six goals in that final round.
Coinciding with those Cup victories, Delvecchio was an All-Star 13 times. That includes seven consecutive selections from 1953 until 1959. Suffice it to say, Detroit became well-accustomed to its star center's many successes.
A Silver-Haired Legend
Fast-forward ahead to the 1972-73 NHL season. Delvecchio turned 41-years-old December of 1972. His slicked, silver hair made him look a bit older than what he really was, even though he was one of the league's elder statesmen anyway; he was seemingly a father figure in both appearance and in experience. Perhaps especially for Red Wings youngsters like Marcel Dionne, Henry Boucha and Mickey Redmond. Delvecchio was also the team captain, a position he had held for over a decade after having received the honor in 1962.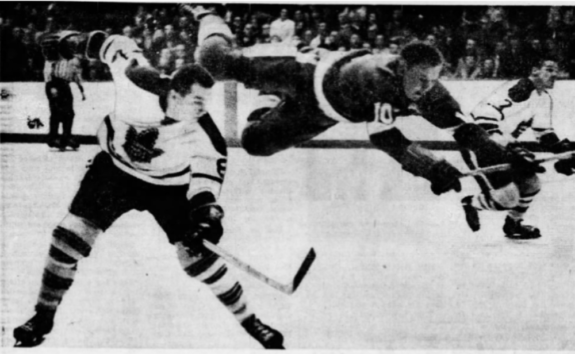 One would think that after having played for as long as Delvecchio had at the time, his skills would have diminished. That perhaps Detroit was stringing along the hero to keep fans in the stands and have a player whose mere appearance harkened back to the glory days. Delvecchio's performance in 1972-73 would blow any notion like that straight out of the water.
Putting the Point Totals Into Perspective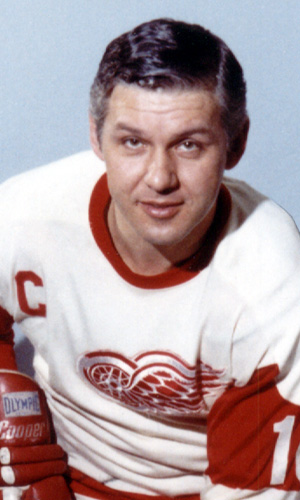 At 41, Delvecchio finished third on the team in scoring behind Redmond and Dionne with 71 points. For a player who scored over 1,200 points in his NHL career, those 71 tallies were his second-highest point total for a season in his entire career. Let that sink in for a moment.
His 53 assists tied him for the 12th-highest in the entire league that year with Jean Ratelle and Johnny Bucyk. They as well were the second-highest assist total of his 24 seasons. Coming from a player who had produced a career total of 825, it is hard to fathom that he produced so well at such a late age.
Though 18 goals are slightly marginal, they are certainly a decent number for a player in his 40s. In fact, Delvecchio had scored fewer than 18 in a season six other times in his career. Therefore, it was not as if that goal total was paltry by his own standards.
The other important fact to realize is that Delvecchio was a major contributor for the Wings on a game-by-game basis that year. He played in multiple key games for Detroit and swayed plenty of outcomes. Some of his finest games in 1972-73 came against the most intimidating team in hockey, the Philadelphia Flyers. With the ferocious Dave "The Hammer" Schultz in his rookie season, it is interesting to see Delvecchio not be fazed by the now infamous tactics of the Flyers.
Alex Delvecchio – Finer Moments of 1972-73
We take a look now at some of Delvecchio's more memorable games from the '72-'73 NHL season:
Oct. 15, 1972: Delvecchio led the Red Wings to an 8-2 shellacking of the Los Angeles Kings. In the process, the 40-year-old scored a goal and three assists. Delvecchio set up the sixth goal of the game for Redmond, who was in the process of becoming the first Red Wing to score 50 goals in a season.
Nov. 25, 1972: On two shots Delvecchio scored two goals as Detroit downed Philadelphia's "Broad Street Bullies" by a score of 6-4. The sixth Red Wings goal was a Delvecchio empty-netter.
Dec. 20, 1972: Delvecchio, who had turned 41 earlier in the month, notched three assists in Detroit's 4-1 win over the Los Angeles Kings. This time, two were setups of Redmond markers.
Jan. 4, 1973: Notching his 10th goal of the season in a 4-2 victory over the Buffalo Sabres, Delvecchio got to double digits against much-maligned Buffalo goalie Norm "Rocky" Farr.
Feb. 14 – Feb. 22, 1973: Delvecchio and the Red Wings came away with ties four games in a row. With deadlocks against the Kings, California Golden Seals, Vancouver Canucks, and the Canadiens, Delvecchio had a goal and two assists in the four total games.
Feb. 28, 1973: In a fight-filled affair with the Flyers, Delvecchio help lead Detroit to a 6-5 victory at The Olympia with three assists. Delvecchio even set up the game-winner by Al Karlander.
March 25, 1973: In a wild 8-5 loss to the Golden Seals, Delvecchio scored his 17th and 18th goals of the season, and added an assist. He would only score one more goal in his NHL career, which would come in the 11 games he played in 1973-74.
Delvecchio's Performance Was One for the Ages
Alex Delvecchio put together one of the finest seasons of his 24-year career at the age of 41. It is one likely to give Jaromir Jagr a run for his money as he continues his own career as a 40-something. In fact, Delvecchio had more assists and more points than Jagr did when he was 41 (in 2013-14).
They do not make players like Delvecchio anymore. The man known as "Fats" is now 85 years old. Still a class act, he left the game as a player having assembled one final magical season. With the passing of so many hockey legends in recent years from his era—Howe, Jean Beliveau, Al Arbour, Marcel Pronovost, and now just days ago, Pierre Pilote— Delvecchio should be appreciated now more than ever. It is remarkable to contemplate what he accomplished.
* originally published in Sept. 2017
General Manager of the Buffalo Beauts (NWHL). Hockey history writer "The Hockey Writers". Credentialed media for the NHL Combine and 2018 IIHF World Junior Championships in Buffalo, NY, USA. Born and raised in Buffalo, NY. Lifelong hockey fan for over 40 years. Proponent of the women's game.