Jim Proudfoot of the Toronto Star, reporting from the World Hockey Championships in Yugoslavia, raises the possibility that the Soviet Union is in negotiations with the National Hockey League. The result could be games played between NHL and Russian teams.
Ahearne: 'Nothing We Can Do About It'
Proudfoot spoke to International Ice Hockey Federation president Bunny Ahearne about such a possibility. Ahearne says if the two sides want to get together for games, there isn't much that the IIHF can do about it.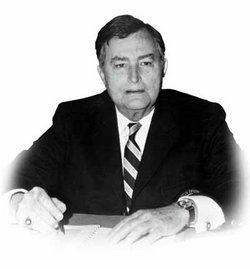 "If the Russians want to enter their first team in professional competition, there is nothing we can do about it. I can't imagine why they would want to play such a series, but if they do, let them hop to it.
"I don't think it's wise for the Russians to play professionals. It's a blind alley, leading nowhere. If the professional team wins, it's what everybody expected anyhow. If the Russians win, professional hockey is damaged in North America.
"It seems to me both sides have everything to lose and very little to gain. But if it's what they want, there's nothing much the federation can do to block them.
Proudfoot says that there is widespread speculation that negotiations are already taking place between the Soviets and the Montreal Canadiens. The Russians have apparently already broached the subject with the IIHF.
Roman Kisseleve, Soviet hockey official, is said to have spoken to IIHF officials yesterday, seeking permission for the Russian team to play the pros.  Kisseleve said that he is willing to let the team be declared professional, something Ahearne has said would happen if the so-called Russian amateurs played professional teams.
Should that take place, Kisseleve says that a second-string Russian team would compete for world and Olympic titles. The Russians would, of course, prefer to have their A team play against both professional and amateur competition.
China a Hockey Power?
In a related bit of international hockey news, Ahearne says that Communist China is ready to enter a strong team in world hockey competition.
The Polish national team recently played six exhibition games against the Red Chinese in China, losing five times to the host country.
Ahearne says that the lone complaint by the Poles was that the Chinese were too tough. That complaint comes from a Polish team that is the most penalized at the current World tournament.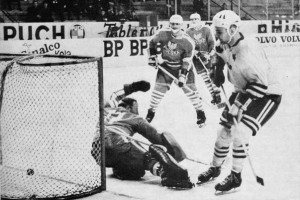 Ahearne believes that the Chinese will follow a formula that emulates Russia's route to international ice hockey success:
"I know what the Chinese are doing. They're approaching hockey the way the Russians did back in the early fifties. They're working at it and when they have a strong team prepared, they'll show up at the tournament just as the Russians did in 1954 when they won the title with the first team they entered."
Canadian Nats After Grant, Savard
Still with the international game, it has been learned that the Canadian national hockey team is going to approach the Montreal Canadiens and ask for player assistance from that organization.
As part of a long-range development program with an eye towards the 1968 Olympics, the nationals are going to ask the Canadiens to release forward Danny Grant and defenseman Serge Savard to the national team.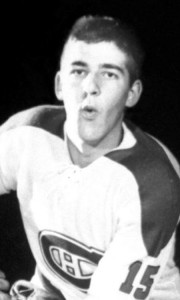 Presently, six national team members came directly from the Toronto Maple Leaf organization and two others were once Leaf property.
Gordon Juckes, secretary-manager of the Canadian Amateur Hockey Association said that the organization feels it's time to ask the Canadiens to contribute players in the same way the Toronto club has done.
"That's why we thought it was only fair to ask this help from the Montreal organization, the other Canadian team in the National Hockey League.
" We know they'll be happy to have a chance to assist the national team. And we know we need Savard and Grant for certain jobs in building a team for the 1968 Olympics, so we've instructed the management of our national team to ask Canadiens to make these players available."
Both players have ready roles to fill. Coach Jackie McLeod has been playing up front on the wing, Grant's position. He needs to return to behind the bench to take full advantage of his coaching acumen. And defenseman Lorne Davis joined the team with the understanding that he was filling in just to help out this season. The talented Savard would be a more than adequate replacement.
Broderick Unbeatable for Canada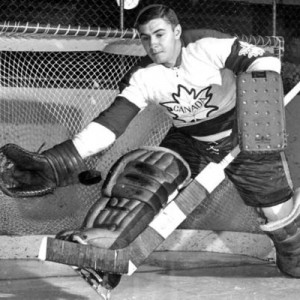 Goalie Ken Broderick still hasn't allowed a goal in World Championship tourney play. Broderick played his second game of the series yesterday and blanked Germany 6-0. Although the score was lopsided, Canadian coach Jackie McLeod called it "our worst game" and Broderick's heroics were important to the outcome.
Broderick put in a solid performance, making 24 saves to record his second consecutive shutout.  He was especially sharp in the middle frame when the Germans outshot Canada 10-8.
Morris Mott and Ray Cadieux each scored two goals for Canada. George Faulkner and Billy MacMillan added singles.
Bower Back But Gamble Plays
The Toronto Maple Leafs will get goalie Johnny Bower back from sick bay this week. The likeable veteran netminder will suit up when the Leafs meet the Detroit Red Wings tomorrow night at Maple Leaf Gardens, but he won't play. Coach Punch Imlach says that he will stay with red-hot Bruce Gamble as his goalkeeper.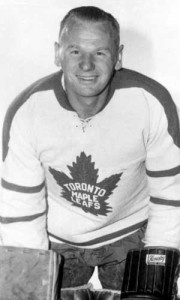 "Bower will dress but Gamble will play. I'm returning Al Smith to Marlboro juniors. They're starting their playoffs and need him."
And as unbelievable as it seems, Gamble himself was injured in practice yesterday. That injury, an eight-stitch cut over the ear, won't prevent him from making the start in goal for the Leafs. Gamble was injured when he was struck by a George Armstrong slap shot.
That's the fourth time a Toronto goalkeeper has been hurt in practice this season.
Bower told Red Burnett of the Toronto Star that Gamble's fine play was added incentive for his quick recovery:
"I really feel good. Of course Gamble could have a lot to do with my rapid convalescence. It doesn't pay to get hurt around this club. You could lose your job while on the rubbing table. But I'm happy that Bruce has got us right back in the Vezina Trophy race."
OHA All-Stars Announced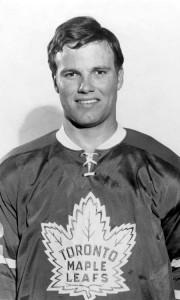 The Ontario Hockey Association has announced its Junior A Series all-star team.
The first team all-star forward line is made up of the Peterborough Petes high-scoring trio of Andre Lacroix at centre, Danny Grant at left wing and Mickey Redmond on the right side. On defense are Bobby Orr of Oshawa and Jim McKenny of the Toronto Marlboros. The goalkeeper is Oshawa's Ian Young.
The second team has an all-Niagara Falls forward unit. Centre Derek Sanderson lines up between team mates Don Marcotte at left wing and Jean Pronovost on the right. Serge Savard of Montreal and Bart Crashley of Hamilton are the defensemen. There was a three-way tie for the second-team goaltending spot among Rocky Farr of London, Don Caley of Peterborough and Bob Ring of Niagara Falls.
Lacroix was the league scoring leader with 120 points, made up of 40 goals and 80 assists. Linemate Danny Grant was 24 points back with 44 goals and 52 assists for 96 points. In third spot was defenseman Bobby Orr of Oshawa, with 38 goals and 56 assists for 94 points.
Barkley Out of Hospital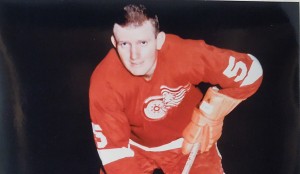 Detroit Red Wings defenseman Doug Barkley has been released from hospital after undergoing surgery on his badly damaged right eye. The surgery was performed at the Massachusetts Eye and Ear Infirmary.
Barkley was injured when he was struck in the eye on January 30 in a game in Detroit against the Chicago Black Hawks.
Barkley will remain in Boston for the next 10 days and will undergo further examination next week. Surgeons have not said whether the popular red-headed blueliner will be able to resume his NHL career or will he be available for the upcoming Stanley Cup playoffs.
Barkley discussed his treatment schedule:
"They have a pattern of regular checkups after surgery of this kind. I have to remain in Boston for the next 10 days and I have to come back in another three weeks for another examination."
It now becomes a waiting game for the Barkley and the Red Wings.
Conn Smythe Resigns Leafs Board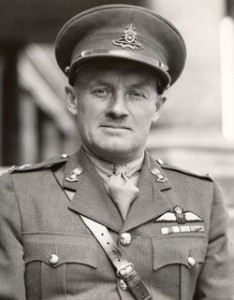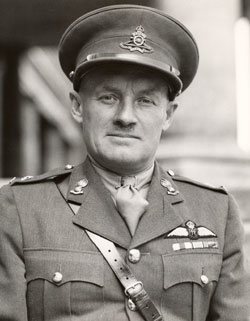 Conn Smythe, the founder of the Toronto Maple Leafs has resigned from the Maple Leaf Gardens board of directors. Smythe, who built the Gardens and was the architect of the Maple Leaf hockey organization said he is resigning because of management's policy of "putting cash ahead of class."
The elder Smythe, father of Leafs' president Stafford Smythe, confirmed his resignation last night from his winter home in Palm Beach, Florida. Chairman of the Board John Bassett made the resignation public in a prepared statement. Bassett says the board has refused to accept the resignation.
Conn Smythe is upset at the Gardens board's decision to host a heavyweight boxing championship fight between Cassius Clay and Ernie Terrell. Mr. Smythe is reportedly upset over inflammatory remarks by Clay regarding the United States' involvement in Viet Nam. He said last night that he has no intention of resuming his position with the board.
"I intend to take proper steps to make it stand. I cannot go along with the policy of present management to put cash ahead of class. A fight that isn't good enough for Chicago or Montreal  certainly isn't good enough for Maple Leaf Gardens.
"We've got no right being in the boxing business anyway. It helped kill Jim Norris and I don't want the same thing happening to any of my contemporaries.
"I have no control over the policies of present management so my only alternative is to dissociate myself from it."
Conn Smythe sold his controlling interest in Maple Leaf Gardens Ltd. to his son Stafford, Harold Ballard and Bassett in 1961. Stafford Smythe refused to comment on the situation. Ballard also refused comment.
The Clay-Terrell fight has had difficulty finding a venue due Clay's controversial stance on the Viet Nam War. Ballard is apparently representing the Gardens in talks to bring the fight to Toronto.
Notes:
Peterborough Petes opened the OHA Junior A playoffs with a 4-1 win over Toronto Marlboros. Andre Lacroix had a goal and three assists for the Petes.
St. Catharines Black Hawks upset the Oshawa Generals 3-1 in the first game of their OHA Junior A series. St. Kitts captain Ken Laidlaw assisted on all three Hawks goals.
Niagara Falls Flyers blew a two-goal lead and tied Kitchener Rangers 5-5 in the first game of their series. Tom Webster had two goals for Niagara Falls.
Boston Bruins have called up F Ron Schock from San Francisco Seals of the WHL. He will play left wing for the Bruins.
Detroit Red Wings are sending Warren Godfrey to Memphis Wings of the CPHL to replace playing coach Vic Stasiuk, who was injured on the weekend.
Billy McNeill leads the WHL scoring race with 31 goals and 51 assists for 82 points. McNeill plays for Vancouver Canucks.
Quebec Aces bombed Cleveland Barons 10-1 in AHL play. Cleland Mortson and Wayne Hicks each scored three goals.
Quebec Aces recalled D Ray Larose, who had been on loan to the Los Angeles Blades of the WHL.
Retired police detective, involved in hockey at all levels for over 50 years. Member of Society for International Hockey Research and presently a video analyst for the leader in advanced hockey analytics (we work exclusively for 2 NHL clubs, and provide advice on an ad hoc basis to many other clients). Currently the Assistant General Manager for the Pelham Pirates of the Greater Ontario Junior Hockey League. Previously owned the Faceoff computer hockey simulation and also provided all player ratings for the EA Sports series of NHL computer games from the late 90's into the mid 2000's.