Detroit Red Wings general manager-coach Sid Abel wasn't kidding when he said he would be actively looking to make changes to his first-place club during the off-season.  After negotiating an eight-player trade with Toronto last week, Abel followed up yesterday with a seven-player transaction with the Boston Bruins.
MacDonald for McDonald
The Wings sent left-winger Parker MacDonald, right-winger Bobby Dillabough, and defencemen Al Langlois and Ron Harris to the Bruins in exchange for left-winger Ab McDonald and defencemen Bob McCord and Ken Stephenson.
The man the Red Wings were most interested in was Ab McDonald.  The big (6-2, 184) winger, who still won't be 30 until next February,  was a disappointment in his only season in Boston.  He scored nine goals and added nine assists for 18 points in 60 games.  He had been traded to the Bruins from Chicago during the summer of 1964 in a deal that sent Doug Mohns to the Black Hawks.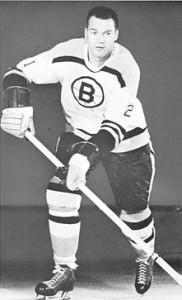 McCord, 31, was a regular for the Bruins in 63-64, but fell into disfavour this past season and split the year between Boston and Hershey of the American Hockey League.  He had six assists in 43 games for the Bruins.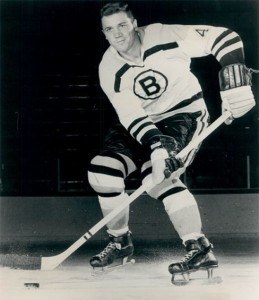 Stephanson is only 23 and spent the past two seasons with Boston's Minneapolis club in the CPHL.  He is not considered a candidate for immediate NHL employment and is a long-shot prospect at best.
Parker MacDonald and Langlois were both regulars for the Wings this season.  MacDonald, a former Leaf, spent most of the year at left wing on a line with Gordie Howe and Alex Delvecchio, scoring 13 goals with an impressive 33 assists.  He is 32 and a veteran of nine NHL seasons.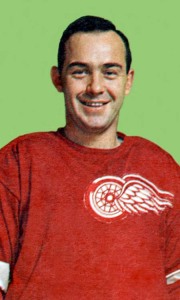 Langlois, the former Canadien who has also seen time with New York, was a regular on the Wings' blue line.   His play deteriorated late in the season and he was generally ineffective in the playoffs.  It came as no surprise that he was included in the deal.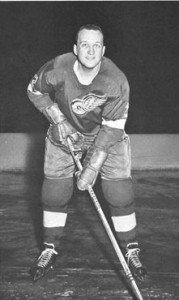 Dillabough key for Bruins
The 23-year-old Dillabough is the key man for Boston.  Bruins' GM Hap Emms is familiar with the youngster, having seen him playing for Hamilton against his Niagara Falls Flyers for three OHA seasons.   He spent 64-65 with Pittsburgh of the AHL going 13-25-38 in 52 games.  He is known as a fine two-way winger who can play centre as well.  He was used regularly during the playoffs by Detroit as a penalty killer and checking winger.
Harris, who will be 23 next month, is listed as a defenceman but also doubles as a forward.  With Memphis of the CPHL he scored 18 goals and 18 assists.  He is another Hamilton grad with whom Emms is very familiar.
Abel was extremely happy with the two deals he has engineered this spring.  He said that he is now just one defenceman away from having the team he wants next season.
Bruins will get a Leaf goalie
With the NHL draft scheduled for next week in Montreal, the Bruins are pretty much settled on how they will use their first pick.  They have the first choice in the draft, thanks to their last-place finish in the 64-65 season.
General Manager Hap Emms says that he will select a goalkeeper from the Toronto Maple Leafs.  Emms knows that, with each team  being able to protect only two netminders, Toronto will have to expose one of their veterans, either Johnny Bower or Terry Sawchuk.  The Bruins do not believe the Leafs would allow young Gerry Cheevers to be lost in the draft.  Cheevers was the best goaltender in the American Hockey League in 1964-65.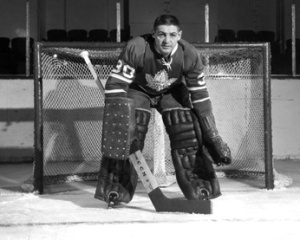 Emms expects that Sawchuk will be the goalie Toronto will make available.  If things play out the way Emms sees it, the Bruins would grab Sawchuk and expose veteran Ed Johnston.  That would leave Sawchuk to mentor 22-year-old Jack Norris.  It is expected Detroit would then pick up Johnston to give them a solid backup to Roger Crozier.
Notes
Montreal Canadiens coach Toe Blake has signed a one-year contract and will return for his 11th season behind the Habs' bench.
New York Rangers have announced that defenceman Harry Howell and forward Don Marshall will, in addition to their playing duties, become the first assistant coaches in the history of the team next season.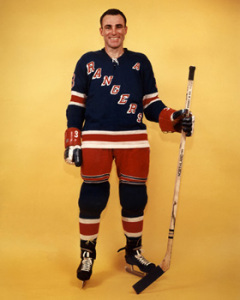 Former Bruins general manager Lynn Patrick is reportedly set to become the manager-coach with Los Angeles Blades of the Western Hockey League.
Two candidates have emerged for the coaching position for Canada's National Team.  Dunnville, Ontario native Jim Gregory, who coached the Toronto Marlboros of the OHA Junior A Series this past season, has been mentioned as the leading coaching candidate. A report out of Victoria, B.C. has former Toronto Maple Leaf forward Larry Regan taking on the job of manager-coach with the Nationals.  Regan coached a team in Austria last season.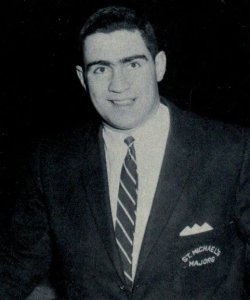 Art Stratton of the Buffalo Bisons has been named the AHL's most valuable player for 1964-65.  Stratton will receive the Les Cunningham Plaque and $300.