The number on the back of your hockey sweater is the one thing that sets you apart from other players. Players numbers are what young players notice, and why so many young kids wear 87 for Sidney Crosby, 8 for Ovechkin, 4 for Bobby Orr and so on. It is what people know and in 98 years of NHL there are many players who have made their number go down in history.
#1 is a number typically reserved for goalies and the following is a list of the Top 5 goalies in history to ever wear the number #1.
You really cannot make a list of the best players to wear number one without naming the man who made goaltending what it is today.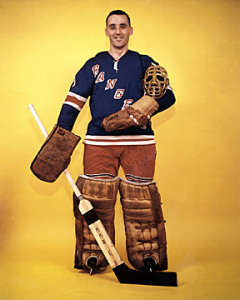 1. Jacques Plante:
Plante got his start with the Canadiens in 1953 after both of their goalies went down with injuries. Initially he wore his good luck toque for games, but Coach Dick Irvine, in a dicky move, forbid him from wearing the toque and removed all of them from the locker room. Even without it he only gave up four goals in three games and went on to get a shutout in the playoffs. In his first season in the NHL he already had his name on the cup.
It wasn't until the 1959-1960 season that Plante wore his goalie mask for the first time in a game. Prior to 1 November 1959 he had only worn it during practice, however during that historic game he suffered a broken nose. Not wanting to suscept his nose to any further injury he returned to the game with his make and to a furious Coach Toe Blake. Never had a goalie had the gull to wear a mask in professional play before, but Plante agreed to ditch the mask after the wounds healed. They won that game, and several to follow. Blake started to become less vocal about his feelings towards the mask, and the win streak stretched to 18! In the one game he did not wear the mask, per Blake's request, they lost. You can only imagine that the following night the mask returned. His NHL record was a stellar 434-247-146.
If it were not for the number one to wear #1, goalie's would not wear masks. Fans would not have new designs to gaze at every season as their goalie's take the ice. Plante was inducted into the Hockey Hall of Fame three years after his retirement from hockey in 1978. He passed away in Switzerland in 1986, but his legacy will always remain as long as hockey's alive.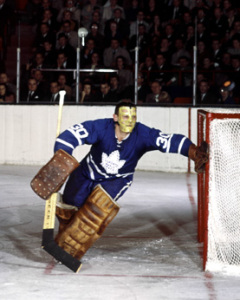 2. Terry Sawchuk
Terry Sawchuk's career started earlier than most. A rugby injury as a youth led his right arm to be shorter than the other, but that did not stop him from being one of the best goalies to ever grace the ice. His prowess between the bars was evident even at the age of fourteen when he was first scouted by the Detroit Red Wings. The Wings signed him to an amateur contract with the Red Wings' junior team in Galt, Ontario. One year later, in 1947, Sawchuk was signed to a professional contract with Detroit and three years later played in his first NHL game.
Uke, as his teammates called him because of his Ukrainian heritage, won rookie of the year, and three Stanley Cups in a five-year span. His accolades include four Vezina trophies for being the top goalie in the league, four Stanley Cups, and 11 NHL All-Star games. One of his records, 172 career ties has yet to be beat, and it took 39 years for his 103 career shutouts to be bested. That feat came from Martin Brodeur in 2009. His totals were 447-330-172.
Many injuries may not have given him the nicest looking mug in the league, but his skills made up for it. His look came from receiving about 400 stitches to his face that included three in his right eyeball. He was one of those guys that let nothing stand in the way of him and the ice. He played through pain and developed lordosis, a permanent stoop, from always being bent over. Sawchuk battled depression and became surly and repressed throughout his career. He died at the age of 40 in 1970 after a complication during surgery.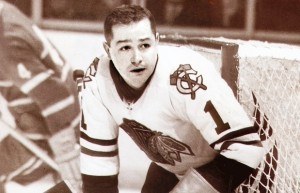 3. Glenn Hall
Mr. Goalie, as he was called, was the creator of the 'butterfly' style of goaltending. Glenn Hall saw his first NHL call-up during the 1952 Stanley Cup finals playing with the Detroit Red Wings. Without even playing a game that year, he got his name on the cup. Three years later he finally made it into the lineup as their starting goalie, displacing number two on the list, Terry Sawchuk. In his Calder Trophy winning year he had twelve shutouts.
At the end of his second season with the Wings, he and Ted Lindsay were traded to the then, Chicago Black Hawks. Nine years after his first Stanley Cup with Detroit, he lifted the Hawks to a win over his former team. It was the first time the Hawks had won the cup since 1938. Glenn Hall played 502 consecutive complete games over eight seasons before suffering a back injury that ended his streak. That is a record that is unlikely to ever be broken. During that time he never wore a mask, and it is said that he would throw up before every game and then drink orange juice.
Hall was the first goalie for the St. Louis Blues and took them to the Stanley Cup Finals against Montreal in his first season with the team. Although they lost in a sweep he was still awarded the Conn Smyth Trophy. He was later joined by Jacques Plante on the Blues where the two goalie stars shared duties in the crease. In his career Glenn Hall, one of the greatest goalies of all time, ended his career with 407 wins and 84 shutouts. He is ranked 16 on The Hockey News' list of 100 Greatest Players.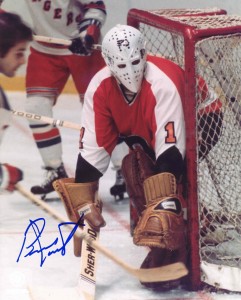 4. Bernie Parent
As a young Québécois, Bernie Parent looked up to Jacques Plante and dreamed of being just as great of a goalie as his idol. Parent's dreams came true when he started playing for the Boston Bruins in the finals years of the NHL Original Six and appeared in 39 games on his first season in the NHL. When the NHL expanded, as Glenn Hall was starting with the St. Louis Blues, Bernie Parent was becoming the Philadelphia Flyer's first goalie. He helped lead the team to first place in the NHL West Division. He was a starting goalie for the next two seasons before being traded to Toronto.
In Toronto the boy who admired Jacques Plante got to do something very few athletes can say that they did, and that is play right alongside their idol. Like Sidney Crosby and Mario Lemieux, Bernie Parent got to learn from one of the greatest goalies ever, and become an even stronger player. In the 1972-1973 season he made the jump to the WHA, which, as we know, was not a smart move for any NHL player. It did not work out and he ended up back with the Flyers. The next two seasons became known by hockey diehards as some of the best goaltending ever seen in the game. Over that time he had 30 regular and post-season shutouts.
When the Flyers won back-to-back Stanley Cups in 1974 and 1975, Parent also got the honour of winning back-to-back Conn Smyth's and Vezina Trophies. In 608 total regular season games, not including his return to the ice during the 2012 Winter Classic Alumni game, he had a record of 271-198-121.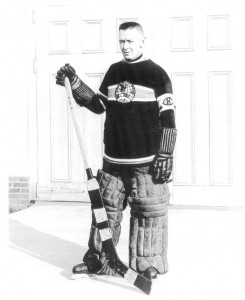 5. Georges Vezina
Speaking of Vezina, the reason we have a goalie for top goalie of the year is because of this man. Everything changed for the young goalie on February 17, 1910 when he was playing with the Chicoutimi Hockey Club in an exhibition match against the Canadiens. Vezina managed to best the Canadiens and it enticed the team who offered him a tryout contract. At first, Georges did not accept, but when the Canadiens returned in December of 1910, Georges and Pierre Vezina were invited to come to Montreal for a tryout. While Pierre did not make the team, Georges did, and played his first game on December 31, 1910. He finished that season with eight wins and eight losses.
The Canadiens stayed a part of the NHA until the 1916-17 season and during that time Vezina had a record of 70-67-1. The following season the NHA became the NHL we all know and love today and on February 18, 1918, Georges Vezina became the first NHL goalie to record a shutout against the Toronto Maple Leafs winning 9-0. During his time with the Canadiens he led the team to five Stanley Cup Final appearances, winning the cup twice. He was known as 'le Concombre de Chicoutimi', the Chicoutimi Cucumber and the 'l'Habitant silencieux' the silent Hab, for his cool, calm demeanour. He was often seen in the corner of the locker room, smoking a pipe, and reading a newspaper.
Much to most of the hockey world's dismay, in the 1925-1926 season, Vezina started falling ill. In the six weeks before the Canadien's first game against the Pittsburgh Pirates on November 28, 1925 he had lost over 35 pounds and had a fever of 102F. Being a fighter, he still went out during the first period and did not allow a goal. He more than likely would have continued had he not started throwing up blood. After he collapsed he was taken out of the game. A day later he was diagnosed with tuberculosis and sent home.
December 3, 1925 was his last visit to his former locker room. He sat in his corner for some time, tears rolling down his cheeks, and only asked for one favour, the sweater he had worn in the last world series. He then returned back to Chicoutimi with his wife and passed away in the early hours of March 27, 1926. Nineteen years later he was one of the first nine inductees into the NHL Hall of Fame.
---
Number Ones of Today
Two of the best we have today are Brian Elliott and Roberto Luongo.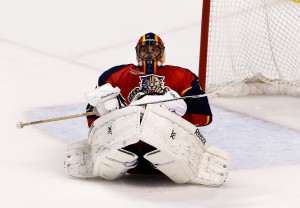 1. Roberto Luongo
Roberto Luongo, or @Strombone1 on Twitter, has quickly become a much beloved goalie and Twitter personality along with former teammate in Vanouver, Eddie Lack, @eddielack. Eddie's twitter bromance with his former teammate is one that fans love to see.
#tbt pic.twitter.com/StUoMoWDtd

— Eddie Lack🇸🇪🇺🇸🇨🇦 (@eddielack) January 8, 2015
It is a bromance that almost did never happened had Luongo's parents had their say in the matter. Antonio Luongo initially wanted his sons to play soccer, but living in Canada, Roberto preferred hockey. He had wanted to be a goalie, but before he could get his start in the crease, his parents wanted him to be a forward. Coming from experience, if an Italian tells you to do something, you do it or suffer the consequences. Luongo must have known that, because he stayed a skater until he got his first chance to tend goal at the age of eleven when his team's goalie did not show up.
That changed everything and in his first game he got a shutout. To this day he is the highest drafted goalie (second overall) in QMJHL history and started in the 1995-1996 season. The following season his game improved and he had a record 32 wins on the season. His made draft records once again when the New York Islanders drafted him fourth overall in the 1997 NHL Entry Draft. Luongo continued in the QMJHL until the 1999-2000 season when he signed a three-year deal with the Islanders. He started off with Lowell Lock Monsters, but was called up to the Islanders at the end of November 1999 and had his first appearance in a 2-1 win over Boston on November 28, 1999.
The following summer he was traded to the Florida Panthers and his career started to take off. He appeared in 43 games and had got the franchise their first five shutout season. By the time he left the Panthers in 2006 he had become the winningest Panthers goalie of all time with 107 wins. That summer he went to Vancouver and signed a $27 million, four-year deal. He continued to shine in Vancouver and formed a formidable tandem with backups Cory Schneider and Eddie Lack.
After years of worrying every March during the trade deadline, the big news finally came in 2014 that he was going back to the Panthers. This past year he made this post on Twitter, going back to the years of wanting a trade, finally getting it, and then not having to worry.
2 years ago: 😰

1 year ago: 😱

Today : ☕️🐸#NHLTradeDeadline

— Strombone (@strombone1) March 2, 2015
Having a strong goalie in Luongo, they hope that he will help them rebuild and make themselves Stanley Cup Contenders once again. He helped the team come close to an offseason this past year. Although they did not see a postseason, he at least saw a brightside during Festivus.
If 4 shootout wins in a row is not a Festivus Miracle I don't know what is……

— Strombone (@strombone1) December 23, 2014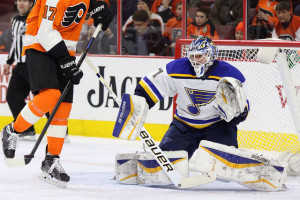 2. Brian Elliott
It is hard to believe that the two-time All-Star was never expected to play in the NHL, but when Brian Elliott was drafted 291st in the 2003 NHL Entry Draft by Ottawa, that is exactly what people thought. Elliott would spend four seasons playing college hockey at University of Wisconsin-Madison before being assigned to Ottawa's AHL affiliate in Binghamtom. He played his first NHL game when the next goalie on the list, Ray Emery, was out with an injury. In his first NHL game he brought home a win against the Atlanta Flames. He ended up getting sent back to the AHLÂ where in 2009 he was named AHL Goalie of the Month after posting a 18-8-1 record.
Elliott played in Ottawa until the 2011 trade deadline when he was sent to Colorado in exchange for Craig Anderson. With subpar play in Colorado, he was released as a Free Agent at the end of the year. There he flourished alongside Jaro Halak. On March 12, 2015 he tied Halak in shutouts and five days later surpassed him. In the NHL he has a 142-91-26 average, making it hard to believe he was never supposed to make it to the NHL.
On her previous stint with The Hockey Writers, Casey covered the Tampa Bay Lightning, but she has returned to take on the Carolina Hurricanes. Even though she is Steel City born, a former season ticker member with the Lightning, and lives in Orlando, the Canes have always been her favourite team. She started her hockey career as Keeper of Time for the California University of Pennsylvania Vulcan Hockey Club while going to school for Sport Management. She hopes to one day work with Hockey Ministries International as a team chaplain. You can usually find her tweeting about hockey or posting pictures on Instagram.