The Hockey Writers Nashville Predators staff writer Colin Fitts will evaluate the performance of each player on the 2014-15 Predators roster every weekday in alphabetical order. You can follow Colin on Twitter, @FittsTHW.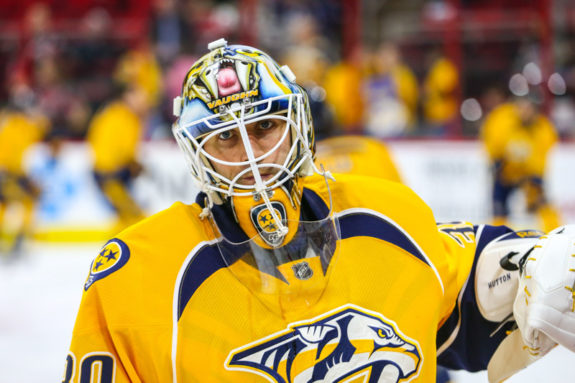 Carter Hutton
Position: Goalie
Age: 29
Height/Weight: 6-foot-1, 195 lbs
Stat Line: 6-7-4 record, 2.61 goals against average, .902 save percentage and 1 shutout
Playoffs Stat Line: Did not play.
Shootout Stat Line: 2-2 record, 7-for-15 against shooters
Contract Status: 1 year remaining on a 2-year, $1.45 million contract ($725,000 cap hit in 2014-15)
Highlight of the Year: "Did that just happen..?" Not too many sports fans, nonetheless hockey fans, know who Carter Hutton is, but they definitely discovered who he was after making the save of the year against the Toronto Maple Leafs in a 4-3 win on February 3. The spin save was shown everywhere and for good reason.

Strengths: Hutton unfairly gets criticized by the Predators' fanbase for "not being good enough." It is tough to fill the shoes of a world class goaltender such as Pekka Rinne. Hutton is one of the best skaters in the NHL on his feet and in the butterfly. Unrelated to his on-ice performance, he is also really good at television interviews.
Weaknesses: He is too robotic. For those that do not know what that means, I'll give you a familiar example: Rinne is not robotic because he makes unconvential, wild saves. Not too often will Hutton make a diving save in desperation. He is mechanical in every aspect of being a goalie. A youth goalie coach will teach Hutton's style as opposed to Rinne's. While it is a good thing to be robotic, it is also a bad thing. To be a successful goalie in the NHL, you have to find that balance. Hutton is still seeking that balance entering his third NHL season.
What to Expect Next Season: Hutton played 22 less games in 2014-15 from 2013-14 because of Rinne being healthy. The amount of games Hutton starts next season will depend on how healthy Rinne will be. If Rinne is healthy, Hutton will see 15-20 starts. Despite all that, Nashville will need him to play better next season because it is always a confident booster when the backup goalie can pull wins out, too.
Subscribe to our Predators stories to get email updates every time a new story is published.