Felix Potvin is a Canadian former professional ice hockey goaltender who played in the NHL from 1991 to 2004. He was born on June 23, 1971, in Anjou, Quebec, Canada.
Potvin was drafted by the Toronto Maple Leafs in the second round (31st overall) of the 1990 NHL Entry Draft and began his NHL career in the 1991-92 season. He played with the team until the 1998-99 season. He also played for several other NHL teams, including the New York Islanders, Vancouver Canucks, Los Angeles Kings, and Boston Bruins.
Related: Winnipeg Jets Jersey History
---
Latest News & Highlights
---
That said, Potvin is best known for his time in Toronto. He played a key role in the team's success in the early 1990s. Throughout his NHL career, he played in 635 games, had a record of 266-260-85, a goals-against-average (GAA) of 2.76, and a save percentage (SV%) of .905.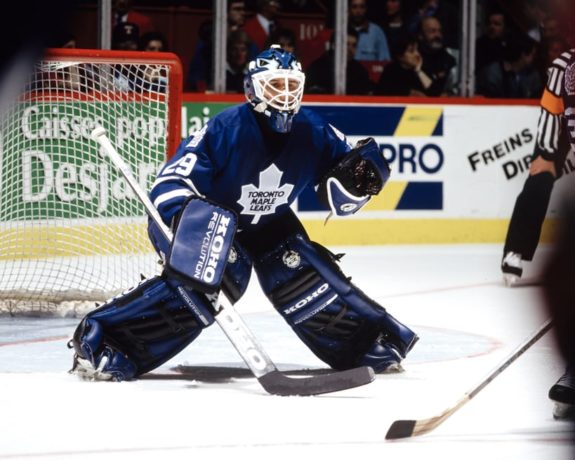 Potvin is one of the most-loved players in Maple Leafs history. In this post, I'll share what I believe are seven cool things about him.
Cool Thing #1: Potvin Was a Great Goalie Right From the Start of His Career
Potvin had a fantastic rookie season with the Maple Leafs in 1992-93, leading the team to the conference finals and coming in third place in voting for the Calder Trophy as the NHL's top rookie. That season, the Calder was won by the great Teemu Selanne (Winnipeg Jets) with Joe Juneau (Boston Bruins) coming in second. 
Related: Maple Leafs Fans Continuing Love Affair with Felix Potvin
By the way, Potvin played so well in his rookie season that Toronto traded away Grant Fuhr to give him the starting job. 
Cool Thing #2: Potvin Was a Great Goalie on a Poor Team
Overall, Potvin's rookie season with the Maple Leafs was a strong start to a successful NHL career. His impact right off the bat was remarkable. In 1991-92, the Maple Leafs were coached by Tom Watt and captained by Wendel Clark. They put up a record of 30-43-7 (for 67 points). They finished fifth in the NHL's Norris Division.
However, in Potvin's first full season as a starting goaltender, he helped the team to improve its record significantly, going from 30 wins in the previous season to a record of 44-29-11 in 1992-93. His own record was 25-15-7 (with a 2.50 GAA and a .910 SV%).
You may also like:
However, Potvin might not have been the only reason the team finished so well. They also had a new coach named Pat Burns. The Maple Leafs finished third in the Norris Division, and Burns won the Jack Adams Award.
Cool Thing #3: Potvin Was Noted for His Unique Goalie Style
Potvin possessed excellent technical skills and was known for his quick reflexes, agility, and lateral movement in the net. He was also famous for his unique, hybrid goaltending style. This style depended upon highly-acrobatic movements and quick reflexes. 
Related: Joseph Woll: Best Goalie Developed by Maple Leafs in 35 Years
Potvin was especially good at making diving saves and using his blocker to stop pucks. Game after game, he made acrobatic saves and stopped high-quality scoring chances from the opposing team. He frustrated more than a few opponents.
Cool Thing #4: Potvin Was Dubbed with the Nickname "The Cat"
Potvin was a fan favorite with the Maple Leafs and earned the nickname "The Cat" because of his quickness and agility. Fans would often throw stuffed cats onto the ice after he made a big save. 
Actually, it seems as if Potvin's nickname dates back to his junior hockey days with the Chicoutimi Sagueneens of the Quebec Major Junior Hockey League (QMJHL) when a broadcaster first thought that Potvin's quick reflexes and agile movements in the net reminded him of a cat. There was also a long-time newspaper comic strip called "Felix the Cat" that helped cement the nickname.
The nickname stuck with Potvin as he moved on to the NHL, and he became known as "The Cat" throughout his professional career. It was a fitting nickname, because Potvin was indeed both quick and agile in the net. He was a difficult goalie to beat.
Cool Thing #4: In the 1994 Playoffs, Potvin Recorded Three 1-0 Shutouts
One of the best playoff performances by any Maple Leafs' goalie was during the 1994 NHL Western Conference Quarter-Finals. The Maple Leafs defeated the Chicago Blackhawks in six games. 
But perhaps most interesting is, in that 1994 playoff series, Potvin recorded three shutouts in those six games. All three of those ended as 1-0 games. That included back-to-back 1-0 shutouts in Games 5 and 6 to win the series. 
Cool Thing #5: Potvin Set a Maple Leafs' Record for Playing in 74 Games
In 1997, Potvin set a franchise record by playing in 74 games in a single season and was named an NHL All-Star for the second time in his career.
Related: 69 Best Nicknames in NHL History
However, he was stuck on a losing team. That season the Maple Leafs' record was 30-44-8 and they finished sixth in the NHL's Central Division. The team's coach was Mike Murphy and the team captain was Doug Gilmour. Of those 30 team wins, Potvin won all but three of those games. He had a losing record that season of 27-36-7 but still had a decent 3.15 GAA and .908 SV%.
Cool Thing #6: Potvin Was Part of the Maple Leafs' "Come Back"
Part of the reason Potvin was loved so much was that he represented the Maple Leafs' "comeback." Between 1979-80 and Potvin's first season in 1992-93, the Maple Leafs didn't have a single winning season. Suddenly, with Potvin, the long-suffering Maple Leafs' fans had something to cheer about. They had a team that actually won more games than it lost, and a goalie who actually could help them win.
In both 1992-93 and 1993-94, Potvin helped the Maple Leafs get to the conference finals. He was the goalie who helped them emerge from the darkness of losing season after season and continued suffering under the notorious Harold Ballard (who ran the team from 1972 until his death in 1990). 
As a result, Potvin had become part of the renewed cultural heritage of the Maple Leafs. He was part of the team's first taste of success after so many seasons of failure.
Cool Thing #7: Potvin "Played" a Strong Mental Game
Potvin not only was physically gifted, but he also "played" a strong mental game. He had the ability to stay focused and composed under pressure, even in high-stress situations such as playoffs or shootouts. His mental toughness allowed him to make key saves and keep his team in games, even when they were being outplayed – which was often.
Related: Maple Leafs' Harold Ballard: The Owner Who Perfected Greed
Potvin was also known for his excellent work ethic and dedication to improving his skills. He was constantly analyzing his game and looking for ways to improve his technique and positioning. This commitment to continual improvement helped him maintain a high level of play throughout his career.
Felix Potvin Was a Fan Favorite for All His Seasons Playing in Toronto
Potvin will be remembered for his strong competitive spirit and passion for the game. He was a fierce competitor and was willing to do whatever it took to help his team win. 
His unique combination of technical skill, mental toughness, work ethic, and competitive spirit made him one of the greatest goaltenders the Maple Leafs have ever had in the net.