The Stanley Cup playoffs are finally upon us. In a first round full of intriguing matchups, one of the most interesting ones looks to be the Montreal Canadiens versus the New York Rangers.
Having met three times this season and in a memorable Eastern Conference Final series just three years ago, these two Original Six teams definitely have some familiarity with one another. Nevertheless, Habs fans might still benefit from an updated analysis of their first-round opponent.
The Rangers are a team whose attack is predicated on speed and skill. While this aspect is not dissimilar to the team the Canadiens saw in the playoffs in 2014, this year's version is not as strong from a possession standpoint, ranking just 25th in the league with a five-on-five Corsi-for percentage of 47.95 percent. Contrarily, in the 2013-14 season, the Rangers ranked eighth in the league with a mark of 52.40 percent. While those Rangers were known for their speed, they also did a better job of sustaining forechecks and moving the puck out of their own zone before too many long shifts could evolve.
Despite their underwhelming possession metrics this season, the 2016-17 Rangers are still a very dangerous team and among the very best in the NHL at creating offense via counterattacks and rush chances. This year, the Rangers got off to a torrid start offensively, routinely scoring four or five goals per game over the opening couple of months before coming back down to earth a bit.
What's concerning for them is that they are just 22-16-5 since the calendar turned to 2017, although they have battled injuries for large chunks of the year and have also had a firm grasp on the Eastern Conference's top wild-card spot for quite awhile now. They still managed to finish with 102 points for the season—an atypically high number for a wild-card team. There final place in the standings was largely a result of the strength of the Metropolitan Division.
With the Rangers' health having returned and their games about to become more meaningful again, an uptick in their quality of play should be expected.
Forward Lines
The Rangers' biggest strength is their forward depth. The array of skilled forwards on their roster gives them an advantage in that department over most teams they will see in the postseason. While they have four lines that can each be labeled, in reality, their lineup features something closer to three No. 2 lines. The Rangers don't have anyone among the league leaders in scoring, but they ranked fourth in the league in goals per game—a testament to their balance.
What could hold them back, however, is falling victim to the idea that they need toughness to win, and shooting themselves in the foot by dressing Tanner Glass over a more skilled forward like Pavel Buchnevich.
First Line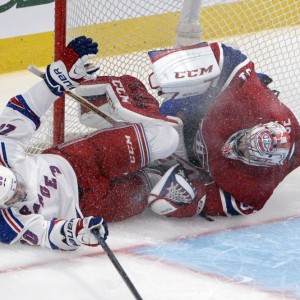 Anyway, before wandering too far down that road again, let's assess the players and lines that will comprise the Rangers' upfront attack. The club's most consistent line across the entire season has been the trio of Chris Kreider (jersey number 20), Derek Stepan (21), and diminutive puck wizard Mats Zuccarello (36). The line features a good mix of speed, size, passing acumen, and finishing ability. Additionally, the line yields elite possession numbers (55.04 Corsi-for percentage at during five-on-five play) on a team that struggles in that area overall.
The 25-year-old Kreider has enjoyed his finest season to date, registering 28 goals to lead the team, along with 25 assists. His unique combination of size, strength, and elite speed will be difficult for the Habs to handle. Montreal fans undoubtedly remember this all too well, as Kreider's collision with Carey Price in Game 1 of the aforementioned 2014 playoff series knocked out the Canadiens' star goaltender for the remainder of the series.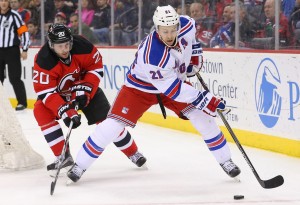 While the incident turned Kreider into a villain in Montreal, those holding onto the belief that he intentionally injured Price and was solely at fault would be behooved to remember that Kreider beat defenseman Alexei Emelin up the ice, with the latter knocking him off balance with his stick, inducing the fall and collision. But that's an argument to revisit another time.
Stepan, despite a prolonged goal-scoring drought earlier in the year, still put up 55 points, good for third-best on the team. Zuccarello led the team with 59 points, including a career-best 44 assists.
Second Line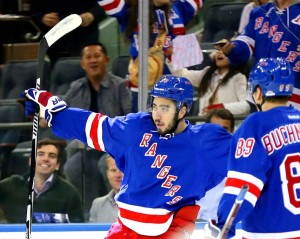 Beyond that line, the Rangers boast more talent, making them a difficult team to match up against. The line combinations that will be used in the postseason are always subject to change, but there is a good chance that head coach Alain Vigneault will roll out a combination of Mika Zibanejad (93), Rick Nash (61), and J.T. Miller (10). Zibanejad missed 25 games with a broken leg earlier in the season and has struggled at times to find consistency in his game, but he came on late in the regular season, tallying nine points in his final nine games.
Nash is a tremendously effective three-zone player who nevertheless went through stretches this season where he was not scoring consistently. He picked it up more recently though, finishing the regular season with 23 goals in 67 games. While the storyline of his playoff struggles is somewhat unfair and overblown, he is someone the Rangers will need to step up and be a force offensively.
Miller, meanwhile, also had a career-best campaign with 22 goals and 56 points. Playing most of the year with Kevin Hayes (13) and Michael Grabner (40), he has seen more time with Nash and Zibanejad lately, helping that line to a team-best 56.36 Corsi-for percentage at five-on-five, albeit in limited action.
Third Line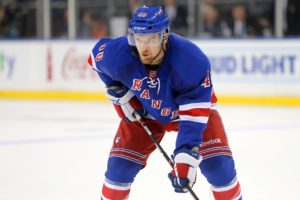 Hayes is the Rangers' third-line center, and he could be flanked by Grabner and Jesper Fast (19). The 24-year-old Hayes posted a career-high 49 points in the regular season—not bad for someone considered to be a third-line player. Fast is a very effective utility player who excels in a defensive role but can hold his own with offensive players if necessary. He is one of the Rangers' best and most underrated forecheckers, as he is very adept at picking his spots to take the body and force turnovers, rather than just hitting players for the sake of being physical (Glass, anyone?).
Grabner proved to be a bargain free-agent signing for the Rangers, as he led them in goal-scoring for most of the season before hitting a wall late in the year. He finished the season with 27 goals, but only one of those came in the last 23 games. Even when not scoring, though, Grabner gives the Rangers an elite speed element who can wreak havoc all over the ice, similar to ex-Ranger Carl Hagelin.
Fourth Line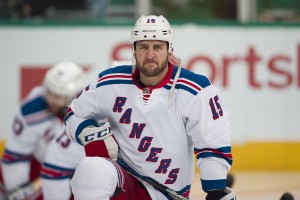 If the above line combinations hold, the fourth line will likely see Oscar Lindberg (24) centering rookie Jimmy Vesey (26) and Glass (15). This is where the Rangers could really exercise their forward depth advantage by dressing Buchnevich (89) instead of Glass. Doing so would create a very potent fourth line that was effective for a few games in March when they were together. Vigneault's recent history, however, suggests that he will dress Glass and thus detract from the biggest advantage the Rangers will have over the Habs or any other team for that matter.
On Defense
The Rangers, now fully healthy, have a number of options they can deploy on defense. Unfortunately for them, none of those options masks the fact that the blue line is the team's greatest weakness.
The bright spots on the back end are captain Ryan McDonagh (27), the Rangers' do-it-all workhorse defenseman, and outstanding rookie Brady Skjei (76). McDonagh finished the regular season with 42 points (six goals and 36 assists) and led all Rangers skaters in ice time per game with an average of over 24 minutes. Skjei, who like McDonagh is a fantastic skater, has been solid all year and if anything, improved as the regular season progressed. Not only was he very sound defensively, but he also chipped in an unexpected 39 points (five goals and 34 assists).
Trade-deadline acquisition Brendan Smith (42) has given the Rangers a nice combination of mobility, defensive awareness, and physicality on the blue line. Beyond these players, though, things do not look too pretty.
Nick Holden (22) might look good on the surface with his great offensive statistics (11 goals, 23 assists), but just a bit of digging reveals some significant defensive flaws. Marc Staal (18) has had a better season than he did a year ago, but that's not saying much given the disaster that was his 2015-16 campaign. His trouble skating the puck out of trouble and propensity to go down on the ice prematurely often creates issues for the Rangers in their own zone.
On the right side, Dan Girardi (5) has been a warrior for the Rangers for years but sadly has been wholly ineffective for a couple of seasons now. He is a possession liability who will not be able to help the Rangers withstand offensive-zone surges from the Habs or any other potential postseason opponents. Kevin Klein (8) has taken a major step back this year, also becoming somewhat of a liability in his own zone.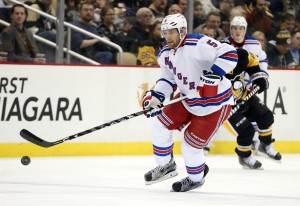 Vigneault will likely roll out a lineup where one of Girardi or Klein is not dressed. It stands to reason that Klein will be the one sitting, as Vigneault often defaults to his tried and not-so-true pairing of McDonagh and Girardi. Skjei, Smith, Staal, and Holden should round out the six blueliners. If the latter two are paired together like they have been oftentimes this season, then that spells trouble for the Rangers and is something the Canadiens can exploit. That pair has hemorrhaged shots while together this season, posting paltry possession metrics in over 600 minutes of ice time.
Adam Clendening (4) and Steven Kampfer (43) will serve as insurance policies on the roster. Even though inserting Clendening into the lineup would help the Rangers, there is no reason to believe they will, as they appear blind to what he can provide.
Defense is the Rangers' weak link, as they rely on their offense and goaltending to cover up for their deficiencies on the back end.
In Goal
Speaking of goaltending, it's been an interesting and unusual season for the Rangers in that department.
The Rangers have historically been strong in goal with Henrik Lundqvist (30), but the 35-year-old Swedish netminder has had somewhat of a tumultuous season while backup Antti Raanta (32) has excelled when he's been in net. The King, though, appears to be regaining his form after a couple of shaky appearances upon his return from a lower-body injury in March.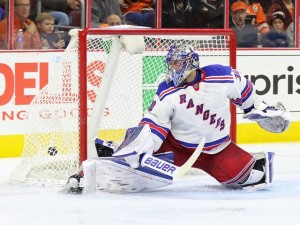 Lundqvist finished the regular season with the worst goals-against average (2.74) and save percentage (.910) of his career. While a lot of that is on him, the shaky defense attempting to support him does him few favors. Lundqvist routinely faces numerous high-danger and medium-danger scoring chances as a result of the Rangers' weak defense corps.
This season, he has actually performed well in stopping high-danger chances, doing so at a rate better than the average NHL goaltender. His downfall, however, has been a below-average save percentage on medium-danger chances. Backup Antti Raanta, meanwhile, has been solid in all areas.
Despite Raanta's strong performance, Lundqvist is the guy for the Rangers, and his stronger play recently and ability to rise to the occasion should serve him well in the postseason.
Special Teams
The Rangers have had a roller-coaster of a year in both special teams departments. Their power play has alternated between cold and hot several times this season. Right now, it is hot, having clicked at a 34.2 percent rate over the regular season's final 15 games. For the entire season, the Rangers' power play was 11th-best in the league with a 20.2 percent success rate.
McDonagh and Skjei man the point on the first and second units respectively. The right-handed Zibanejad provides a dangerous shot option from the left circle, while the hulking Kreider goes down low to create screens. Zuccarello often lurks around the side wall on the right side and leverages his strong passing abilities.
The penalty kill has been similarly tumultuous. Across the whole season, the Rangers' killed off only 79.8 percent of opponents' power plays, ranking them 19th in the league. Struggles late in the season have brought them down. Even so, the speed and playmaking abilities of players like Grabner, Hayes, Miller, Stepan, and Nash make the Rangers a dangerous shorthanded team. The Rangers scored nine shorthanded goals in the regular season—tied for the sixth-most in the league.
In a nutshell, the Rangers have a strong forward corps and offensive attack, an unsteady defense, good but now somewhat questionable goaltending, and volatile special teams. Still, they have enough weapons to be a tough out for any team if those weapons are all clicking simultaneously.
Note: Possession statistics obtained via Corsica.hockey.