I thought I would never have to write about this again. But alas, here in 2017, I am writing about Tanner Glass once again in relation to the New York Rangers.
The Rangers called up the gritty and well-liked but otherwise wholly ineffective forward on Sunday. Glass had spent most of the past two seasons playing for the Rangers, where he proved to be a possession black hole and a major opportunity cost to more offensively-gifted players who should have been in the lineup instead.
OFFICIAL: #NYR have recalled forward Tanner Glass and defenseman Steven Kampfer from @WolfPackAHL.

— New York Rangers (@NYRangers) March 5, 2017
This season, because of unprecedented forward depth, the Rangers finally did the right thing and sent Glass down to the minors. They finally seemed to realize that skill and scoring depth was more important than #toffness. Now, though, they have taken a major step back.
The Rangers Haven't Learned
The Rangers have lost in decisive fashion on home ice recently to the more physical Washington Capitals and Montreal Canadiens. Rather than exercising any semblance of measured logic, they reacted in knee-jerk fashion.
Glass plays the body and is willing to drop the gloves. He is also generally regarded as a good teammate and a good guy in the locker room. Unfortunately, his usefulness as an NHL player ends there.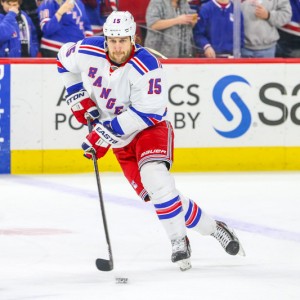 As harsh as that sounds, this is not meant to be a scathing criticism of Glass as a player (or for that matter, as a person). Rather, his deficiencies as a player need to be highlighted to underscore the critical flaws in the player and team evaluations the Rangers' front office and coaching staff conduct.
Toughness and grit are antiquated ideas of what makes a team successful. They might have had more importance in years past, but in today's game that is predicated on speed, skill, and puck possession, slow-footed grinders just can't contribute to NHL clubs like they used to.
Look at last season's Stanley Cup champions, the Pittsburgh Penguins. How did that team win? With team speed and forward depth. Their fourth line featured Matt Cullen, Tom Kuhnhackl, and Eric Fehr. Those players could all skate and contribute in ways beyond hitting and fighting. That's what makes a team successful and hard to defend.
When the Rangers advanced to the Stanley Cup Final in 2014, their fourth line of Brian Boyle, Dominic Moore, and Derek Dorsett contributed in a major way. All of those guys could grind and play well defensively, but they could also chip in offensively. It was Moore who scored the only goal, off an assist from Boyle, in Game 6 against the Canadiens that year to send the Rangers to the Final.
Glass Is Not the Answer
Adding Glass to the lineup doesn't even make sense if one were to argue that toughness and grit still matter. While the importance of these intangible elements is lower now than it has ever been, even advanced stats believers like myself can argue that a team needs to have some toughness and fight in them. Those elements, however, need to be spread throughout the lineup and contribute to a team's ability to create scoring chances for, limit scoring chances against, and wear teams down on the forecheck.
Glass playing 8-12 minutes a night on the fourth line won't help add to that. He might throw some hits and fight some players, and yes, he will honestly try to chip the puck deep and get in on the forecheck. The problem, though, is that he doesn't have the speed or puck retrieval skills to sustain a forecheck and help the Rangers establish possession. His brutal Corsi-for Relative to Teammates (i.e., the effect he has on his teammates' possession numbers) mark of -4.7 percent last season is a testament to that. This means that he had a net negative effect on his teammates' ability to maintain puck possession, supporting the notion that he is an anchor that drags down his line.
Of course, the Rangers' management and coaching staff have apparently chosen to ignore Glass's failures over the past two years. Instead, they saw two losses to physical teams and came to the conclusion that the Rangers need more toughness via one player who hits and fights but does nothing else.
The Rangers didn't lose to the Capitals because they weren't tough or physical enough. They lost because the Caps are a highly-skilled team that more effectively held onto the puck and created scoring chances. The Rangers didn't lose to the Habs because they lacked physicality. They lost because they came out with a flat effort and couldn't connect on simple passes to move the puck up ice.
Glass will not solve these problems. He will not help an offense that has mustered just six goals in its past four games. He will not help establish possession via an effective forecheck. He will not help the team win battles or races for the puck. He will not help the floundering special teams. He will not limit scoring chances against. He hasn't done these things for the Rangers before, so there is no reason to believe the 33-year-old, who has just 15 points in 57 minor-league games, will suddenly do them now.
If Glass dresses—and there is no reason to believe he won't at some point given his call-up over more deserving players and the Rangers' past history of using him—all he will do is make the Rangers have to chase the puck more than they already are, and take away a lineup spot from someone who can actually contribute offensively.
Who Will Sit?
That brings up the question of who will sit for Glass. Right now, with Michael Grabner and Jesper Fast still nursing injuries, Brandon Pirri or Matt Puempel would be the first candidates to be scratched. That's bad enough, but when Grabner and Fast return, it could get worse.
Before Glass's call-up, it would have been logical to assume that Pirri and Puempel would be benched, and/or Pavel Buchnevich, who has played very well recently, would either be benched or sent back to the minors (which would be a huge mistake). Now, assuming Pirri and Puempel would sit for Grabner and Fast, that leaves one more lineup spot for Oscar Lindberg, Buchnevich, or Glass. Lindberg, like Buchnevich, has looked excellent in recent contests despite the team's overall uneven play.
If head coach Alain Vigneault dresses Glass in place of Lindberg or Buchnevich, or even Jimmy Vesey, that would be beyond inexcusable. Without exaggeration, that decision would be enough reason to fire Vigneault. To think that Glass could bring more to the table than either of those two players is borderline unimaginable, but we're not that far away from such a scenario potentially playing out.
The Tanner Glass experiment ran its course over two years ago. The Rangers, inexplicably, are blind to that. The bigger problem in all of this is not what it means for how far they might advance this season, but what it means for how the Rangers evaluate players and team needs at a higher level. If they still think that players like Glass are useful in today's league, they will not only be chasing the puck – they will forever be chasing that elusive championship.