For the first time since the 1990-91 season, the Detroit Red Wings are likely to miss the playoffs. Currently, the team sits in the basement of the Eastern Conference standing, with a record of 25-27-11, 10 points behind the New York Islanders for the last wild card spot. Even if the Wings manage to go on an unbelievable run during the last stretch of the season, they only have a 0.2% chance of clinching a berth in this year's postseason, according to Sports Club Stats.
Normally at this time of the season, general manager Ken Holland is looking for one last piece to add to his roster, usually in the form of a gritty forward or veteran defenseman. Instead, the Red Wings were "sellers" during this year's NHL Trade Deadline. Holland moved Tomas Jurco, Brendan Smith, Thomas Vanek and Steve Ott in exchange for five draft picks and defenseman Dylan McIlrath. In this week's edition of The Grind Line, the THW Red Wings writers examine Holland's deadline deals and grade his performance.
Tony Wolak: B
It's fair to say that the 2017 NHL Trade Deadline kicked off with a bang and fizzled out when the clock struck midnight (or in this case, 3:00 PM EST). However, nearly all of the Red Wings rumored available heading into the deadline are wearing another team's jersey now.
When Holland swung separate deals to move Jurco and Smith for two 2017 third-round picks and a 2018 second-round pick, it seemed like the sky was the limit. The Dallas Stars dealing veteran winger/pending free agent/former Red Wing Patrick Eaves for a conditional pick that could turn into a first-round pick was also evidence of this. Then, Holland landed a sixth-round pick in exchange for Ott, leaving Vanek as the only rental left on the Red Wings' roster. The impending Vanek trade seemed like it would be the true grand finale of the trade deadline fireworks.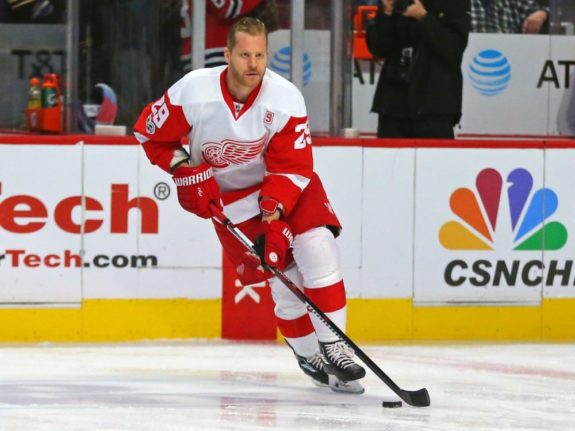 Then, like on a windy Fourth of July, the fuse blew out.
If the best offer for Vanek was truly a third-round pick, then fine, Holland made the right move. It was a letdown, though.
Vanek was a great signing this past summer and outplayed his contract. He was due for a raise that the Red Wings would likely not be able to afford. And Detroit has young talent to play in a top-six role over Vanek. The trade just left you wanting more, though. Since none of us are NHL GMs or were in the room during the discussions, this is just the reality we have to live with.
Besides, it's not like this year has gone the Red Wings' way, right?
Brandon Peleshok: B+
Holland moved four players off the Red Wings' active roster at this year's trade deadline, landing three picks in the 2017 draft (giving the team 11 picks in total), as well as two in the 2018 draft.
The activity started a week prior to the NHL Trade Deadline, when Holland moved Jurco to the Chicago Blackhawks in exchange for a third-round pick. It was an impressive haul for a player who has gone pointless through 16 games this season, and was frustrated with his place within the Red Wings' organization.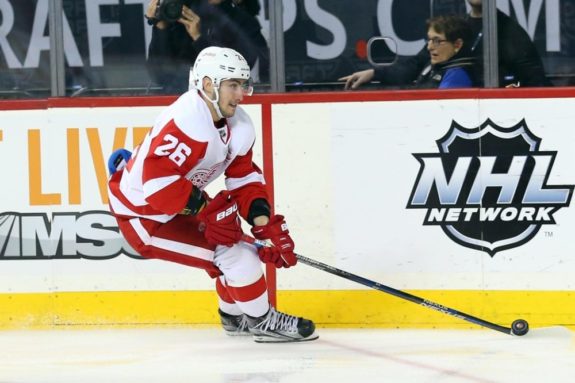 Next, Holland sent Smith to the New York Rangers in exchange for two draft picks, including a third-round pick in this year's draft, and a 2018 second-round selection. Though his advanced stats were impressive, the former first-round draft pick never found his scoring touch in Detroit, registering just five points through 33 games this season. The change in scenery could benefit Smith, and as a pending unrestricted free agent, he will have the opportunity to find the perfect fit with another team during the offseason.
Looking to add a little grit and leadership to the Red Wings, Holland inked Ott to a one-year deal worth $800,000. His time in Detroit ended early, however, as the Wings flipped him to the Montreal Canadiens for a sixth-round pick in the 2018 draft. It was a solid move by Holland, as Ott's registered just six points through 42 games this season.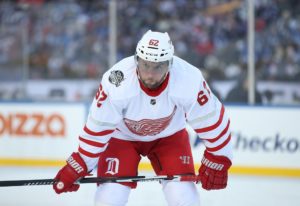 Finally, the Red Wings sent Vanek to the Florida Panthers in exchange for a 2017 third-round pick, and defenseman Dylan McIlrath. Considering some of the trades that took place prior to the deadline, most assumed the 33-year-old forward would land a more impressive return.
Many viewed Vanek as one of the top players available heading into this year's deadline, as he registered 38 points through 48 games with Detroit. It's difficult to pinpoint exactly why Holland was unable to get more in the deal, but Vanek's postseason struggles likely had a negative impact on his value.
Overall, Holland's performance at this year's trade deadline was a strong one. He was able to move several pending free agents in exchange for draft picks, giving the Red Wings a lot of flexibility heading into the NHL Entry Draft this summer.
Tom Mitsos: B+
The Red Wings needed to get value out of their expiring contracts, and they did just that, for the most part.
A third-round pick for Jurco was incredible value, especially considering Jurco played in just 16 games for the Red Wings (with no points), coming off back surgery to start the season and being a healthy scratch for a number of games once he returned.
Two picks for Smith also was a nice return, even if the second-round selection the Red Wings received isn't until next season. Smith was an advanced stats darling last season, leading the team in five-on-five shot-attempts-for percentage (56.8) and leading all Red Wings defensemen in goals-for percentage (55.63), according to Corsica.
However, he wasn't as spectacular this season, missing 25 games with a knee injury and posting less-than-stellar stats (48.92 shots-for percentage and 47.97 goals-for percentage).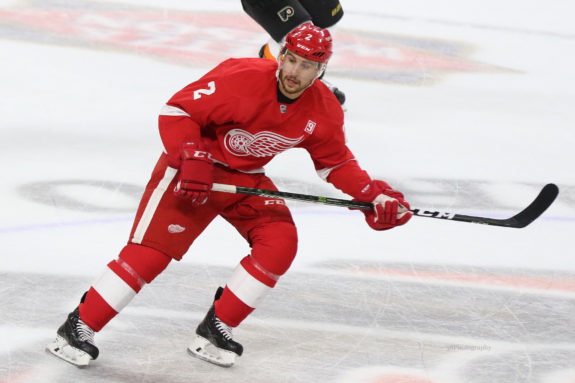 Trading Ott for a sixth-round pick was yet another great return for the Red Wings, as he had just three goals and three assists in 42 games with Detroit, not to mention he was a healthy scratch for a number of games.
However, the final trade involving Vanek was a letdown compared to the rest of the transactions. Vanek's trade stock should have risen after Detroit traded Jurco for a third-round pick, and the Dallas Stars got a second-round pick for Patrick Eaves. However, the Red Wings were only able to get a third-round pick and defenseman Dylan McIlrath from the Florida Panthers.
It seemed like the Panthers fleeced the Red Wings, considering the Minnesota Wild gave the Arizona Coyotes a first-round pick, a second-round pick, a conditional fourth-round pick and Grayson Downing for Martin Hanzal, Ryan White and a fourth-round pick.
Vanek had 15 goals and 23 assists in 48 games with the Red Wings, and Hanzal had 16 goals and 10 assists in 51 games for Arizona.
However, according to Holland, a third-round pick and a prospect was the best deal he was offered. Holland said he wasn't caught waiting for a better offer and had no regrets with the deals he made. It's possible Holland said yes to the best deal, considering Vanek hasn't been great in the past two postseasons (14 points in 27 playoff games over two seasons), which no doubt affected his trade value.
Of course, no one else except Holland knows if that is the truth, but it is better that Holland got some sort of return from Vanek, especially considering Holland has waived three players this season (reclaiming Martin Frk later) without getting anything in return.