For Nashville and San Jose, their upcoming Game 7 is among the biggest games in franchise history. For San Jose, it would mark just the fourth time they have managed to get the Western Conference finals, they have been no further in their history. For Nashville, it would mark their first appearance this deep into the playoffs.
http://gty.im/529872840
For both teams, the chance to go beyond the Western Conference finals is very real. Both teams are healthy. The opponent at the next level, St. Louis, is not dominant. No remaining team in the West has won a Stanley Cup. The teams that advance to the next level will be playing either in rare territory, or completely new territory.
When the puck drops to start Game 7 between Nashville and San Jose, 25 of the 30 NHL teams will have been eliminated. A few hours later, the 26th team will be eliminated, no doubt feeling that an opportunity was missed.
For The Sharks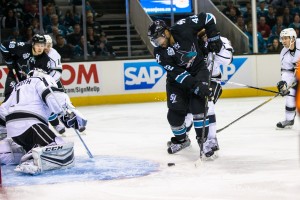 For the Sharks, this is an 'all in' season. General manager Doug Wilson brought in two players in their declining years to fill critical roles. They have contributed effectively. Paul Martin helped Brent Burns on defense while Joel Ward has provided depth and grit in his role on the forward lines. Ward was a net front presence for two Sharks goals in their game 6 loss. With four key players age 35 or older, this team is not likely to improve substantially in the years ahead.
Many think San Jose's window is closing. I've written the window closes when Joe Thornton's play declines. Still, the window is unusually wide open now. The team is healthy as it reaches the midpoint of the postseason. San Jose is the only Western team left that has experienced a Cup run this deep in the last decade. For a San Jose team that has often looked the part of a Cup contender but come up well short, it is a chance to completely change the narrative.
For The Predators
In the media, Nashville is a team that many took lightly. Not me. Last season, Nashville was bounced from the playoffs in the opening round. In the series, they outscored their opponent, despite playing most of the series without their top player (Shea Weber). And oh yes, they lost to the team that won the Stanley Cup. Last year, Nashville was good, but unfortunate.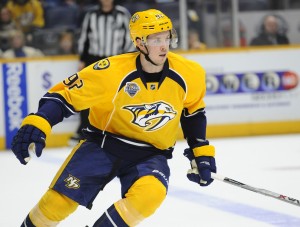 This year, they added Ryan Johansen, a top line centerman, into the mix. Talent-wise, they are a better team this season. Any team with a very good goalie, one of the best bluelines in the game and considerable firepower up front is not a team to take lightly. It hasn't be an elite season for goalie Pekka Rinne, but he can find his game at the right moments. It is what he did in Nashville's Game 6 and Game 7 wins against the Anaheim in first round. Nashville has proven adept at winning big moments, surviving three elimination games already this postseason.
Nashville's future beyond this season is bright. General manager David Poile has relatively few players past their prime and he has cap space which can allow them to upgrade if the team chooses. In some cases, a team breaks through and rolls to a Stanley Cup despite having relatively little Stanley Cup playoff experience. Often though, there is a step progression, where teams discover for themselves what it takes to go deep in the playoffs by experiencing it one season, then building on it the next. Even the longest tenured Predators have managed just two series wins prior to this season. This season is already a relative success. However, this Nashville team clearly is not interested in any sort of cliché about an 'incremental improvement season' when a 'franchise changing season' is very much with their grasp.
The Test
The Stanley Cup playoffs are a test of many things beyond hockey skills. Resiliency, mental toughness and attrition among them. Whoever emerges from this series will have proven themselves in these areas. Both teams are able to skate with the next level opponent. With the Blues win also coming in a seven game series, the two teams that battle in the next round will be comparably worn down.
It is rare that a second round series has the implications for both franchises as this one does. As the series is down to a single, decisive game, the spotlight is more intense. Whatever happens on Thursday night, the result will be one for the history books.
Zeke's Notes
Count me among the disappointed when Roman Polak's shove of the official at the conclusion of Game 5 went unpunished. A suspension would be a bit much, but the NHL does need to make sure its officials are protected. They are already required to insert themselves into very dangerous situations. A fine was warranted.
In Nashville's last series last season against the Blackhawks, the team that scored fewer goals during the series won. That happened again in Nashville's opening round series this season against Anaheim. Should Nashville defeat the Sharks, it would almost certainly be the case again. Nashville's record in the 2016 playoffs is 7-6. In terms of goals, they have been outscored in goals, 38-31. Projected out to 82 games, that is 240-196. Edmonton finished with the worst record in the West and their goal differential was very similar, 245-203. In the playoffs, it is critical to win the key moments. Nashville has done exactly that, winning almost all their close games this postseason.
In an earlier article, I noted how little home ice for Game 7 has matter in recent years, citing a 13-16 record for teams with home ice in Game 7 in the previous four seasons. This season, four series have gone to a Game 7, three series are finished. The home team is 1-2 so far.
ZEKE is a native of the DC area where he witnessed the birth of the Capitals franchise. After graduating from Cornell University, which had seen hockey glory before he arrived, he moved west to San Jose. There he witnessed the birth of the Sharks franchise. His wait to witness a Championship from any of these teams finally ended in 2018.