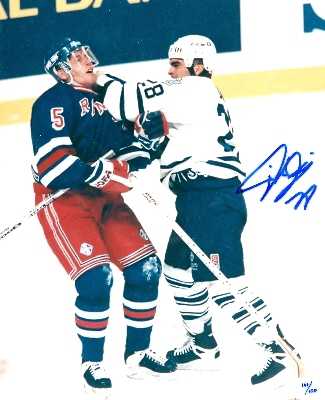 There is a belief held by some fans of NHL hockey that cheap shots are a major issue in the game today.
The truth is the rules have changed drastically since the lockout in 2004 to allow skilled players time and space, and remove a certain degree of physicality from the game. For instance, there is no way Patrick Kane or Ryan Nugent-Hopkins would have been a first overall pick in the 90's. They would have been far too small to handle the clutching, grabbing, holding and hooking that players dealt with at that time. Fast forward to the post-lockout NHL and small skilled players can skate unimpeded and it puts an emphasis on speed and skill rather than size and strength.
To reinforce my point, check out some first overall picks from the 90's. Eric Lindros, Mats Sundin, Owen Nolan, Ed Jovanovski, Chris Phillips, Joe Thornton. Even the much-maligned Alexandre Daigle was 6'0 and 200 pounds. These are very big strong men that were physically imposing. Conversely, Ryan Nugent-Hopkins and Patrick Kane are 170 pounds soaking wet. They would have struggled mightily as 230 pound players water skied on their backs through the neutral zone.
Getting back to the point, concussions are an issue today because the game is so fast and the impact at the point of contact has increased dramatically. However, a quick jog through memory lane provides clear proof that the NHL is way cleaner than in the past.
Exhibit A:
The 1979 Boston Bruins jump into the crowd at Madison Square Gardens and fight the fans. What would Shanahan dish out for this in 2011?
Exhibit B:
Here's a couple beauties from Gino Odjick. Forget about head shots, you had to watch out for a straight right when this guy was on the ice. Eric Lindros took the second one, does anyone take a cheap shot like that nowadays?
Exhibit C:
Here's a couple from Tie Domi. He may be remembered for fighting but he was as dirty as anyone. Check out this one-punch on Ulf Samuelsson as well as his famous elbow that knocked out Scott Niedermeyer in 2001.
Exhibit D:
Dale Hunter was always a dirty player, he was the Ogie Ogulthorpe of the NHL in the 90's. If you wanna see a premeditated head shot check this out…
Exhibit E:
Prior to the NHL lockout, it wasn't just enforcers delivering cheap shots. In fact, sometimes superstars felt the need to defend themselves. For instance, check out Pavel Bure in 1995 delivering what Don Cherry playfully referred to as "The Mother of All Elbows." When was the last time you saw Crosby, Ovechkin or Toews do something like this?
Exhibit F:
As demonstrated earlier, Gino Odjick was a dirty player. In hockey, what goes around comes around and in the video below, Owen Nolan absolutely pastes Odjick from behind.
This could go on for a while but my point is that NHL hockey in 2011 is not dirtier than in the past. In fact the rule changes have cleaned the game up a great deal. The current issue with head shots stems from the speed the game, and Brendan Shanahan is now taking the proper steps to resolve this issue. This week Brooks Laich said that he feels the player's are being babysat by the NHL.If you don't want to believe me, at least I have one supporter in Laich. As far as I'm concerned everyone needs to take a step back, calm down, and recognize that hockey is a physical and violent sport. Player's know exactly what they are getting into and they know there is a possibility of injury.