Today is the NHL trade deadline and names are have already started swapping zip codes.  The Colorado Avalanche have been relatively quite on this day in past years but today is suspected to be no different. Lets look at what the Avalanche have done the past three trade deadlines.
2014
The Avalanche surprised the hockey world with a dream season in 2013-2014.  The biggest speculation as the deadline approached is what would happen with pending UFA Paul Stastny.  Contract talks had stalled and Stastny had said he would take a hometown discount to stay in Colorado but on deadline day a deal had not been reached.  As teams made deals and players were swapped the avalanche stayed mostly quite until the closing moments when finally they completed a deal with the Calgary Flames.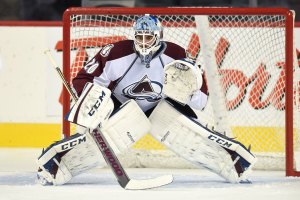 It was believed that at the conclusion of the season Avalanche back up veteran goalie Jean-Sebastian Giguere would call it a career.  So the Avalanche traded a 2nd round pick to Calgary for goalie Reto Berra.  It was not long after that the Avalanche signed him to three year contract extension.
Berra had a chance early this season to be the number one when Semyon Varlamov suffered a groin injury but it did not go as Berra would have hoped.  Soon he found himself still as a back up but this time to AHL call up Calvin Pickard.  As of now it would appear the Avalanche over paid for Berra and tied themselves to a player that they may be thinking twice about.  It is safe to say Varlamov is not going anywhere anytime soon but Berra may be in play of the Avalanche are willing to cut their loses on him.
2013
The lockout shortened 48 game season was one to forget for Avalanche fans.  The team would win only 16 games and finish last in the division with 39 points.  The Avalanche were a young team with lots of potential and set to have a high draft pick in the following draft.  As a result the 2013 trade deadline was a quite one as the Avalanche completed just one trade.  The Avalanche acquired a 4th round draft pick from the Toronto Maple leafs for defenseman Ryan O'Byrne.
O'Byrne would play only 14 games as a member of the Maple Leafs and have only one goal and one assist.  That would be the last time O'Byrne would play in the NHL.
2012
On trade deadline day in 2012 the San Jose Sharks were aboard a flight headed to their next game when it was announced that TJ Galiardi and Daniel Winnik had been added to the team from Colorado.  However no one seemed to know yet what was going to Colorado in return.  Not long after the announcement was made on the TV an assistant tapped Jamie McGinn on the shoulder and asked him to go see coach in the back of the plane.
Mcginn came to Colorado along with prospects Mike Connolly and Michael Sgarbossa.  McGinn made an instant impact on the Avalanche with 13 points in the final 17 games of the regular season.  McGinn has now played 169 games as a member of the Avalanche in less then 3 seasons.  A two year extension was reached by the Avalanche with Mcginn over the off season which ties him to the team until 2016.  However after 19 games McGinn underwent back surgery and it is believed he will miss the remainder of the season.
General manager Joe Sakic has made it clear that he does not plan on trading away any pieces of this teams young core.  His plan is to sign Ryan O'Reilly not trade the talented young forward.  However it is possible guys like Jan Hejda, Daniel Briere and maybe Max Talbot have already played their final game as a member of the Avalanche.  Only time will tell.
I am a University of New Mexico journalism student who has been watching NHL hockey since 1996 and I started playing hockey myself in 2003. I have covered both college soccer and volleyball in the past and I also contribute to a NASCAR news website.