As the 2015 Trade Deadline approaches, it appears as though the Edmonton Oilers will once again have an extremely eventful day ahead of them.
With the playoffs out of reach and the team deep within the Connor McDavid sweepstakes, the rebuild in Edmonton looks set to continue into the forseeable future.
As a result, the Oilers should be very active on Monday, however this years emphasis will be on adding young, NHL ready players to the Edmonton roster, rather than stockpiling draft picks as done in years past.
Defence and goaltending are the major areas in which the Oilers need to improve, as a result, players and somewhat surprisingly, draft picks, could very well be made available in order to address these areas of need.
Here is a look at the Oilers top 5 trade chips who could be on the move before the Trade Deadline.
Jeff Petry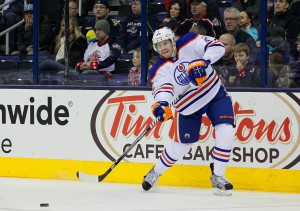 Jeff Petry is going to be traded, the only thing left to be determined is to what team.
An unrestricted Free Agent following this season, Petry has long been considered one of the Oilers' top defenseman and was highly unlikely to re-sign with the team this off-season.
Originally drafted by the Oilers in the second round, 45th overall in the 2006 NHL Entry Draft, Petry has been an Oiler his entire career and is one few Oilers players to have been drafted outside of the first round to play significant time with the team.
Petry is drawing interest from a number of teams, in particular the Detroit Red Wings, Anaheim Ducks and Montreal Canadiens.
Petry could garner a significant return for the Oilers given the market demand for veteran, rental NHL defensemen. Since the Oilers are targeting players rather than picks, a deal with Montreal involving goaltender Zachary Fucale could be completed, a move which would help to solve the Oilers' future goaltending situation.
Chance of Petry Trade: 100%
Andrew Ference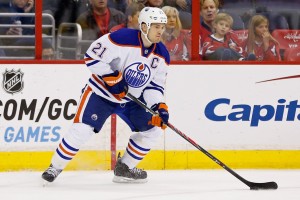 Current Edmonton Oilers captain Andrew Ference is drawing interest from a round the league, according to TSN's Darren Dreger.
Although he still has two years remaining on his current contract which carries an annual cap hit of 3.25 Million Dollars, Ference would be a solid addition to a playoff bound team considering he has a wealth of playoff experience under his belt.
Since returning to his hometown, Ference has been the heart beat of the Oilers both on and off the ice. The leadership and character which he is helping to instill with the young Oilers squad is invaluable, making a trade involving Ference difficult to consider unless a package of significant value would come to the Oilers in return.
Chance of Ference Trade: 55%
Teddy Purcell
The Oilers have yet to see the Teddy Purcell of old during his first season in Edmonton. Purcell, who scored 24 goals with the Tampa Bay Lightning in 2011-12, has managed just 8 goals and 27 points this season with the Oilers at the deadline.
At 6 foot 3, 205 pounds, Purcell's size and goal scoring ability could make him a valued target of various playoff bound NHL teams. The issue some teams may have with Purcell however is his contract, which has one year remaining with a cap hit of 4.5 Million Dollars.
In terms of return, Purcell could fetch a solid prospect, largely due to his past success and the fact that he is under contract through the 2015-16 season.
Chance of Purcell Trade: 40%
1st Round Draft Pick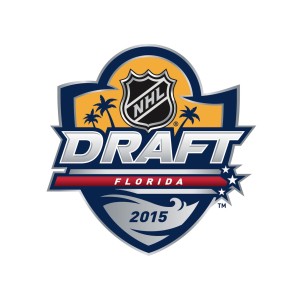 In fact, Edmonton's first round Draft Pick may be the best asset they have available at the 2015 NHL Trade Deadline.
Based on the Oilers' current position in the standings, it appears as though Edmonton will have one of the top two picks in the draft, if not first overall.
Don't get me wrong, trading this pick would be an absolutely crazy decision, however dealing the first round Draft Selection could see the Oilers net a monumental amount of assets in return, a move which could potentially see the Oilers become borderline playoff contenders.
Hypothetically, would a team such as Carolina take the bait? One or more of Eric Staal, Justin Faulk or Jeff Skinner in return would certainly be a start, yet chances are the Oilers could demand much more than that for what could be a chance at the first overall pick and Connor McDavid.
Chance of 1st Round Pick Trade: 5%
Jordan Eberle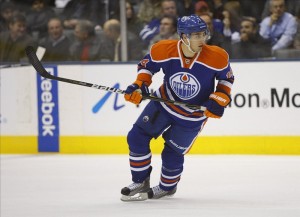 In what would come as an absolute shock to many, Jordan Eberle could net a massive return if he was traded by the Oilers.
The teams top right winger, Eberle is a dynamite player of incredible skill who is on a reasonable contract which runs through the 2018-19 season with an annual cap hit of a 6 Million Dollars per season.
Trading Eberle would certainly help to shore up the Oilers deficiencies on defense and in goal, however it is not immediately clear which teams could be interested in his services. Similar to the first round pick, it is highly unlikely that Jordan Eberle is sent packing at the trade deadline, as players of such high skill are simply too hard to come by, and as a result, too valuable.
However, a potential blockbuster involving Eberle would without doubt fill multiple holes in the Oilers roster, likely long term.
Chance of Eberle Trade: 20%
Brett Slawson is a four-year veteran of The Hockey Writers who covers the Toronto Maple Leafs, NHL prospects, and the OHL's Mississauga Steelheads.
Contact Brett on Twitter @brettslawson92, or by email at brett_slawson@hotmail.com.