Championships are earned. It makes no difference if you are a perennial titan or a unaccomplished newcomer in the grand scheme of athletics. Nothing will be handed out, and no title will be won easily. The NHL teaches this lesson vividly, where teams of all shapes, skill, and levels of competence face the exact same daunting task. There's an 82 game regular season, followed by four rounds of systematic destruction in order to win the Stanley Cup. Want to achieve or regain hockey immortality? Then you'll have to earn it. Every time.
The Los Angeles Kings learned this the hard way a year ago; when resting on their recent title history replaced the hard work, determination, and focus that it took to get there in the first place. They missed the playoffs, faced an off-season of scrutiny, and a number of questions festered as the 2015-16 season progressed. It was safe to wonder if this team had that killer instinct, that extra gear to elevate their play. Could they rediscover their championship mettle?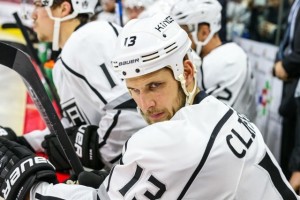 What a difference a week makes. In the span of seven days, the Kings registered wins over three of the league's best teams, with resounding road wins in consecutive days to place an exclamation point on their statement to the NHL. L.A. is starting to feel it. They're beginning to regain their "Eye of the Tiger.
In 1982 the band Survivor released the theme song for the epic film Rocky III, depicting a boxer who has reached the pinnacle of his sport but loses his hunger and spirit. Their song was called "Eye of the Tiger," and it can be used as a device to demonstrate every step along L.A.'s journey back to prominence. Plus, I'm a pop culture junkie so this just feels right. The following is a lyrical breakdown of that legendary tune, illustrating how the Kings became the Kings again.
Risin's up, back on the street
Did my time, took my chances
I touched on it earlier, but the Kings 2014-15 season was one of the most disappointing campaigns in franchise history. There have certainly been worse years, but given the amount of talent on their roster, it's hard to imagine a bigger letdown. They lost one player from their Stanley Cup winning team the season prior (Willie Mitchell, a valuable but expendable veteran defenseman), and still found a way to miss the playoffs. L.A.'s flameout left general manager Dean Lombardi with a difficult decision to make. Should he make some wholesale changes? Does this team need to take a step backwards before moving forwards?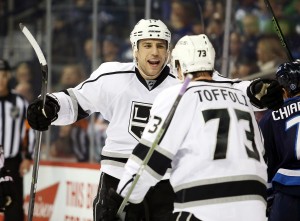 And Lombardi had made his share of mistakes. He failed to release Mike Richards when it was fiscally responsible to his franchise, locked up Dustin Brown to a lengthy and pricey deal as his production dwindled, and failed to sign Anze Kopitar in the most recent off-season. There were plenty of dangling issues, but Lombardi was able to tred the muddy waters of the NHL.
Kopitar got signed. Panic did not set in. Lombardi trusted the talent on his roster, but also had the wherewithal to understand that other moves were necessary. He flipped a backup goalie into a face-pounding, goal scoring hellraiser (Milan Lucic), added some much-needed defensive reinforcements, and rounded out the team's offense with some valuable depth. The Kings front office responded to their failures of a year ago the only way they knew how; by taking  calculated chances. It should come as little surprise that it has worked out so well.
Went the distance now I'm back on my feet
Just a man and his will to survive
I always thought this line of the song had the deepest meaning, and was a testament to the resilience of Rocky Balboa. Rocky was brutally dismantled by Clubber Lang in their first fight, but used his will, his spirit, and some runs on the beach in the shortest of shorts to get back on his feet and win the eventual rematch. He was left for dead, but somehow, in his 30s, found a way to dig deep and become a winner again.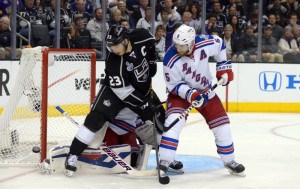 Does anybody embody this lesson more than Dustin Brown? I was among his staunchest critics earlier this season, when his dwindling production left even his coach and noted wordsmith Darryl Sutter struggling to find answers. Brown remained true to his game, and despite failing to score a goal in 15 games, he still registered an impactful total of 68 hits in those contests.
With his heart still beating, Brown's stick came alive to the tune of goals against both the Blackhawks and Stars. The Kings captain scored in back-to-back games, against two premier teams, and provided a much-need boost to the L.A. offense. No matter how many times he gets knocked down, Brown will always get back to his feet.
So many times, it happens too fast
You trade your passion for glory
Rocky's legendary trainer Mickey Goldmill put it best when describing the worst thing that could happen to a fighter: becoming civilized. Rocky stopped living in the gym and training rigorously out of the fear of being unable to provide for himself if he failed, because he didn't have that worry anymore. This is true to some extent for every hockey player, but two current Kings fit the mold perfectly. Tyler Toffoli and Tanner Pearson weren't around for the first Stanley Cup run in 2012, because they were stuck in an insanely loaded L.A. farm system. They had to claw their way to the NHL, taking much longer than they would in most organizations. Once they got to the big leagues, they became champions. Many of the greatest players to ever lace up a pair of skates did not hoist the Stanley Cup, but here were two youngsters doing just that. It happened so fast.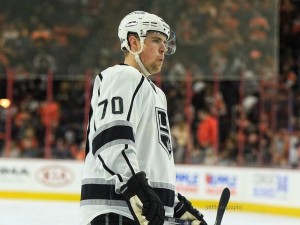 Perhaps even too fast. Both players failed to live up to unfair expectations last season, and more notably Pearson was relegated to healthy scratch status at times due to his struggles. But now both young men get it. They have been playing with a greater sense of urgency, a reinforced level of pride, and an unquestioned amount of effort. Pearson is back to being a capable playmaker, and Toffoli has overcome a mid-season scoring slump to make plays like this:
Texas Toffoli pic.twitter.com/BNb4fdXdMS

— LA Kings (@LAKings) March 16, 2016
Instead of rifling a quick shot early into the rush, he used his teammate Nick Shore, cooperated in undressing a poor Dallas defenseman, and finished in spectacular fashion. L.A.'s kids are growing up.
Don't lose your grip on the dreams of the past
You must fight just to keep them alive
The game of hockey moves fast. The Kings have two championships, won their most recent one in 2014, and yet it feels like an eternity ago to those players. Winning is contagious, and it only makes losing sting that much more. The one constant road block to a third title in Los Angeles has been the often scrutinized defensive unit. For the entire season, this group has had to listen to bozos like myself harp about how it needs to be addressed and improved in order to push this team back to glory.
While it hasn't always been pretty or conventional, there have been noticeable positive differences in how the Kings point-men have played this week. They preserved a shutout for their goaltender against the showtime Blackhawks, played two phenomenal periods against the Capitals (before that brain cramp of a third almost cost them the game), and preserved another impressive win against Dallas with a shutdown third period. Part of it is due to Sutter's rotations, but a large portion of credit belongs to the guys who patrol the Kings' blue line.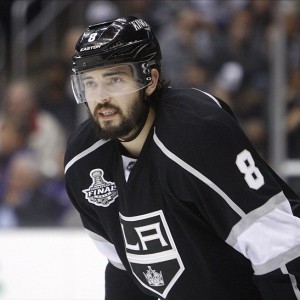 And let's get back to Doughty for a second. I know Erik Karlsson is fourth (?!?) in the NHL in points, and poised to become the first defenseman to lead the league in assists since Bobby Orr (the only other man to do so). Doughty is still having what I think is his best overall season, and still has an outside chance to win the Norris Trophy. Maybe the voters will see it my way, and put more stock into the defensive aspects of the position. Should the Kings go on to secure the top point total in the Western Conference, as the Senators join the rest of Canada on the postseason sidelines, then that could also sway the vote.
The point is that Doughty is still playing phenomenal hockey, and is a main reason why this team has flipped their competitive switch. His dreams and the dreams of his team are much still alive.
It's the eye of the tiger
It's the thrill of the fight
Risin' up to the challenge of our rivals
The best quality that Sutter's Kings possess is the ability to raise their level of competition to match that of their opponents. His team gets up for big games, adverse situations, and when the deck is stacked against them. Do you know that the Kings are an NHL best 9-1-1 in the second half of back-to-back games? Think about that for a second. You've just played a grueling game the night before. There's no time to recharge or refuel, because puck drop is in less than 24 hours. How easy would it be to pack it in, live to fight another day, or save yourself for a more important tilt? Too easy. But Sutter has forcefully removed easy from his squad's vocabulary, and the Kings take nothing for granted. You saw it on the road against the Stars, when many fans expected L.A. to lie down like Kevin Nash after the "Finger Poke of Doom." But there was no Hollywood Hulk Hogan, and these Kings come to play every single night.
The roster itself is filled with players who show up when the stakes are high. Lucic won't back down from a physical confrontation on the grandest stage, and has performed very well this past week. Jeff Carter is no stranger to big goals, and the new additions of Kris Versteeg and Vinny LeCavalier are rich with championship experience. The bigger the moment, the better this team appears to play. And with the magnitude of each game increasing from here on out, that should make the rest of the NHL feel very uneasy.
And the last known survivor stalks his prey in the night
And he's watching us all with the Eye…
Of the Tiger
There's a certain tone that the Kings set when they are locked in. It's debilitating to compete against, because like many great champions L.A. knows how to break the will of their opponent. Here's when it happened against the Stars:
Anze Kopitar is a hockey locomotive. Throughout all of his successes, contract talks, trials and tribulations in his surrounding environment, he just keeps playing. His game is so well versed that we actual underestimate his competitive fire, and with that, his killer instinct. When the time calls for it, Kopitar makes the right play. Sometimes that's a hit, other times it's feeding the hot shooter, and on this occasion it was dangling the entire defense. Just the right play, at the right time.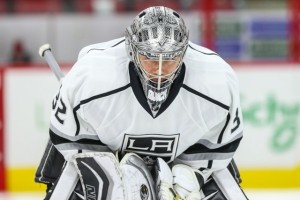 The Kings have several players that stalk their prey, but one that's certainly worth mentioning is goaltender Jonathan Quick. He set the record for shutouts by an American born goalie with his win over Chicago, but Quick will be the first to admit that he doesn't care all too fondly for stats. Team wins is the only number he values, and he will do whatever it takes to make that happen. His passion can be overbearing at times, but every coach would take it in a heartbeat.
L.A.'s success this season has been a complete group effort, but don't overlook the fact that Quick has been stifling elite offenses in the process. Two Stanley Cups in a career would definitely satisfy most goalies, but for Jonathan Quick that's not enough. He wants more, and he's willing to pay the ultimate price.
That concludes my Kings/1980s Survivor spiel. I don't know if you can ever quantify into statistics or analytics what exactly the "Eye of the Tiger" is. But as a hockey fan, and someone who has followed the Kings closely this season, it's apparent that they have it. And in hockey, that definitely counts for something.
***
Can't get enough hockey? Want to talk about it with our writers, and fellow fans? Join The Hockey Writers Group on Facebook today!
Just a hockey loving American. I grew up in Cleveland, Ohio, and attended Saint Louis University where I skated for the Billikens. From 2013-14 I covered the St. Louis Blues for ESPN Radio St. Louis. I currently work in sports video production in Los Angeles, and will always show solidarity for stay-at-home defenseman.