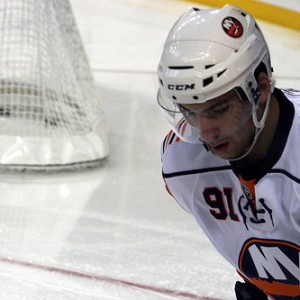 The Islanders were in Detroit last night, ending the 2010 year in another battle with a division leader in the Detroit Red Wings after having already defeated the Pittsburgh Penguins and Montreal Canadiens earlier in the week. Like usual, Dwayne Roloson stopped several scoring chances as the Wings were able to set up shop and do what they do best in the offensive zone by firing on all cylinders. But the Islanders were able to capitalize when it mattered the most, including on a power play in overtime where P.A. Parenteau fired home a one-timer from John Tavares, who had one goal and two assists on the night. The other goals came from Matt Moulson and Jesse Joensuu, who was recently called up for the current road trip.
Speaking of the Canadiens, James Wisniewski, who was recently traded to the Habs for a 2nd and 5th round pick, scored two goals (including the game winner) and an assist in his Montreal debut last night. Although there has been plenty of hoopla on fan boards and other blog sites, GM Garth Snow got what he could for a defenseman that was -18 on a team that has not been successful all year long. The Wiz was supposed to be a complimentary asset to Mark Streit – but he didn't have Streit to play with, therefore, he took the reigns on the blue line on his own and it was too much for the guy to handle. Did he play poorly while on the Island? No. But did he perform at or above expectations? Definitely not. There is no doubt that the defenseman would have scored career highs with the Islanders; he'll still do the same in Montreal. But the Wiz just wasn't the body banging defenseman that the team had thought they received. It's easy to point fingers and say that Snow didn't do enough to bring in a forward to help the kids play, but trading a defenseman that really didn't play too much defense for more than they initially gave up shows that Snow made the right deal.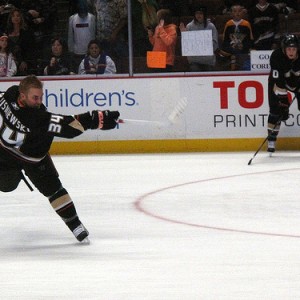 The fact that Snow made the trade for more picks proves to me that Snow may be more inclined to keep his first round pick this year, which will likely be another one in the top-5 range. I began a little bit of speculation in a post over at The Checking Line (www.thecheckingline.com) a few weeks back, noting that the Islanders need veteran leadership and could use the pick to lure in some talent since free agency hasn't worked out well in the past. But the GM has been nothing but completely committed to building through the draft and retaining his picks. Although there is always the possibility that Snow may do something different, I am starting to firmly believe that the Islanders will draft another cornerstone prospect. And they should. When you look at teams such as the Washington Capitals and Pittsburgh Penguins, you have to remember that it took them several years before they could call themselves contenders. Neither the Pens or the Caps took off with the drafting of Crosby and Ovechkin, nor did they only endure two bad seasons before suddenly making a run in the playoffs. Yes, I was one of many that predicted this Islanders team to make the playoffs. Yes, they did hit major set backs with Okposo, Streit and others getting injured before the season even started. But it doesn't matter. The Islanders are still years away from being recognized as a force to be reckoned with; it takes patience. Garth Snow knows that. Now what type of player should he look to draft? Well, we have a few months before we can start that discussion.
Currently the Islanders are  riding a two-game winning streak which has put them at 11-19-6, sitting 14th in the East and 29th in the NHL, only above the New Jersey Devils. Although the record isn't pretty, the Isles are 6-3-1 in their last ten and have been beating top teams in both Conferences. They will look to find the same results against the Flames, Oilers, Avalanche and Blackhawks over the next week; it won't be easy. But this road trip couldn't have come at a better time. Right now the Islanders are gelling; they're playing with emotion and most importantly, they are playing for each other. Notice that when all is going right, even a team of kids can win hockey games. I know it's a topic that I've beaten harder than a drum, but if only this time had a legitimate veteran goal scorer to help them along the way…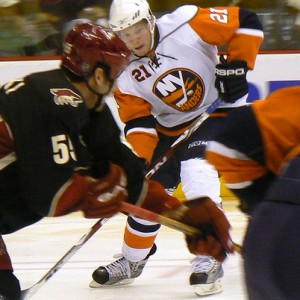 But Kyle Okposo should be making his season debut some time in the near future. He has been skating and it is close to the estimated deadline of his return to NHL action. The team can use his grit, leadership and that famous reverse toe drag that he loves to use. On a side note, it's good to see that the organization did not rush Kyle back into the line-up and are taking their time with his rehabilitation. They made a few mistakes with Rick DiPietro in the past and have been able to learn from it. To rush KO back would have been foolish considering the Island started sinking very early in the season.
Over the previous two years, the Islanders rebuild has been notoriously known for a successful second half that allowed fans to almost cringe with every goal scored since each victory could have potentially played them out of the draft lottery. This recent stretch may be foreshadowing the same type of finish in year three. Although a draft pick is important, everyone in management will want to remember a strong finish to the year. 2010 saw that with a 4-3 OT victory against an original six team.
But Islanders aside, tonight all hockey fans will be treated to the NHL Winter Classic show down between the Pittsburgh Penguins and the Washington Capitals. Two of the biggest names in hockey will be going head-to-head, outdoors, under the lights in front of probably the largest crowd that an NHL game will see all year. It won't get any better than this.
…just think if things do go accordingly to Garth Snow's plan. Maybe the Islanders could play outside…maybe they could play the Rangers at Yankee Stadium like Charles Wang wanted to do a few years ago…maybe they could…
okay I'll just stop there. Enjoy the game tonight everyone, and Happy New Year!
-Rob McGowan
Follow me on Twitter!
http://twitter.com/IslesRM