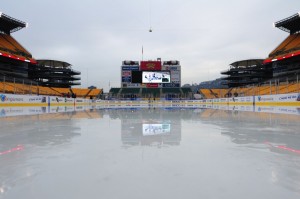 PITTSBURGH –   Earlier this week, THW's Angie Lewis took a look at five things every viewer should know about the Washington Capitals heading into the big game.
For the hometown team, it's tough to complain about a 25-11-3 start that has them sitting at the top of the NHL.  It seems like ages ago that critics were wondering if the Penguins had hit rock bottom, just before the team reeled off a 13-game winning streak. 
Sidney Crosby's systematic demolition of the NHL isn't a secret, but here are a few notes about the Penguins that don't get quite enough media attention:
1) Fighting for Wins
Most fans would naturally assume a tough team like the Philadelphia Flyers probably leads the NHL in fights, but a quick check at HockeyFights.com shows that the Flyers aren't in even in top half of the league in fighting majors this season.  Shockingly, at the top of the list with 39 is the Pittsburgh Penguins.
Who is dropping the gloves on the Pens?  When HBO decided to interview 'Enforcers' for their 24/7 Penguins Capitals series, Eric Godard and his 776 career penalty minutes was the natural choice.  Godard broke his nose last week in a bout with Ottawa's Matt Carkner, but it was only his fourth fight of the year.  Instead, Deryk Engelland has carved out a niche on the Penguins with 10 battles so far this season.  Don't be surprised if he tries to drop the gloves on Saturday in the second fight in Winter Classic history.
2) Will Lack of Discipline Cost Them?
In addition to fighting, the Penguins also sit third in the NHL in hits with 1015. The aggressive play makes them a tough team to play against, but it's also led to a rash of penalties in recent weeks that could be costly against a talented Washington powerplay.
Pittsburgh has taken 43 minor penalties in their past six games (14.3 minutes per game) and have also had to kill an enormous amount of 5-on-3 situations.  If that trend keeps up, the Penguins will start losing points in the standings as a result of their undiscipline.
3) To Kill or Not to Kill? It takes 8 seconds.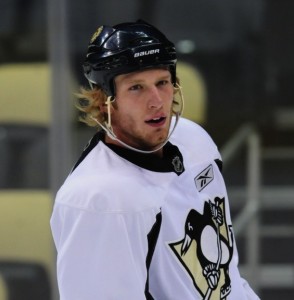 One of the reasons the Penguins have gotten away with so many penalties lately is that they also possess the NHL's #2 penalty killing unit.  Having killed 87.5% of penalties taken this year, they trail just the Montreal Canadiens (87.8%) heading into Sunday's action.
Jordan Staal, arguably the team's best penalty killer, will make his season debut tonight on a unit built around pressure and forcing turnovers. (Note: Coach Bylsma said Staal will probably kill penalties and play limited minutes on a line with Evgeni Malkin)  The standard minor penalty is two minutes long, but a few weeks ago Bylsma said the first eight seconds are the key:
Most importantly quality I think is to have that mentality in the first eight seconds when the puck enters the zone. I think it's critical for the penalty kill. There is a point of time that elapses where the man-advantage isn't a man-advantage where they're trying to get set up or recover a puck. That eight seconds sets up your penalty kill. Last night, from faceoffs to the first eight seconds and getting clears from our defensemen going back for pucks is a huge factor in setting up the penalty kill. If you have to penalty kill for 1:30 in the zone you're going to give up chances. There's going to be a scramble. There's going to be a loose puck. That's not a recipe for success. The first eight seconds is huge.
4) Transition Game
In the third episode of the HBO's 24/7, Bylsma told his team to be aware of Washington's quick transition game.  He said that some of the Capitals' defensemen like Mike Green were so active on offense that it might open up opportunities for odd-man breaks if the Penguins could steal the puck.
If the Penguins choose to run-and-gun with the Capitals tonight (and ice quality permits), you could see the same vulnerability with them as well.  In each defensive pairing (Paul Martin–Zbynek Michalek; Kris Letang–Brooks Orpik; Alex Goligoski–Ben Lovejoy), one player is always looking to jump into the offensive attack.
When Pittsburgh has a lead, they tend to unleash the offensively talented Martin, Letang, and Goligoski.  Unfortunately, all three have also been the victims of poor decisions and in a game with a ton of buildup and excitement it'll be crucial for the Penguins' defensemen to stay composed.  If they don't, Alex Ovechkin, Alex Semin, and the Capitals could really make them pay.
5) Forecast: Strong Chance of Fleury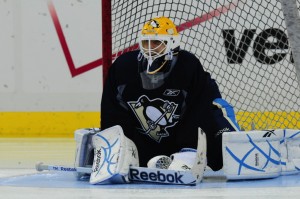 Marc-Andre Fleury missed the Penguins' first Winter Classic with an ankle injury, but comes into tonight's contest in the midst of one of the hottest stretches of his career.
A disastrous start to the 2010-11 season seems like distant memory as Fleury has reeled off an unbelievable 16-2-2 stretch beginning with a Nov 12 game against Tampa Bay.  Prior to the opening faceoff that night, fans chanted his name in an effort to support their shaken goaltender.  It worked.
Fleury's inconsistency can be a problem, but when he's at the top of his game he's one of the toughest goaltenders in the league to beat.  Last Thursday in a 3-2 win at Washington, Fleury stood on his head and Bylsma felt his goalie carried the team that night:
Absolutely, he was outstanding and sharp.  On the penalty kill, on some point-blank [shots], and even on shots through traffic he was sharp and picking those pucks up as well.  That's not to mention the save on Mike Green in overtime that was outrageous.