By Mike Colligan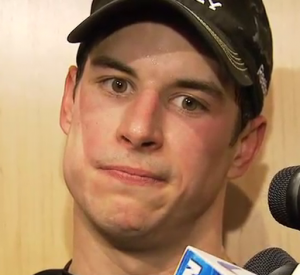 The Pittsburgh Penguins led the Boston Bruins 4-2 after two periods of play Wednesday night and were well on their way to closing out their most impressive performance of the season. Twenty minutes and five unanswered Boston goals later, fans and writers were left wondering if the team had hit rock bottom?
Rock bottom?  Ask a fan who paid to watch the 2003-04 Penguins led by Dick Tarnstrom, Ryan Malone, Milan Kraft, Rico Fata, and Konstantin Koltsov about rock bottom.  Or the 16-win team two decades before them that was actually trying to lose by the end of the season.
For those with shorter memories February 14, 2008 comes to mind.  After jumping out to a two-goal lead against the Toronto Maple Leafs, the Penguins surrendered six unanswered goals, fired coach Michel Therrien, and Evgeni Malkin was found in his locker silent and frustrated with his head in his hands.  (We know what happened after that.)
Admittedly, expectations are higher for the 2010 edition of the team, but this is far from rock bottom. Coach Dan Bylsma's job isn't in jeopardy.  Sure, there are issues that need to be addressed if the Penguins are going to win a Stanley Cup, but the beauty of a long 82-game season is that the team has a lot of time to figure itself out.
The typical knee-jerk explanations have crept back into the psyche of the Pens' faithful: Sidney Crosby needs wingers.  Marc-Andre Fleury is not an elite goaltender.  On and on and on.
Chris Botta at NHL Fanhouse doesn't know what else GM Ray Shero can do at this point aside from bringing back a fan favorite:
The Penguins are now 7-8-1 and 2-5-0 at home (these new arenas rarely seem to create an immediate spark, if you haven't noticed). Their goaltending is in disarray, with Marc-Andre Fleury fighting the puck while the bloom has come off backup Brent Johnson. Even with Sidney Crosby (pictured) at the top of the lineup, Pittsburgh looks rudderless. They could eventually turn back to retired-for-now Bill Guerin — who was in town recently for a concert by Bruce Springsteen and local fave Joe Grushecky, who acknowledged Guerin's 40th birthday from the stage — but there isn't much more management can do.
And that's exactly how it should be. The biggest mistake general manager Ray Shero could make right now would be to construct a shakeup trade. These are not the Penguins of 2008-09, with everyone waiting for the inevitable removal of head coach Michel Therrien. Shero is going to give Dan Bylsma and his players time to figure it out on their own.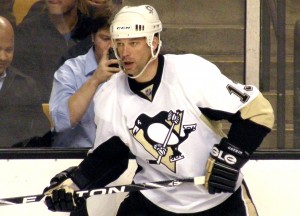 But what about Bill Guerin?  He'd add another scoring threat to the lineup after proving he's still capable of 20-goal seasons at the age of 39.  Even if he's lost a step on the ice, his leadership and presence in the locker room could be just what the doctor ordered to snap the Penguins out of their funk.
The current group has been through a lot, but they're still very young.  The team's old-timers are Craig Adams and Brent Johnson – both just 33.
When the effort isn't there, who steps into the center of the locker room at the CONSOL Energy Center in between periods and reads the team the riot act?
Of the assistant captains, Jordan Staal has missed the entire season with injuries and Malkin is still working to grasp the language.  Brooks Orpik is a possibility.  His frustration was starting to come through in his comments after Wednesday's loss.
"It's not that (other teams) are doing anything. I mean, everything they get, we give them. It's just (our) guys got to be accountable," Orpik said. "Part of the problem is we're not playing to the situation. I mean, why are defensemen playing like forwards when we've got a 4-2 lead — this is the problem to me.  We've got enough good forwards here. We don't need our defensemen playing like forwards when we're up 4-2."
Then there's Crosby.  When the doors are open and the cameras are on, the captain carefully calculates every word out of his mouth to avoid drama or conflict.  Is he willing to get in the face of teammates when times get tough?
Guerin could actually be the perfect leadership quick fix – a familiar veteran that's been down this road before and would immediately command the attention of the room.
That's exactly why the Penguins shouldn't do it.
The torch has been passed.  Bringing in Guerin would only be looking into the rearview mirror to solve problems in the here and now.  If Crosby is truly the leader he's been built up to be – the youngest player in NHL history to be named captain – it's time for him to grab the wheel with both hands and steer this team.
He took a step in the right direction with his support of Marc-Andre Fleury earlier in the week, but the captain also has to let teammates know when their effort isn't meeting team expectations.
The Penguins don't need a quick fix.  They don't need Bylsma to scream and holler.  As Botta said, they need to figure it out on their own.
In a moment like this, 'Sid the Kid' finally has his chance to become 'Sid the Captain'.