General Manager Garth Snow began rebuilding the New York Islanders three years ago. "The Plan," as he called it, was to build up his team through the draft with the addition of sprinkling in a few free agents as the year went by to fill in any gaps that he could not fill from within. Right now the Isles are in the third year of the rebuild, looking to take the next step. In those three years, Snow has drafted John Tavares and Josh Bailey, along with developing defensive prospects Travis Hamonic and Calvin de Haan, while also allowing the time for players such as Blake Comeau, Frans Nielsen, Andrew MacDonald and Kyle Okposo to grow.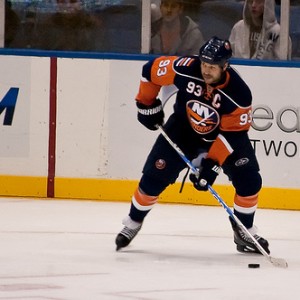 As far as sprinkling in those UFA's, Snow originally signed Ruslan Fedotenko, Bill Guerin, Mike Comrie and eventually added Doug Weight. Jon Sim has been someone he has kept around as well. In that time, the latter two are the only ones to remain with the team.
So what does that tell you? Garth has done a decent job of looking for the bad eggs and removing them. But what can one say about the additions he's made to fill in those gaps?
Last year he brought in Dwayne Roloson and Marty Biron to handle the goaltending deficit in regards to DiPietro's recovery. Roly is still here as DP is back in playing shape trying to regain his old form. He also added veterans James Wisniewski, Mark Eaton, Mike Mottau and Milan Jurcina to an inexperienced defense. He also signed Trevor Gillies to an NHL contract last year and has kept him around to suit up alongside of Zenon Konopka, a natural tough guy who plays the game with his heart on his sleeve.
But what has Snow done to make up for the issues on offense?
Rob Schremp was pulled off the waiver wire and showed that he has the potential to be a top-six forward. He also got lucky with Matt Moulson turning his pre-season success into a team-lead in goals by the end of the 2010 season. This year, Michael Grabner (4 points in 11 games played) and P.A. Parenteau (9 points in 14 games played) are the current attempts to find more players that cost little and can be effective.
It's too early to tell if Parenteau and Grabner are failed experiments, but what can be seen is that when the top guys aren't getting the job done, well…then no one is. This is still a very young team despite the fact that the core has grown together over the years. If there ever was a year to really push to bring in a forward it was this one.
The team is incredibly confident in their abilities to make the playoffs this year although they are in the middle of an eight game losing streak. Not only was the camaraderie visible and felt in the locker room over the first seven games, but you can see it on the ice and feel it from everyone in that organization. At the end of last night's loss to the Ducks, Konopka was seen running his mouth with a player from the Ducks side of the ice and then smashing his stick before he exited down the ramp. Is it due to frustration? Yes, and that's the first time in years that I have seen someone lose their cool from a loss. When a player loses his composure on the ice like that it says something; the losses are getting the best of them, but it also means that they believe that they can win.
Just take a look at the fact that Radek Martinek, a very steady defensive defenseman who has a history of bad injuries, dropped the gloves last night for the first time in as long as I can remember. Was it a good fight for him? Not exactly, but it shows where he is at with this team. He's ready to do whatever is needed to help find a way for this team to win, even if it means risking another injury. The Islanders bench lit up and the momentum was on their side even though he lost the fight.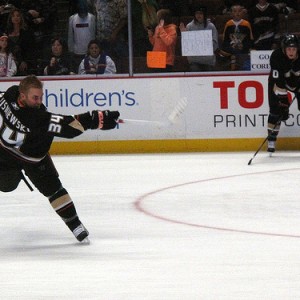 Overall the Islanders did not play a bad game last night. They were able to hold off the Ducks from getting a shot for almost the entire first period of the hockey game. Roloson was sharp all game long despite not having much work in the first twenty minutes and the Islanders offense was generating a decent amount of scoring chances but they could not find the back of the net.
That is when this team could use a goal-scoring winger to step in and be the hero. Guys like Tavares and Okposo (who clearly is excused for now since he is hurt) will eventually have their days. But right now they cannot be solely relied upon for this team's success. There is no reason to suggest that a forward cannot be found in the same route that Wisniewski was acquired for a draft pick. Keep in mind that Garth got Ryan Smyth for almost nothing in his first year at the front desk. The worst part of the deal that he gave up was a first round pick. Ryan O'Marra has only played three games with the Oilers since he was drafted in 2005 and Robert Nilsson isn't even in the NHL anymore.
As I said before, Snow knows how to weed out the bad eggs from the good ones and hasn't shown any hesitation on using them to add a player that can benefit his hockey club. It's time for Snow to make another deal to save the season and his team from losing the confidence before it is completely lost altogether.
-Rob McGowan