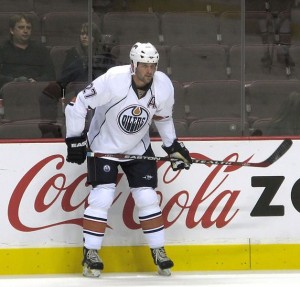 The Edmonton Oilers beat the defending Stanley Cup champion Chicago Blackhawks for the second time this season 2-1 last Sunday, and didn't look half bad doing it, despite sitting in last place in the Western Conference. But they weren't able to carry any momentum into their game vs the Carolina Hurricanes, a re-match of the 2006 Stanley Cup final. The Oilers got smoked 7-1, and it was an ugly game on all fronts for Edmonton, including the first benching on the season for rookie Taylor Hall. He saw zero shifts in the third period, going pointless in the game. Nikolai Khabibulin (arguably the Oilers MVP this season, despite his stats) had a particularly awful game, allowing four goals on eight shots before he was pulled in favor of Devan Dubnyk. The young back-up made 31 saves on 34 shots, a definite bright spot in a game that was already out of hand. Yes this one was over early, 7 minutes into the first to be exact as the Hurricanes staked themselves to a 4-0 lead on goals by Patrick Dwyer, Erik Cole, Joe Corvo and Chad LaRose.
The second period wasn't as bad, seeing just one goal by Carolina, a powerplay marker from Chad LaRose to make it 5-0. The Hurricanes picked up where they left off in the third, scoring two more goals, one from Sergei Samsonov and the other from rookie Jeff Skinner who now has 6 on the year. Dustin Penner put the Oilers on the board with his 5th of the year, but it was too little too late. The Oilers looked terrible in this game, they allowed three powerplay goals and failed to convert on four opportunities with the man advantage. Rookie Taylor Hall didn't see the ice in the third period, as coach Tom Renney decided he wanted his young star to ride the pine pony. Jordan Eberle only saw one shift in the third before he was benched as well. The young duo took it in stride, however, as Hall had this to say after the game:
"We're all not happy with what happened last night and that's the same for [Coach Renney], but at some point you do have to forget about it, you do have to get over it, and make sure that we're coming out and preparing for tomorrow night." Oilers HQ
Hall couldn't remember the last time he was benched in his young hockey career. It's obviously something that hasn't happened a lot, but it should be a positive learning experience for the rookie as he moves forward in his NHL career. Coach Tom Renney shared these comments regarding the benching:
"It's making sure he stays the course and doesn't evaluate his play over one game," Renney said of his reason for seeking to get Hall's attention. "Recognizing that discipline is a big part, a key feature for a high-performance athlete." Montreal Gazette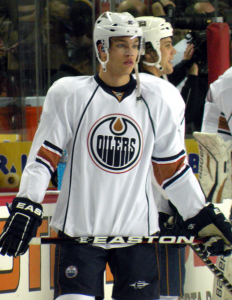 Edmonton returns to the ice on Thursday to face the Detroit Red Wings, and it will another tough test for the struggling Oilers, who currently sit in last place in the Western Conference and 28th overall in the NHL standings. The Oilers position is probably exactly where most thought they would be at this time in the season, but the young guns on this team are showing some progress, and they are certainly getting a taste of adversity, which can nothing but push them to grow and get better. And that's nothing but good news for this team's future.