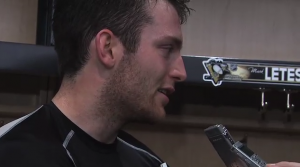 By Mike Colligan
You'll be hard-pressed to find an NHL shootout where the first five shooters possess higher than a 40% career success rate.  On Saturday night, it happened as the Pittsburgh Penguins and Phoenix Coyotes trotted out their typical shootout specialists one after another.  Radim Vrbata, Sidney Crosby, Wojtek Wolski, Kris Letang, Lauri Korpikoski – all unsuccessful before Penguins head coach Dan Bylsma bucked the trend and curiously turned to a rookie with 0 career attempts.
An early deke, a quick wrist shot, and Mark Letestu had the deciding score, notching Pittsburgh a much-needed win.  "It was about as good as I could've planned," Letestu said about his unexpected shootout opportunity.  "You get a chance to win a hockey game and coach calls your number as the third [shooter].  I would've liked the first two guys to end it, but I got a chance and it went about as well as it could."
Bylsma knew what he had in Letestu from his days as coach of the Penguins AHL affiliate in Wilkes-Barre.  "I've seen Mark take a lot of shootouts and be a go-to guy in that situation in the American Hockey League, so [we] wanted to give him a chance."
A chance…sometimes that's all it takes.
It seems like with every chance Bylsma gives Letestu this season, the rookie pulls something else out of his hat.  A 25-year-old undrafted center out of Western Michigan (CCHA), Letestu has seized opportunities at every step of his career and forced coaches and management to move him on to the next level:
"[Letestu] came to Wilkes-Barre/Scranton after a year at college. There was a lot that we asked of him and expected from him. There was a lot he needed to do to get to an offensive level at the American Hockey League level. He's really worked on his game. He's really worked on his conditioning, his quickness. He worked hard on his puck battles."

– Dan Bylsma
He scored 134 points in 191 career AHL games, but at 5'11 Letestu knew his offensive abilities could only take him so far.  "I definitely tried to come into camp this year in really good shape," he said.  Power, quickness, effort and consistency would ultimately determine whether he could successfully translate his game to the NHL:
With Jordan Staal still struggling to return from a foot injury suffered last postseason, Letestu has finally earned a chance to nail down a roster spot on the Penguins.  Seven points in seven games to start the season meant Letestu was tossed into early Calder Trophy conversations as rookie of the year, but you wouldn't know it from talking to him.
In training camp his attitude was one of survival.  "The stress never stops, I'm never going to feel comfortable here," he said in early October.  "If I end up making the team I don't think I'd be comfortable twenty games [into the season].  There's a lot of good guys in the system and a lot of guys are pushing for jobs and one or two nights off could be the end of you."
So fifteen games into the season, has his demeanor changed? "No [laughs].  Never.  I think it's helped me so far keeping the mentality that today could be your last day.  I try to bring it every night."
As a smart, shifty forward with good hands and a quick release, the style Letestu brings every night is reminiscent of Detroit Red Wings center Pavel Datsyuk.  He won't overpower opponents with brute strength, but his intelligence on the ice makes him a reliable player that Bylsma can use in any game situation.
That versatility might keep him on the roster after Staal returns over other one-dimensional veterans, as Bylsma explains:
"Right now Mark Letestu has done a great job at center. The flexibility of him playing on the wing, if he can be an offensive player and an offensive threat in that regard, then you may look to get him in a wing position when Jordan [Staal] comes back. But if he keeps playing center the way he is now, he may make a bid for a third-line center position and solidify that. We'll see how that plays out. There's a chance he'll stay in the top-6 [forwards] when Jordan comes back."
Letestu averages 2:21 per game in powerplay time as a member of the second unit and his right-handed shot is valuable on a team full of left-handed forwards.  His willingness to battle for the puck and ability to score could even make him a dangerous threat on the penalty kill if he gets that chance when he gets that chance.
Bylsma has juggled lines frequently throughout the first month of the season, but Letestu knows where he can contribute the most to the Penguins and solidify a spot on the team. "Center's my home," he said.  "It's nice to play a little wing to show some versatility, but I think if I'm going to stay here, center's my home and I'll hopefully carve out a niche here."
With a few more weeks of smart, effective play, Letestu could earn himself a new permanent home: Pittsburgh, PA.
News and Notes
~ A lot has been made of Crosby and Bylsma 'disagreeing' on how struggling goaltender Marc-Andre Fleury has been handled.  To me, it's a non-story.  As captain Crosby needs to stick up for and support his teammates.  As coach Bylsma needs to issue wake-up calls to struggling players if the Penguins hope to avoid falling back below .500.
Bylsma openly showing displeasure with Fleury is actually an encouraging sign for a coach who has always been positive and supportive of his players.  While that approach works well when the team is winning, players need to be called out if the effort level isn't there.
~ Eric Tangradi deserved his demotion to Wilkes-Barre a few weeks ago, but without him or the injured Jordan Staal in the lineup, the Penguins are missing a lot of size in the corners and along the boards.
~ The Penguins will honor 12 local "Wounded Warriors" Wednesday before and during their game against Boston as part of a tribute to Veterans' Day.  The Wounded Warriors and their families will be special guests of the team at today's morning skate and each Warrior will receive a personalized Penguins jersey and be entertained in Suite 66.  Tonight at the game, six of them will ride the Zamboni during pre-game and intermission ice cuts.
~ The Penguins have recalled forward Chris Conner from Wilkes-Barre.  Without knowing details behind the call-up, it will be surprising to some that WBS leading scorer Dustin Jeffrey was not recalled (12 points in 11 games).  Count me as one that thinks his game just doesn't translate to the NHL.  He'll get an opportunity at some point this season, but I think he'll be an asset GM Ray Shero is willing to unload at the trade deadline.