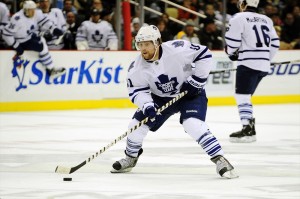 In a hockey-mad market such as Toronto you are always bound to encounter fans with high hopes and strange thoughts on their favourite team. While some of those thoughts make sense, others are just downright out there and can sometimes stir up pointless rumours.
That's something that the Toronto Maple Leafs organization has experienced as long as it has existed, but it's also something that the organization recognizes as a fact of playing out of Toronto and that it must remain patient with it.
Various rumours this season have seen Mike Komisarek headed to New York, Bobby Ryan a member of the Maple Leafs, Ron Wilson prematurely fired as head coach and Brian Burke's job in jeopardy. Some of the rumours, ideas and thoughts addressed below date back to the 2010-2011 season and others have recently popped up.
Let's look into a few of those below, with more of a realistic approach.
Phil Kessel should stay
Adam Proteau summed up Phil Kessel's situation perfectly via Twitter on Thursday afternoon when he had this to say:
Trade Phil Kessel? Sure, let's deal a 24-yr-old headed for a new career high in goals. This is why you can't have nice things, Leafs fans.
Kessel, whom the Maple Leafs infamously acquired from the Boston Bruins prior to the 2009-2010 campaign, is currently in the midst of a career season with 34 goals and 72 points in 70 games. He hasn't missed a game yet this season and has found tremendous chemistry with winger Joffrey Lupul on the Leafs' top line.
Not only has Kessel performed tremendously offensively this season, but he has also improved over previous years in his own end and now finds himself with a leadership role inside the locker room.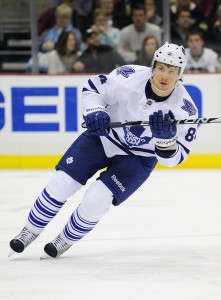 So how does it make sense for the Maple Leafs trade a 24-year-old who is hitting the prime of his career? It doesn't unless you're actually looking for a never-ending rebuild.
Landing a number one centre is not easy
One of the most outstanding facts surrounding Kessel's production this season is that he hasn't played with a true number one centre. Mikhail Grabovski, who is on pace for 56 points this season, is the teammate of his closest to being a number one centre that he has played with all season long, which is exactly why fans are hounding Burke to acquire someone who can take this team's offence to the next level.
There are certainly multiple players in the league who could fill that role, but only so many are available and not a single one of them would come at a price that would be viewed as a soft one by any stretch of the imagination.
Worsening the Leafs' shot at someone who can slide in between Kessel and Lupul is the fact that they have very few assets to trade. Jake Gardiner and James Reimer are two players that every team wants, but are ones the Maple Leafs aren't willing to move.
Other names potentially on the move this season include Nikolai Kulemin, Clarke MacArthur and maybe, just maybe, Grabovski. Unfortunately for Burke and his staff, Grabovski is the only one of those three who could make a large impact on new team.
Realize this: Not even Brian Burke is able to go out and acquire the man─or men─the Leafs need overnight.
Must stop relying on James Reimer to be the next great goalie
As mentioned above, James Reimer is a player who the Maple Leafs don't appear to be willing to trade. Being in Toronto, this has created a stir among many Leaf fans, saying that Reimer could possibly become the next great goalie and that he may just be the Leafs' saviour.
And why not? He did post a .921 save percentage and a 2.60 goals goals against average in 37 games in his rookie season. If you were to a take a long, good, realistic look at this team you will notice that a goalie who hasn't been able to translate rookie success into sophomore success probably isn't the guy the Leafs are looking for.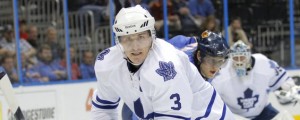 Keep in mind, this isn't a bashing of Reimer and that this isn't to say that he definitely won't be a life-long successful Maple Leafs goalie, but everyone does need to realize the chances are slim.
Should the Leafs trade James Reimer? Not necessarily, but he cannot be relied upon to become the Leafs' next great goalie.
This team is a mess
Somehow despite watching their favourite team struggle to win over the last month, there is still a little glimmer of hope inside a handful of Leaf fans. Unfortunately for those fans, they must take a glance at the standings, the amount of games remaining and how the Leafs have played recently.
The cause for this─the struggles, not the hope, that is─is still unknown, although it remains clear that something is seriously wrong inside the locker room.
As fellow Maple Leafs writer Greg Thomson said via Twitter on Thursday afternoon, there appears to be three or four groups inside the Leafs' locker room, with the majority of them having lost interest in what's going on.
On the ice everyone but a few first-year players have been unimpressive. Again as Thomson pointed out, Matt Frattin, Carter Ashton and Jake Gardiner can be included in that category.
Then there are those who care to at least speak with the media. Luke Schenn, James Reimer and a few others fall in that group, with all the others sitting somewhere in la-la land.
Diversity in a locker room is always a nice thing for any team, but to much of it and the wrong mixture can seriously cost a team its season. That's exactly what has happened to the Toronto Maple Leafs.
Twitter: @LukasHardonk | Email: lukas.hardonk@gmail.com | Lukas' archive
For every Leafs article on THW, follow @THW_MapleLeafs on Twitter.