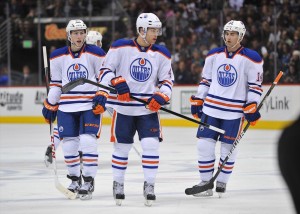 Edmonton Oilers head coach Tom Renney hasn't been one to pull punches. In a press conference following his team's loss to the San Jose Sharks on Monday, Renney held nothing back as he laid into the players for their poor showing. The Oilers aren't going to make the playoffs. They haven't been in the postseason since 2006. They are destined for another lottery pick. But as Renney not so delicately put it, that's no excuse for not showing up. In what was likely an overflow of frustration from a guy who has yet to see playoff hockey behind the bench with his current team, Renney ripped his club a new one.
The Oilers went into the third period tied 2-2 with the San Jose Sharks but surrendered an early goal and weren't able to come back. The game prompted some criticism from Coach Renney:
"It's impossible to fight back when you're not giving enough. We were playing not to lose instead of playing to win. "We've got a few people who need to take a look in the mirror. This is unacceptable. Suck it up and play hockey." – Edmonton Oilers
The team felt his assessment was heard loud and clear.
"He said what he said. Message taken. We have to try harder tomorrow." – Ryan Jones. "Frustration is going to happen when you're a 29th place team and don't feel like you should be. But we have to stick together. – Shawn Horcoff. (Edmonton Oilers)
Tom Renney stood behind his comments when asked about them at practice.
"My frustration is when we don't play to our potential. We can be a real good hockey club when we don't have a fear of losing. It's not going to be pretty every night. It was an opportunity to address things we need to improve. We can get consumed by this game and think we're immortal. Our guys need to be reminded of that sometimes." (Edmonton Oilers)
Perhaps the best way to bust out of a slump is a game against a team playing even worse than you are. And at the moment there aren't many teams like that, with the exception of the last place Columbus Blue Jackets. And the Oilers did not disappoint. They scored 2 goals in the second period, one by Ryan Nugent-Hopkins and then a powerplay goal from Taylor Hall. Linus Omark scored his second of the year into an empty net to seal the victory. The Oilers blanked the Jackets 3-0, Devan Dubnyks 2nd shut-out of the season. Tom Renney had a few positive comments about his team after the bounce-back win.
"We paid attention for 60 minutes. They wanted to do well." (Edmonton Oilers)
Well, indeed.
Marcy, a former hockey player, is a hockey correspondent on CTV News and TSN radio. She began her career as a Sports Journalist in 2009 and has been part of The Hockey Writers since 2010, where she is currently a senior writer and editor.