Much like any other team, the Detroit Red Wings have a lot of character on their roster; from 37-year-old legend Pavel Datsyuk to 19-year-old rookie phenom, Dylan Larkin. The Wings are built with international talent mixed with grit, skill and perseverance.
Each player on the roster played a part in extending the playoff streak to a nice, round 25 years. Some more than others, but that's in the past now as the Wings' second season has begun. They are looking for their first first-round series win since 2013.
Below, each Red Wing and his character traits are described through one song title, from AA to Z. While some choices were clear, others took some thought to explain depth players and their contribution to the team.
The Forward Funk
Justin Abdelkader
"Danger Zone" by Kenny Loggins
Abdelkader as earned this one; he goes to the front of the net and puts in work. He takes a beating every game and because of it he scores goals, wreaks havoc and even earned himself a new seven-year contract in Detroit. When he's on his game he is a danger zone. Proven by his tough play and hard hits. Brian Boyle's input would label Abdelkader with The Chicken Dance by
Joakim Andersson
"King Nothing" by Metallica
Andersson is a waste of a roster spot. The only thing that he does semi-decently is kill penalties. But he's not even needed for that. Detroit has Abdelkader, Darren Helm, Luke Glendening, Riley Sheahan and even Dylan Larkin who are more than formidable penalty killers. He's nothing of importance for this roster and wasn't even given two minutes of ice time in Detroit's last game of the season.
Andreas Athanasiou
"Greased Lightning" theme song from Grease
Athanasiou is fast, like lightning fast, but the Greek heritage makes this choice pretty easy. The homophone (grease/ Greece, in case you're not following) doesn't get in the way either. In addition, the scoring touch comes in flashes—again, like lightning—but it's coming along well for a 21-year-old rookie making strides in the world's greatest hockey league.
Pavel Datsyuk
"Magic Man" by Heart
This one was also pretty easy, as Datsyuk has been known as "The Magic Man" for most of his career. Even Siri knows Datsyuk is The Magic Man, just pull out your iPhone and ask her. Even at the age of 37, Datsyuk makes unbelievable plays and if you blink, you may miss them. As former goalie Marty Turco once said regarding Datsyuk, "sports are like a religion in Detroit and I don't think those Detroit fans have seen magic like that since, Barry Sanders."
Luke Glendening
"Working Man" by Rush
 Glendening works his ass off. He worked hard to become a walk-on at the University of Michigan, worked hard to alter be named the team captain and worked even harder to finally make it as a regular in Detroit. Sure, we'd all love a higher point total but he kills penalties, crashes the net, pisses off opponents and annoys goalies. His penalty kill against Philadelphia in Detroit's closing week was a thing of beauty.
Darren Helm
"Too Fast For Love" by Mötley Crüe
In any fan base, you'll find a player that has a dedicated following, in Detroit, that's arguably Helm. He's almost too fast for his own good, often finding himself on a breakaway and in the crease before deciding on a move. It's no knock on Helm, but at 29, Helm isn't peaking any longer and his offensive numbers will doubtfully increase as his career reaches its second-half.
Tomas Jurco
"Substitute" by The Who
Jurco is a spare part on this roster. He finds playing time when an injury occurs or if someone has a particular bad game. At just 23 years old, the former YouTube sensation has an upside, but it might take a fresh start in a different city to find it. He's a decent-sized scorer that doesn't score.
Dylan Larkin
"Mr. Brightside" by The Killers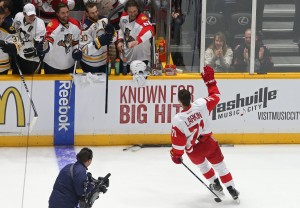 At the age of 19, Larkin is the undeniable future of the franchise. His impressive rookie season that increasingly sees comparison to Steve Yzerman says just that. The arguable next captain of the Red Wings, the speedy, two-way scorer has a physical side, a high hockey IQ and is the brightest spot on the roster, all things considered.
Gustav Nyquist
"Under Pressure" by Queen
Nyquist has a lot of talent, but he's consistently inconsistent. His stellar play to lead Detroit into the playoffs in 2013-14 was incredible, scoring 28 goals and 48 points in 57 games and playing to the hype he garnered after over-ripening in the AHL. While he didn't build on that unsustainable pace, Nyquist still had a strong sophomore year. But now in his third playoff series, Nyquist is under pressure after not meeting expectations, taking a significant step forward, nor playing to the level of his competition. For a team that prides itself in being a cup contender, a top-six forward should have more than Nyquist's seven points in 32 playoff games.
Teemu Pulkkinen
"Hey Man, Nice Shot" by Filter
Another easy choice, Pulkkinen has been raved for his powerful one-timer. It has proven to work in the AHL, where Pulkkinen led the league in goals while playing for Detroit's affiliate the Grand Rapids Griffins. Meanwhile, in the NHL, Pulkkinen hasn't been able to find the regular time or space to translate his shot into the faster, less-open ice of the NHL.
Brad Richards
"As Good As I Once Was" by Toby Keith
Richards wasn't signed to be the point-per-game player he was in the past. With age comes inevitable decline—exception to the rule; Jaromir Jagr—but he was brought in to be a veteran presence and score at roughly the pace he held on the season. Per his incentives, Richards was signed to be the playoff performer he has proven to be in the past (an extra million for participating in two playoff series wins). Richards is still as good once as he ever was. 
Riley Sheahan
"Just in Time" by Frank Sinatra
Okay, so this doesn't really explain Sheahan as a whole, but more his late-season surge of five goals and two assists in Detroit's final nine games came at the perfect time. He's shown flashes of offensive strength that have made him a valuable depth player for the Wings and dis play spoke volumes of how he wanted to make the playoffs.
Tomas Tatar
"Gimme Time" by ARDIJAH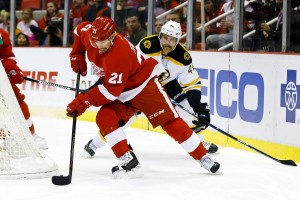 Tatar's production has dipped this season, but it can't be entirely put on him. His underlying numbers have remained steady across his short career. The problem is ice time. Tatar is still creating chances, driving play and finishing, but at a lower rate due to nearly two full minutes less of average ice time. New coach Jeff Blashill should have put Tatar in a position to build on his 29 goals and 56 points of 2014-15, but inexplicably sheltered him in a season where the Wings struggled to score.
Henrik Zetterberg
"I'm Your Captain" by Grand Funk Railroad
Well, he is the captain. He's also tied for the team lead in points with Datsyuk. Zetterberg was an obvious choice to take on the "C" when Nick Lidstrom retired in 2012, no offense to Datsyuk. Zetterberg has finished top-two in team scoring over the past 11 seasons. He leads the team in the intangibles and needs to lead them to bright NHL futures. But as Tony Wolak has pointed out, ice time is one thing Zetterberg shouldn't lead the team in.
The Defense Drum Roll
Danny DeKeyser
"Take It Easy" by The Eagles
DeKeyser plays with a smooth poise that shows confidence, determination and hockey IQ. Since signing with the Red Wings out of college, he has become a trustworthy defender and often overlooked due to his lack of a consistent scoring touch. When he's on the ice, Wings fans can breathe a sigh of relief by knowing the blue line is under good skates.
Jonathan Ericsson
"Give It Away" by Red Hot Chili Peppers
This has been Ericsson's theme song for the better part of his career. Every time he has the puck he seems to forget which colors he wears. The song can most often be played when Ericsson collects the puck along the half-boards of his own zone, where he turns around and finds the opponents shin pads blocking his clearing attempt.
Mike Green
"Step By Step" theme song from Step By Step
A lot of fans expected more out of Green when he signed a three-year, $18 million contract this past summer. It's the offense that makes Green such an effective blue-liner. Adapting to a new system after ten years in Washington, Green came around one step at a time, finishing with 35 points in 74 games this season. His 20 powerplay points were good enough for tying Datsyuk for second on the team. Look for him to build on this season next year and most likely eclipse the 40-point plateau for the fifth time in his career.
Niklas Kronwall
"Running On Empty" by Jackson Browne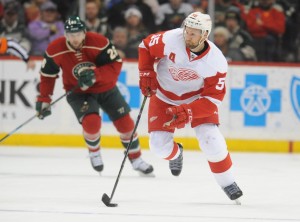 Kronwall has never been a prototypical number one defenseman. He's performed admirably since the retirement of Nicklas Lidstrom but there has been a large gap on the blue line since then. Now, at the age of 35 he's becoming slower and making more mistakes than years past. He's still one of Detroit's top defenseman, but that doesn't say a whole lot for their top six.
Alexey Marchenko
"Doin' My Thing" by Luke Bryan
Marchenko is a quiet player who goes out and just does his thing. He's kind of like the new Brad Stuart in Detroit; effectively unnoticeable for the right reasons. He's not the same hitter as Stuart nor do his points equal up either, but he'd be closer if he was handed the six extra minutes Stuart averaged in Detroit. Marchenko is also 24 years old and still learning in the NHL; he has upside to be a regular fourth or fifth defenseman.
Brendan Smith
"Scapegoat" by Atmosphere
Smith's name in Hockeytown is becoming synonymous with blame. While in reality his play has improved each year, he still takes the bulk of contention from Detroit's fan base and more recently, Blashill himself. He returned to the lineup for Game 3 against the Tampa Bay Lightning and was one of the Red Wings best performers on their way to a 2-0 victory to cute the series deficit in half. He opened the game with a huge hit on Cedric Paquette.
https://twitter.com/myregularface/status/721839831240871936
Kyle Quincey
"Opposite Sides" by Manchester Orchestra
Quincey has mixed reviews in his second go-around in Hockeytown. For the services he provides, Quincey was signed to a relatively expensive, two-year, $8 million contract in the summer of 2014. Whether fans will admit it or not, he has been one of Detroit's steadiest defenseman over the past three seasons and plays to his strengths rather well. Only time will tell if Holland decides to expand his tenure, as he becomes an unrestricted free agent again this summer.
The Backstop Bebop
Jimmy Howard
"Ticket to Ride" by The Beatles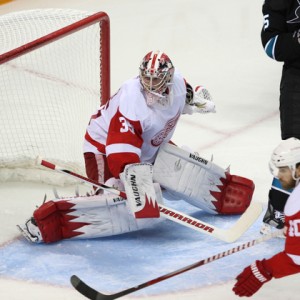 Howard has played admirable of late and is becoming one of the major pieces in the ending stretch of the season. He is a major reason why the Red Wings rounding 24 years into 25. But, Petr Mrazek is still the future of Detroit's crease. Late season struggles broke Mrazek's confidence in his first full NHL season, but his first-half numbers this season display his NHL future better than his recent play. Because of that, Howard will inevitably be handed a ticket to another NHL city, whether it be this summer or possibly the next.
Petr Mrazek
"Hot N Cold" by Katy Perry
This one is pretty self-explanatory. Mrazek's shown Vezina-caliber play for the larger part of his career. Then he turned 24 and let in five goals against Boston; but escaped with a win when the Wings decided to score multiple goals in one game. Mrazek heated back up Sunday night to shutout the Lightning, something he's very familiar with. He's regained the crease and has played tremendous playoff hockey in his short career.
I offer opinions and insight on the Detroit Red Wings organization and its prospects.