Somewhere in the L.A. Kings organizational mantra, there is a section about doing things the hard way. There has to be right? It would have been much easier in 2012 to win their first Stanley Cup in franchise history with a seed higher than eight. A lot of time and energy and could have been saved if the team didn't set the record for most playoff games played during their second title run in 2014. And this year, with the benefit of home ice in the first round, L.A. failed to protect a single shred of their advantage. The Kings are firmly on the ropes.
There are two sides to every series, and the San Jose Sharks absolutely deserve to be up 2-0 going back home. But anytime a higher seeded team loses two straight games at their own barn, it usually involves poor performance. The Kings weren't terrible in either game, but they also weren't good enough for the level of competition they are facing. Game 1 was marred with the same inconsistent play that doomed L.A. a season ago, and to quote Elaine Benes, in Game 2 they were just (dramatic pause) there. Nothing stood out about their collective performance in the second tilt, a shocking development considering how valuable it would have been to salvage a split at home. It's not enough to be average in the postseason, and for the Kings it could mean a short stint in the NHL's money round.
Pavelski On Fire
Last week, I spent a great deal of time explaining how dangerous Sharks forward Joe Pavelski can be as a goal-scorer. Well he's even more dangerous than anyone could have imagined. Pavelski has three goals in two games, and has embarked on a personal reign of terror aimed directly at the Kings. This was the game winner in the series opener:
https://twitter.com/myregularface/status/720836134473838593
That's Anze Kopitar, the model for two-way hockey consistency, that is getting absolutely abused. Nobody plays bigger with less size in the entire NHL than Pavelski (and that's not a backhanded compliment, he plays the game like a 6ft 6' power forward despite being 5ft 11' and 190 lbs). Yet it's not all about the array of skill and power moves that has defined him in this series. Take this goal in Game 2 for example:
https://twitter.com/myregularface/status/721532609516453888
In both games, Pavelski scored on the first shot. Not just his first shot, the team's first shot on goal. It's clear that's he's dialed in early; ready to play playoff hockey as soon as his chinstrap is fastened tightly. L.A. is not, and will have to get that area of their approach cleaned up immediately. Pavelski is coming at the Kings, and having learned from the great philosopher Omar Little, he's not missing.
Scoring Drought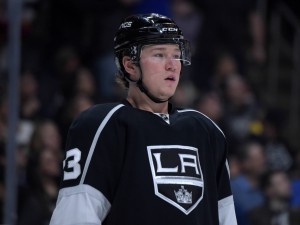 The Kings netted three goals in Game 1, a respectable total for the grinding style that playoff hockey deploys. But the team failed to score in that contest's third period, and then proceeded to light the lamp exactly once in their second affair. Has the scoring virus reared its ugly head again? If one aspect needs to change pronto about the Kings' offensive philosophy, it's their shot attempts in the first two periods. L.A. is not testing San Jose netminder Martin Jones nearly enough until the third period, when the youthful goalie has clearly settled into his crease. It would be one thing if the Kings were victims of bad breaks and the annoying sound of pucks hitting iron, but that's simply not the case. Outside of the final pushes at the end of each game, the Kings are playing an uninspired brand of offensive hockey.
And speaking of the Sharks' goaltender, Jones has looked really confident during his last four periods of play. His start to the series was auspicious, but in fairness he had to deal with a few fluky bounces and unlucky goals against. The biggest concern I had with Jones was how he would handle adversity, and it has actually brought out his best efforts. Dare I say, and I can't believe I'm physically about to type these words, but San Jose's goalie is outplaying Jonathan Quick.
This series is begging for Jeff Carter and Tyler Toffoli to take over. The Sharks have size and speed, but they are not the most active in the defensive zone. There are shooting lanes for elite snipers, and the Kings boast two of the best the NHL has to offer. In 2012, Carter made a name for himself in the postseason by knocking water bottles off of nets in crunch time. 2014's playoff scoring tear announced Toffoli's arrival on the national stage. But most importantly, both resulted in Stanley Cup titles for the Kings. Let's go guys, we're waiting on you.
Missing Martinez
There's only so must polish you can put on a raggedy pair of shoes. The Kings defensive core can be an above average group, but it requires the health and production of their entire lineup. Game 1 was a disaster for L.A.'s defensemen, and the second game wasn't that much better. Alec Martinez was banged up entering the series, and left with an undisclosed injury midway through the opening game. That's left the Kings undermanned, while the remaining cast of characters is struggling with their defensive zone assignments. Pavelski's first goal in Game 2 was the result of a mental mistake by Brayden McNabb, who left the best goal scorer in this series wide open at the top of the circle (not ideal). But nothing was more egregious than the cement skates that both Rob Scuderi and Luke Schenn were wearing on this Tomas Hertl goal:
If you're not going to move your feet against a team as persistent as the Sharks, you might as well not show up. The Martinez injury is forcing two back-end players in the Kings' defensive rotation, in this case Schenn and Scuderi, to become partners on occasion. I don't think that's what general manager Dean Lombardi had in mind when he acquired both. The injury also requires the two most talented L.A. blue liners, Drew Doughty and Jake Muzzin, to take on an even greater workload. Muzzin is still not quite a defensive workhorse consistent enough for giant minutes, while Doughty might be on the verge of going "full Kobe" and never taking a seat on the bench. The more ice time these defensemen receive, the less efficiency each will play with. Unfortunately, it's a sacrifice the Kings have to make at the moment.
Which is why this team needs somebody, anybody, to step up on their blue line. Schenn needs to make better decisions with the puck. Scuderi needs to dust off the old Bengay bottle and pour what's left of his career onto the ice. Brayden McNabb has been a bit piece for his entire Kings' career, and now he finally has the opportunity to chew up as many minutes as his play will allow. The Kings defensive zone breakout might need the most work of any one area for improvement, and any coach will tell you that it starts with the defensemen. They need to get to the puck quicker, make fast, sharp decisions, and maintain their appropriate positional play on the ice. Each failed breakout is more than a bad pass, or even a near goal against. It's also a lost opportunity to generate your team's own offense, something the Kings surely have been lacking. If the breakouts improve, look for L.A.'s offense to ignite. Hockey's a complex sport, but it could really be this simple.
Trouble Flipping the Switch
When the Kings blew a three goal lead (and the Pacific Division title) in their regular season finale, many took it with a grain of salt. The consensus by most (myself included) was that they would be fine come playoff time. Except they're not fine. L.A. has brought their bad habits and ineffectiveness with them to the big dance, and has not been able to turn up their intensity and clean up their mistakes. It's not an uncommon problem for teams that accomplish most of their regular season success early, and it's why there have been many first round "upsets" in the  NHL postseason history. The team that has been fighting harder and more recently (in this case, the Sharks) often comes into the playoffs fully engaged, while a higher seed may lose some of their focus once the regular season games become less meaningful. The Sharks were possessed with competitive passion to start this series, and the Kings have been unable to keep up.
Luckily for L.A., no team to my knowledge has ever won a best of seven series after two games. There are still plenty of chances for the Kings to dial back in and ultimately overcome the long odds in front of them. But it starts one shift at a time, and it has to happen in all areas of the ice. Joe Pavelski has to be accounted for. The offense needs to become more assertive, and not just when Quick heads to the bench for an extra attacker late in the third period. The defense needs to rally, collectively, and play with more tenacity. And there needs to be a sense of urgency. Not when the Kings trail, not when San Jose's Joe Thornton or Brent Burns wreaks havoc, and not when the Kings have little time to spare. The urgency needs to be felt on the team bus, in the locker room, and during the warm ups at the SAP Center before Game 3. The switch needs to be left on for good.
San Jose has struggled at home all season, and there will be opportunities to make this a series. L.A.'s margin for error is essentially gone, and their window for a third Stanley Cup in five years is suddenly close to shutting. They are a team with a history of performing well under pressure, and they'll have to do so yet again if they wish to remain alive in the postseason. Because like it or not, this is the path the Kings have chosen.
Just a hockey loving American. I grew up in Cleveland, Ohio, and attended Saint Louis University where I skated for the Billikens. From 2013-14 I covered the St. Louis Blues for ESPN Radio St. Louis. I currently work in sports video production in Los Angeles, and will always show solidarity for stay-at-home defenseman.