The Minnesota Wild are riding a seven-game winning streak and are sitting pretty as the second place team in the NHL's Central Division. With three games to go before the holiday break, here's a guess at what the team's Christmas wish list might look like.
Recognition Where its Due
One of the least talked about stars in today's NHL is, without question, Minnesota's starting goaltender Devan Dubnyk. The 6-foot-6 netminder has played in 24 of his team's 30 games this season and has had sparkling results. His remarkable 1.62 goals against average and .947 save percentage are both tops amongst all goaltenders league wide.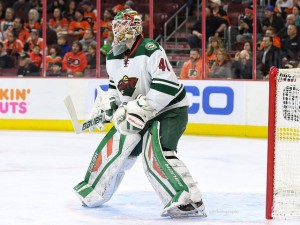 The veteran goaltender is an amazing story considering he was almost out of the league following his nightmare 2013-14 season. To say he's rebounded back to credibility is an obvious understatement. Dubnyk should be in the conversation for the Hart Trophy and leading the conversation for the Vezina but you never hear anyone outside of Minnesota mentioning his name. The goaltender has quietly gone about his business and has become the backbone to the Wild team.
Dubnyk not only stops a lot of pucks but he also provides a comfort level to his teammates because they know he'll bail them out from their mistakes more often than not. You know that you're in a good place anytime a goalie can provide his teammates with extra confidence as its one of the main ingredients for success in the NHL.
The Wild are hoping their secret weapon can continue his stellar play and maybe, just maybe, Dubnyk will get the recognition he deserves in the new year.
A Clean Bill of Health
Minnesota has not publicly announced anything injury-related but it's easily apparent that something is labouring star forward Zach Parise. The winger has been consistently hampered by injuries over the last couple of seasons as the wear and tear of the NHL is, unfortunately, starting to take its toll.
Parise is a key driver for the Wild offense and it is critical to the team that he's operating on all cylinders. The forward has already missed seven games due to injury this year and has produced just 13 points in the 23 games he's played which is well below the pace he's accustomed to.
Parise is a player who does not like to miss time and he has shown in the past that he is willing to battle through bumps and bruises. The Wild will be wishing that a few days away from the rink will do Parise some good and hope that their star forward will return from the holiday break refreshed and ready to go.
Continued Value from a Refurbished Gem
Minnesota's July signing of 32-year-old Eric Staal has paid immediate dividends to the team. The 6-foot-4 centre is rejuvenated playing on the Wild's top line and is visibly enjoying his time in the North Star State.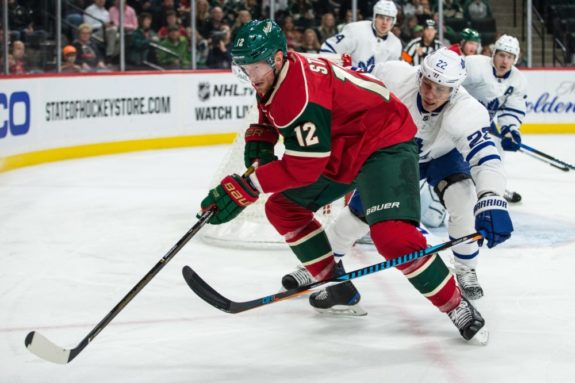 Staal didn't quite find the right role with the New York Rangers when he was sent to the Big Apple prior to last season's trade deadline but the veteran forward has had no trouble whatsoever fitting in with Minnesota. The former Carolina Hurricanes captain is leading the Wild with 24 points this season and just looks like he wants to will the team to success at any cost. He is hustling, hitting and scoring with a purpose these days and it's nice to see that he still has some gas left in the tank.
Although Staal has yet to show any indications of slowing down after his impressive start to the season, the sustainability of his success will always remain questionable. For their part, however, the entire Wild organization no doubt hopes that their biggest offseason acquisition has simply found a new lease on his NHL life and that his positive impact rubs off on as many of his teammates as possible.
No More Disappearing Acts
It has become somewhat of a holiday tradition for the Wild to suffer from a turkey hangover. Year after year the team has succumbed to long and painful droughts during the middle of the season.
In 2015-16, Minnesota suffered through an abysmal eight-game losing streak and lost 13 of 14 games from Jan. 10 to Feb. 13. The rut almost cost the Wild their playoff spot and likely would have if not for the hot 10-3-3 start they had to the year.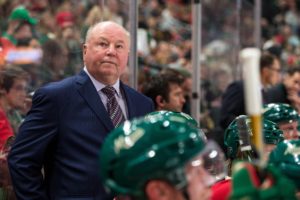 In 2014-15, the team lost 12 of 14 games between Dec. 15 and Jan. 13 but their playoff lives were saved by winning 26 of their next 34 games thanks in large part to the arrival of Dubnyk.
It's safe to say that head coach Bruce Boudreau will be doing everything in his power to help the team avoid anything resembling such horrid losing skids under his watch. To date, as evidenced by their place in the standings, the Wild have been playing some great hockey under the guidance of their new head coach. The team has continued its terrific defending — they are number one in the league in terms of goals against — and they are also beginning to make their mark in the opponent's end of the ice. Minnesota currently ranks in the top half of the league in goals for which is a drastic improvement from where they have been historically in terms of offense.
As long as Minnesota can avoid any sort of disappearing act this season, they should be well on their way to a fifth straight postseason appearance. And really, what more could a team ask for during this festive holiday season?