It wasn't that long ago that Minnesota Wild netminder Devan Dubnyk's career as an NHL goaltender, let alone a starting NHL goaltender, appeared to be in serious jeopardy. By the end of his five-year tenure as a member of the Edmonton Oilers, the 6-feet-6-inch puckstopper was seeing more rubber per game than just about any of his peers and it began to reflect in his play. The goalie's focus seemed to be rapidly fading away as his team was once again dropping down the league's overall standings following another extremely slow start to the season.
Multiple theories began to surface regarding some of the possible reasons for Dubnyk's sudden drop-off in play to start the 2013-14 season, his third year as his team's No. 1 netminder. Some of these theories blame the volume of high-quality scoring chances that the Oilers surrendered on a nightly basis, while others blame the style of play that goalie coach Frederic Chabot had his mammoth of a goaltender employing at the time of his struggles.
Playing in front of one of the league's weakest defense corps and for a team whose confidence level was down the drain as their losing seasons continued to pile up definitely did not help the goalie's case.
Whatever the reason(s) may have been, the fact remained that the Oilers were losing and fans began calling for a new goaltender to take over the reins for the orange and blue. With the Oilers brass in need of a scapegoat and, with Dubnyk displaying a lack of consistency and a proneness to allowing some rather weak goals at inopportune times, they shipped the struggling goalie south to Nashville, where he would hope to rediscover his game while battling two rookie goaltenders in Carter Hutton and Marek Mazanec for playing time.
Arrival in Music City
The Nashville Predators decided to take a chance on the former first round draft pick while their long-time starter, Pekka Rinne, had been lost for much of the season due to experiencing complications related to his surgically repaired hip. The Predators were looking for something to jolt them back into the playoff picture and were hoping that a change of scenery would benefit both Dubnyk as well as the team. But it was not to be. Rather than help resurrect a once-promising career, the stint in Nashville only further cemented the fact that the big goalie's career was at a crossroads.
Upon his arrival in Music City, Dubnyk was subject to some harsh criticism from then-Predators head coach Barry Trotz, "We got Devan from Edmonton, and what we realized very quickly was that Devan has a lot of… I'll say bad habits he's picked up this year."
After Dubnyk stumbled out of the gate and allowed five goals in his Nashville debut Trotz added, "I don't want to throw him under the bus. He's got to be a lot better. He's a veteran hockey player in the National Hockey League. I felt that three of the five goals were very stoppable in this league. It wasn't a great game for him, but at the same time it was his first game, first trade, new city, so we're getting used to him and he's getting used to us."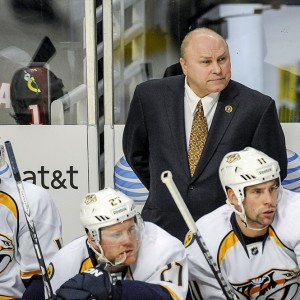 There was some faint optimism that renowned goalie guru Mitch Korn could help re-establish Dubnyk's game based on how he helped the similar-sized Rinne develop into one of the league's best and most consistent goalkeepers. The timing just wasn't right however as Dubnyk wasn't presented with much of an opportunity to iron out his weaknesses prior to the impending return of Rinne to the Predators' lineup. Dubnyk needed to impress early and often if he wanted to stick around but he arrived in the midst of a Hutton hot streak and ended up making only two starts with Nashville. To make matters worse, the two starts that he did get could not have gone any worse as he allowed a combined nine goals on 60 shots while sporting an abysmal .850 save percentage. As it turned out, the goalie's travels were just getting started. Dubnyk was placed on waivers not long after his second start as a Predator and was ultimately dealt to the Montreal Canadiens organization a week later.
Montreal was another club looking for goalie depth as their undisputed starter, Carey Price, was also spending some time on the injured reserve list. Unfortunately for Dubnyk and despite the injury to Price, Canadiens' head coach Michel Therrien also displayed a preference to stick with the goalies he already had in the system as Peter Budaj and Dustin Tokarski continued to split time in net until Price was ready to return. In fact, Dubnyk did not see a single game in a Canadiens' jersey and instead wound up being assigned to the Hamilton Bulldogs of the American Hockey League.
The big goalie's struggles continued as he closed out the regular season on the farm with yet another sub .900 save percentage by posting an .893 in eight AHL games. The final nail in the coffin on this nightmare of a season came in the playoffs when Price went down with an injury against the New York Rangers. Where was Dubnyk at the time? He was back in Alberta taking a personal leave of absence from the team after spending some time on their black aces squad earlier in the playoffs. Following Montreal's second round victory over the Boston Bruins, and while Price was still healthy, Dubnyk felt as though his season was essentially over and asked the team if he could go back home to his family to spend time with his infant son. Instead of being there to pick up his team when their No. 1 goalie went down, Dubnyk was forced to watch from afar as Tokarski became a household name.
Dubnyk – One Last Shot
After the roller-coaster ride that was the 2013-14 season ended at a new low point in Dubnyk's career, he remained hopeful that there was a team out there willing to give him another shot to prove his worth.
"I have to be honest with myself. I can't be demanding a starting job, anywhere. Maybe if I could get into a 1 and 1b and have the opportunity to compete for ice-time and for starts…the most important thing is getting back into the NHL. I don't think I'd take a two-way contract. I hope that's not a decision I have to make," Dubnyk told the Edmonton Journal's Jim Matheson back in May 2014.
As it turned out, he didn't have to wait long for that one-way contract. The Arizona Coyotes stepped up to the plate and took a swing at the reclamation project by signing the former Oiler to a one-year, $800,000 'show me' contract on the opening day of free agency.
BREAKING: #Coyotes Sign Dubnyk to One-Year Contract READ more http://t.co/jHipuzv7Wj pic.twitter.com/89o9oyyx22

— Arizona Coyotes (@ArizonaCoyotes) July 1, 2014
Dubnyk would quickly prove to be worth the gamble as he showed up to training camp ready to compete and battle for his place on the team. The former Predator appeared to be motivated and outperformed Coyotes' starting goaltender Mike Smith in the early parts of the season. A lot of credit for the improved results went to then-Coyotes' goalie coach Sean Burke while others gave credit to the new puck-tracking method known as Head Trajectory that Dubnyk was using thanks in large part to advice he received from former NHL goaltender Steve Valiquette. The Regina, Saskatchewan, native had found the 1/1A goaltending tandem that he was looking for heading into the uncertainty of the offseason and appeared to be relishing his new lease on life in the desert.
Off to the North Star State
Things were looking up for the goalie nicknamed "The Giraffe" until, seemingly out of nowhere, he was traded yet again. After playing eight and a half years as part of the organization that drafted him, Dubnyk was now off to join his fifth team in a calendar year. This time he was en route to Saint Paul, Minnesota, to join a Wild team in need of a boost after their No. 1 goalie, Darcy Kuemper, was called out by head coach Mike Yeo for his poor play.
It could not have been an easy locker room to walk into as Minnesota was quickly dropping out of the playoff picture in a year they were expected to contend. Players and coaches had been growing increasingly frustrated with their place in the standings and their tempers were boiling over for all to see. It looked as though acquiring Dubnyk was a last-ditch effort made out of desperation by general manager Chuck Fletcher to hopefully give his team the shot in the arm they so desperately needed.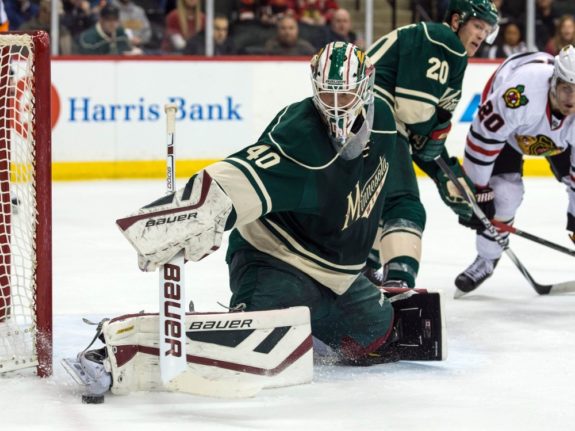 Luckily for Fletcher and the rest of the Wild, not only did Dubnyk deliver, but he blew expectations out of the water. Right out of the gate, the goalie displayed a calmness that would resonate through the rest of his new team. He became a rock in the blue paint who his teammates knew could be counted on and his newly rediscovered confidence in net was a welcomed sight for the Minnesota coaching staff.
Dubnyk would cruise to a shutout victory over the Buffalo Sabres in his Wild debut and would go on to set a franchise record by starting 38-straight games following his acquisition. Dubnyk was thriving individually and the Wild, collectively as a team, were reaping the benefits. Everyone was breathing a little easier as their play dramatically improved en route to reaching their much anticipated preseason goal of making the playoffs.
Finally Some Stability
The trade to Minnesota turned out to be the catalyst to one of the greatest comeback seasons the NHL has ever seen. Dubnyk went from finishing the previous year posting a .893 save percentage in the minors to posting a 27-9-2 record with a 1.78 GAA and a .936 save percentage to along with five shutouts with Minnesota. The goalkeeper more than just re-established himself as a legitimate starter in the NHL and was now making his push to be considered as one of the top performing goalies in the world.
Dubnyk capped off his fairytale season by being named to the NHL's Second All-Star Team and by being awarded the Bill Masterson Trophy for his perseverance, sportsmanship and dedication to the game of hockey. He also finished third in voting for the Vezina Trophy as the league's top goaltender and fourth in Hart Trophy voting as the league's Most Valuable Player.
It's safe to say that Devan Dubnyk and the Minnesota Wild are a good match. This feeling was mutual between all parties involved and, in the early days of free agency, the two sides agreed to make their relationship long-term by signing on the dotted line of a new six-year $26 million contract.
Looking Ahead
Following his return to prominence, Dubnyk has been a workhorse in the Minnesota Wild net. The goaltender appeared in 67 games during the 2015-16 regular season, second only to Los Angeles Kings' netminder Jonathan Quick, and that trend doesn't seem likely to change any time soon. Dubnyk is entering the second year of his new contract as the 2016-17 season approaches and it appears as though he will once again be sharing the net with a familiar face in backup goalie Kuemper. With the Minnesota net securely in his grasp and one of the league's deepest defences playing in front of him, Dubnyk looks to continue the upward trajectory of a career that, for a moment, seemed like it was the verge of collapse.