Nashville Predators General Manager David Poile shocked the hockey world on June 29th when he traded franchise defenseman (and long-serving captain) Shea Weber to the Montreal Canadiens for another cornerstone defenseman in P.K. Subban. The move has received great controversy since then with many viewing the Predators as clear-cut winners in the trade, including a majority of Habs fans who underwent a bit of heartbreak when they received news that Subban was headed to the Music City.
The question now heading into next season becomes, with Subban on board and a new era of hockey brewing in Nashville, do the Predators own the NHL's best blueline? Many hockey fans may argue this to be true. Let's take a closer look at why this may be.
Comparing Subban to Weber
When you look at the raw statistics, Subban and Weber have posted nearly identical stats over the last six seasons. Subban has 276 points and is a plus-34 in 432 games, while Weber has 277 points and is a plus-32 in 443 games. Subban is more of a speedy playmaker with scoring abilities, while Weber is a physical force who possesses the League's second hardest slapshot (trailing only Zdeno Chara of the Boston Bruins). It's really not until you look at the advanced statistics that you see Subban's slight edge over Weber.
The Advanced Numbers
Subban is one of the League's best possession-driving defensemen, meaning when he's on the ice his team has greater possession of the puck compared to playing on the defensive.
During his six seasons in Montreal, Subban earned a Corsi For % (CF%) of 52.0 percent, meaning the team accounted for 52.0 percent of all on-ice shot attempts while he was on the ice. During that same span, Weber earned a 49.5 CF%, meaning the Preds will have the puck in their opponents' end a little more with Subban on their top defensive pairing than they had with Weber (should he be given those minutes as expected).
Subban also produced a SAT of plus-577 during those six years, meaning the Canadiens generated 577 more shots against their opponent than they allowed on their own net when Subban was playing. Considering Subban brings this element of his game to Nashville, the Predators should see less playing time in their own end of the rink, ultimately reducing the workload on other defensemen and Nashville goaltenders.
Roman Josi
Roman Josi has quickly become one of the League's best all-around defensemen. He saw 50.7 percent of his starts come in the offensive zone last season, the first year in which he started more than half of his shifts on the offensive rather than defending as he has played the majority of his career with Weber in a shutdown role. More offensive starts allowed him to record 61 points and have a CF% of 50.1, both stats being the best of his career thus far.
If Predators head coach Peter Laviolette elects to play Subban with Josi this coming season Nashville may own the most potent one-two punch on defense League-wide with the offensive capabilities they offer. Those two playing on the same powerplay unit should be fun to watch regardless.
Ryan Ellis
Ryan Ellis has been a stellar second-pairing defenseman for the Preds ever since he became a full-time player with the team in 2012-13. He hasn't been a minus-player since that 2012-13 season (in which he was only a minus-two as a rookie) and his CF% has never fallen below 50.6 percent. In fact, last season with Ellis on the ice the Predators controlled the puck 54.4 percent of the time, making Ellis invaluable in this regard. He scored 10 goals and recorded 32 points last year, going plus-13 and averaging 20:54 minutes of ice time each night, proving that the Predators can lean on him to carry more of the workload.
Ellis' career stats provided by HockeyDB:

Ellis should see a rise in his stats this year playing with Ekholm again and potentially getting the opportunity to play with Subban or Josi on the powerplay.
Mattias Ekholm
Playing with Ryan Ellis last season, Mattias Ekholm established himself as a top second-paring defenseman in the League and a key role player in the Predators' success. It was the first season in which he started over 50-percent of his shifts in the defensive zone (51.8 percent of starts), though he still managed to keep a CF% of 53.2. He found the back of the net eight times last year and totaled 35 points with a plus-14 rating, showing his offensive upside and reliability on defense simultaneously.
After signing a six-year deal with an annual bargain tag of just $3.75 million this past season, the Predators will look at Ekholm as a corner-piece to their long-term success down the road.
Anthony Bitetto
Bitetto just turned 26 this offseason and will be looking to fill the fifth or sixth spot on Nashville's blueline come next season. He appeared in 28 games for the Predators last year recording six points and averaging 12:08 minutes of ice time, earning him a new two-year deal this summer worth $612,500 annually. Bitetto will need to make a large jump in his development with the competition on defense that exists in Nashville, but he should be on the roster come opening night.
Matt Carle/Matt Irwin/Yannick Weber
Carle, Irwin and Weber all have NHL experience and each could compete for the final roster spot during training camp. Carle is coming off his poorest season in Tampa Bay where he saw limited ice time, eventually leading to him being bought out by the Lightning and signing a one-year deal with the Predators this offseason. He can bring some experience and veteran leadership to the blueline, while Weber and Irwin are younger options. All three were brought in on one-year deals worth less than $1 million each, a bargain price for Poile in securing that depth on defense.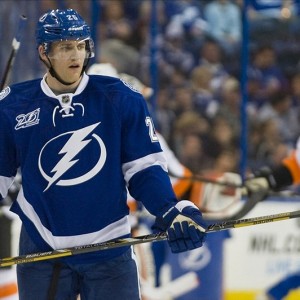 Additionally, Irwin's deal is a two-way deal, meaning the Predators could play him in Milwaukee to start the season and call him up when need be. Carle looks to be the favorite candidate in rounding out the top-six on defense right now, but Irwin and Weber will be looking to challenge for that spot come October.
Petter Granberg
The Predators may opt to keep the 23-year old Granberg in the lineup this year after a 27-game stint with the club last season in which he recorded two assists, a plus-one rating and averaged 13:43 of ice time. The Preds used him in more of a defensive role last year, having him start 51.5 percent of his starts in the defensive zone. Granberg blocked 26 shots and dished out 48 hits in those 27 games, showing his physicality and willingness to put his body on the line for the greater-good of the team. If he continues to improve on this style of play it will be hard for the Preds to send him back down to Milwaukee (AHL) for the year, though he was just signed to a two-year, two-way contract and this seems like the most likely scenario for the time being.
Projected Pairings
When the season commences in October, the Predators' defensive pairings should look a little something like this:
Subban – Josi
Ellis – Ekholm
Bitetto – Carle
Time will tell if Laviolette elects to go with Bitetto and Carle as the third pairing next season, or at least for opening night, but that top-four should remain a lock not only next year but for years to come. Given the Predators can find some consistency and strong play from their third-pairing, whoever may be playing there, Nashville looks as if they could present the best defensive group in hockey starting as early as next season.
4th year Sport Management student at Brock University.