Players who come into the NHL with great expectations don't always meet them immediately, taking multiple seasons to find their footing in the league. Jamie Benn, who was the runner-up for last season's Hart Trophy, played four seasons before finally cracking the 30-goal plateau. Even those who have proven themselves as solid secondary contributors, such as Washington's Evgeny Kuznetsov, sometimes break out and become bonafide stars once they carve out a consistent role.
For many young players, the beginning of your career also means sheltered minutes against weaker competition, less time on special teams, and linemates of lower quality than they had while tearing through the junior levels and racking up points in bunches. Consistency is the name of the game, and players of a young age are often prone to long slumps and even the dreaded "sophomore slump". Once an opportunity arises for them to truly showcase their abilities, the best players take their chance and never look back. Here are five players who, after wetting their feet in the last few seasons, are primed to break out and become the next wave of NHL stars this fall.
Jonathan Drouin, RW, Tampa Bay Lightning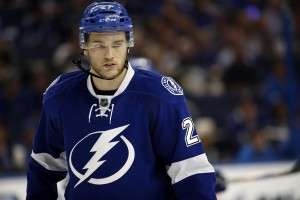 One of the biggest storylines of the 2015-16 NHL season was the drama surrounding budding young star Jonathan Drouin. Originally drafted in 2013 to be the successor to Martin St. Louis on the top line alongside Steven Stamkos, Drouin struggled in limited ice time to the tune of just two goals and eight points in 19 games. On January 2, GM Steve Yzerman reassigned Drouin the AHL, which led to Drouin's now-infamous public trade request and subsequent suspension from the team.
Jonathan Drouin, the talented young sniper, became Jonathan Drouin, the problem child. Trade rumours surrounding Drouin began flying, even while he sat on the sidelines awaiting a resolution to his holdout. Some even suggested the damage done between Drouin's camp and the Lightning was "irreparable", leading to false conclusions he would never play for Tampa Bay again.
But Drouin's talent eventually drew an end to his holdout, and he returned to the AHL's Syracuse Crunch in early March. His strong play inspired a call up to the Lightning at the end of the season, and he played an integral role in the Lightning's surprisingly deep playoff run sans captain Stamkos. In the end, Drouin played key minutes for the Bolts and was one of their leading scorers in the playoffs. Even with an undefined role and averaging just over 14 minutes of ice time per game, Drouin led the Bolts in points/60 minutes, setting the stage for his 14-point showing in Tampa Bay's playoff run.
He's one of the most exciting and talented young players in the entire league, and heading into next season, appears to be a good bet to secure a top-six role on a deep and talented Lightning forward group. Drouin's superb puckhandling abilities and good speed are a valuable asset amongst snipers such as Stamkos and Nikita Kucherov, and if Drouin can finally cement his place on Tampa Bay he could be primed for a breakout season.
Robby Fabbri, LW, St. Louis Blues
Lost among the St. Louis Blues deep group of offensive firepower last year was a stellar rookie performance from 2014 first round draft pick Robby Fabbri. Originally slated to be a lottery pick, Fabbri inadvertently slipped to the Blues with the 21st pick due to his small stature and an unfortunate injury at the end of the season. After torching the OHL in his first post-draft year with the Guelph Storm and capturing a gold medal with Canada at the 2015 World Junior Championships, however, Fabbri proved he was ready to crack an NHL lineup far sooner than expected.
The Blues have become known recently for waiting to call up their top prospects, preferring instead to let them develop slowly at lower levels before inserting them into the lineup. However, Fabbri's strong play allowed him to get into 72 games for the Blues, helping them to a second-place finish in the Western Conference and chipping in with 18 goals and 37 points.
His tenacious style of play completely alleviated all concerns over his diminutive size, and it didn't slow him down against some of the toughest and strongest teams the Western Conference has to offer. Although he didn't get much playing time in the regular season, placing ninth among team forwards in average ice time, Fabbri truly put his name on the map with an outstanding playoff performance. In St. Louis' surprising run to their first Western Conference Final appearance since 2001, Fabbri stepped up in a big way, tying for the team lead in points with 15 and providing important secondary scoring to a Blues team that struggled to score goals in the latter rounds of their postseason.
Fabbri's speed and scoring touch are a godsend for a Blues team that has traditionally been known more for their stifling team defense than their scoring ability. With team captain David Backes and fellow top-six forward Trow Brouwer both departed through free agency, Fabbri could be counted on to help fill the void on special teams and with more minutes against tougher competition. He has the talent to post big numbers playing alongside stars such as Vladimir Tarasenko and Jaden Schwartz, but it remains to be seen if that breakout will come next season.
Sam Bennett, C/LW, Calgary Flames
The second 2014 draftee on this list, Sam Bennett's first season after being drafted fourth overall was cut short by a severe shoulder injury that allowed him to get into just 11 regular season games for the Kingston Frontenacs and caused him to miss the 2015 World Junior Championships. After being eliminated from the OHL's Playoffs in the first round, Bennett played with the Flames for their surprise appearance in the second round of the playoffs, setting the stage for what was an up and down rookie season in 2015-16.
The Flames' cinderella ride from 2014-15 predictably turned back into a pumpkin in 2015-16, resulting in a 25th-place finish in the league and yet another top 10 draft selection. Bennett was a valuable secondary contributor, however, adding 18 goals and 36 points to the Flames' still-potent offensive group. Despite his successes, Bennett played sheltered minutes under now-departed head coach Bob Hartley and was prone to long stretches of ineffectiveness. His season was highlighted by a four-goal night against the Florida Panthers, in which he scored one of the highlight goals of the season:
Bennett's up-and-down rookie season was underwhelming in some respects, especially compared to the impressive exploits of fellow 2014 draftees Aaron Ekblad and Leon Draisaitl. However, Bennett's determined playing style and high skill level are a perfect fit for the blue-collar identity the Flames are attempting to cultivate. Team cornerstones Johnny Gaudreau and Sean Monahan are expected to be re-signed to long-term deals beginning next season, and the future of the Flames' forward group looks good with those two leading the charge and Bennett coming into his own. With more consistent playing time, Bennett has the talent to produce big numbers. With more consistency, he could cement himself as a first-line player for Calgary.
Morgan Rielly, D, Toronto Maple Leafs
With all the buzz surrounding the Toronto Maple Leafs' rebuild and their impressive crop of young forwards, their lack of depth on the blue line has been somewhat masked. While they are still in the early stages of their new management group, the crown jewel of their thin defensive system is undoubtedly young Morgan Rielly. The fifth overall pick in 2012 and the last draft selection made by former GM Brian Burke, Rielly recently completed his third full season on the Leafs' blueline.
Under former head coach Randy Carlyle, Rielly was handed protected minutes and plenty of offensive opportunities, shielding him from tougher assignments that would've allowed him the opportunity to develop into a top-tier defender. He improved at a steady pace, but he truly blossomed in his first year under Mike Babcock. His offensive game flourished despite being handed the toughest assignments of his career, leading the Leafs' defensive corps in multiple individual categories. He also set a career high in goals and points, registering nine tallies and 36 points.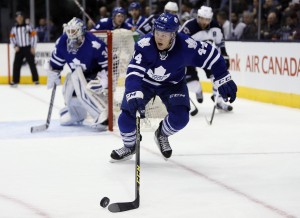 While his offensive game continues to improve year over year, the heavy diet of tough opponents and defensive zone starts Babcock fed his young blueliner led to some of the worst underlying defensive numbers of his career. Out of all 124 NHL defensemen who logged over 1,000 minutes last year, Rielly finished 114th in shot attempts against per 60 minutes (CA/60). Some may point to the mediocre quality of his regular defense partners and the last-place team surrounding him, but Rielly's shot attempts against rating relative to his team (CA/60RelTm) also ranked 114th from the same sample group. For those more fond of traditional statistics, Rielly also notched a -17 plus/minus rating, the worst of his career and tied for last on the team.
The areas Rielly needs to improve to truly become one of the league's top defenders seem clear-cut at this stage of his career; the offensive numbers he produced last year far outpaced the defensive impact he brought to the Leafs' back end. At just 22-years of age, Rielly's promising play is a good sign that he can eventually become a legitimate number one defenseman, something the Maple Leafs have lacked for years now. If he can continue his upwards trajectory and round out his defensive game, Rielly could break out and become one of the game's elite defenders.
Damon Severson, D, New Jersey Devils
The only player on this list drafted outside the first round, Damon Severson was taken with the penultimate selection of 2012's second round. He quickly showed the Devils' scouting staff he was well worth the investment, tallying 113 points across his final two junior seasons and made the jump to the NHL as one of the league's youngest full-time blueliners in 2014-15. Severson's rookie season seemingly came out of nowhere, as he led the Devils' promising young blueline in even-strength goals and was first among all rookie defensemen in average time on ice.
Severson understandably had more expectations heaped upon him entering his second season, as the sturdy two-way defenseman was part of New Jersey's young defensive group that was key to the Devils' playoff aspirations. Under new coach John Hynes, however, Severson had his minutes reduced and he flew under the radar as the Devils once again missed out on the postseason. While he upped his point total from 17 to 21, he only notched a lone goal and he posted a negative plus/minus rating for the second consecutive year (-8).
Severson's reduced minutes didn't affect his ability to drive the play, as he paced Devils defenders in points per 60 minutes. In that area, his 0.82 points/60 mark placed him 47th among all defenders who played 1,000 minutes, ahead of notable names such as Justin Faulk, Drew Doughty, and Kevin Shattenkirk. His defensive game was quietly effective as well, placing 14th in the league in shot attempts allowed per 60 minutes. While he didn't quite make the same impression in his sophomore season as he did bursting onto the scene in his first, Severson's understated game was a big part of New Jersey's much-improved team defense that allowed the ninth-fewest goals in the NHL.
Severson may not have the flash or name recognition of the first-round draft choices listed above, but his solid two-way game and ability to control the pace of play puts him among the best young defensemen in the game. Blueline stalwart Adam Larsson, who was second on the team in average ice time, was traded to Edmonton earlier in the offseason, opening the door for Severson to take on a larger role with the up-and-coming Devils. Still just 22-years old, he is still scratching the surface of his potential and could become a legitimate top-pairing defenseman as soon as next season.
Joseph Aleong is an At-Large writer for THW from Toronto, Ontario. He is a graduate of Brock University in St. Catharines, ON. Follow him on Twitter @josephaleong11