The Ivan Hlinka Memorial Cup in the Czech Republic and Slovakia is held annually and gives scouts the first sightings of the season in a competitive tournament for U18 players. It is the first time scouts have a glance at many prospects, which are eligible for the upcoming draft and therefore the stands are usually filled with scouts from all over the world. This year's edition has been won by the strong Czech team. I have been fortunate enough to see the games in the Slovak arena and will mention some players that stood out to me.
Klim Kostin (RW, HK MVD Balashikha, Russia)
Big Russian winger Klim Kostin has definitely been one of the most intriguing players to watch at the Ivan Hlinka Memorial. He was the team's best scorer and has been involved in nearly every scoring chance. Like the entire Russian team, Kostin has stepped up after a weak start and became a treat to watch in the course of the tournament. The big winger can play at both ends of the ice and is playing a strong defensive game. He killed penalties and was excellent in blocking shots. He took away shooting lanes and was able to take away passing with his long reach.
However, Kostin's biggest asset is his offensive game. He has smooth hands and can handle the puck very well. Very often he goes from the outside to the inside with one direction change and gets past the defenders quickly. He is very good with the puck and has great puck skills for a guy of his size and can beat defenders in many ways. Kostin was one of the most exciting players to watch at the Ivan Hlinka, a player who always made something happen and never got tired of creating offense. His skating is not that well-rounded yet and he sometimes needs to simplify his game, though.
Andrei Svechnikov (RW, Muskegon Lumberjacks, USHL)
One of the youngest players of the tournament was also one of the most intriguing to watch. Andrei Svechnikov is considered to be a top prospect in 2018 and will most probably compete against Canada's Joseph Veleno for the first overall in two years. Svechnikov is a dangerous scorer who has a very good timing on one-timers and a quick release. He has scored at least two goals on one-timers where he showed his tremendous shooting skills. The Russian winger is a player who can excel at both ends of the ice, though. Defensively, he is very well aware of his role and hustles back to support his defense.
He is not only equipped with a strong shot, he also possesses a hard and accurate pass. While he has moments where you don't notice him, he still manages to have a couple of shiny moments in each game that make you noticing him. Svechnikov has signed a contract with the Muskegon Lumberjacks for the upcoming season and will move to North America, similar to his older brother and Detroit Red Wings prospect Yevgeni Svechnikov.
Maxime Comtois (C, Victoriaville Tigres, QMJHL)
Maxime Comtois from the Victoriaville Tigres is a feisty centerman who knows how to score. He has been in the face of opponents in most of his shifts and was active in after whistle scrums trying to intimidate opponents. His size gave him an advantage in most battles and he played a dominant physical game and finished checks. Besides being good at the rough stuff, he was also present on the scoresheet, leading the Canadian team in goals and points.
Maxime Comtois is going to be a star. #HlinkaMemorial #2017NHLDraft

— Scott Wheeler (@scottcwheeler) August 10, 2016
Comtois possesses a powerful shot and is effective around the net where he displays a high understanding of the game. He always seems to be in the right position. He is also very effective when playing shorthanded as he pressures the puck carrier with his long reach and is dangerous in takeaways at the blue line. Twice in the game against Sweden, he stole the puck like that and finished off the breakaway using his Hockey IQ and smooth hands.
Joseph Veleno (C, Saint John Sea Dogs, QMJHL)
Next to Svechnikov, Veleno was the second 00-born player who was very dominant and showed that he can keep up with older and stronger players. Veleno was Canada's second best scorer and convinced me with a very strong overall game. It is hard to find flaws in his game as he does a lot of things in the right way. He was one of the more physical players at the tournament as an underager and his body will only get stronger until he is available in the draft in 2018.
I liked his work ethic a lot and he has a motor that never breaks down. He is a strong skater and is showing good balance on his skates. Veleno can carry the puck with great speed and smooth hands and is able to change directions fast while still maintaining control over the puck. With his playing style, he catches your attention faster than compared to Svechnikov's playing style and he could very well end up surpassing the Russian in two years.
Shane Bowers (C, Waterloo Black Hawks, USHL)
Shane Bowers is a player that does not catch your eye immediately, but a prospect that I liked a lot because he did a lot of small things and because he does have a high Hockey IQ. He does possess smooth hands and has bursting speed with which he can beat opponents. He drives the net without the puck and is extremely effective around the crease as he uses his hand-eye coordination to deflect pucks and is often in the right position for rebounds.
Bowers understands the game mentally on a very high level and is possessing a strong two-way game. Although he had only one point in four games at the tournament, he is a player that I liked a lot simply because he combines work ethic, two-way abilities and puck skills. He might not have the offensive upside like others in the upcoming draft but make no mistake – Bowers is going to be a first-round consideration.
Timothy Liljegren (D, Rogle BK, Sweden)
The highest projected prospect at the Ivan Hlinka was Swedish defender Timothy Liljegren from Rogle BK and he did live up to the high expectations with a strong performance. He was one of the players I liked to watch the most as he plays a very matured overall game. He is the type of defender who can excel at both ends of the rink. Offensively, he likes to join rushes and can quarterback the powerplay with his strong puckhandling and shooting skills. Although being an offensive-minded defender, he does play a very reliable own zone game and is hard to pass by along the walls as he competes tenaciously.
Timothy Liljegren showing amazing puck skills for a defenseman, as he casually strolls thru the offensive zone. A huge talent. #IvanHlinka

— Adam Kosnáč (@scoooty27) August 9, 2016
He does play very active with his stick and does not give puck carriers much time to think. Liljegren is an extremely gifted player with the puck and can carry the puck up ice with great velocity and smooth hands. He sometimes does commit turnovers when he goes into a one-to-one situation, but that will mostly go away with the time and maturity. Liljegren has already played games in Sweden against men and will do so again this season which will give him more time to face top offensive players.
Erik Brannstrom (D, HV 71, Sweden)
Next to Liljegren, the other Swedish defender that stood out to me is undersized Erik Brannstrom from HV 71. Brannstrom is a very quick skater and shows good mobility. He showed poise with the puck and displayed his smooth puck handling skills often. He can really move the puck up ice and take inaccurate passes and control bouncing pucks. He is also a dangerous weapon on the powerplay and has a cannon of a shot which he is not afraid to use. The Swede showed great timing on one-timers in the powerplay too.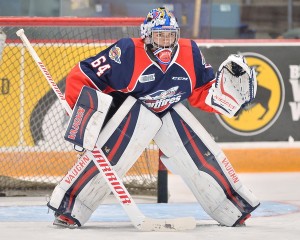 Brannstrom's biggest flaw is his size. He is only listed at 5'10 and is lacking strength. He showed some issues when playing against bigger opponents at the Ivan Hlinka Memorial. He could benefit from playing this season in the Swedish Hockey League competing against men.
Honorable Mentions:
Rickard Hugg (C, Leksand IF, Sweden)
Patrik Hrehorcak (F, HC Trinec, Czech Republic)
Mark Rubinchik (D, HK MVD Balashikha, Russia)
Adam Ruzicka (C, HC Pardubice, Czech Republic)
Rasmus Dahlin (D, Frolunda, Sweden)
Artem Melnikov (G, Lokomotiv Yaroslavl, Russia)
Michael DiPietro (G, Windsor Spitfires, OHL)
Ryan McLeod (C, Mississauga Steelheads, OHL)
Independent Scout covering European Hockey and Prospects for TheHockeyWriters. Located in Switzerland and blogging on www.scouting-factory.blogspot.com. Opinions on blog are my own