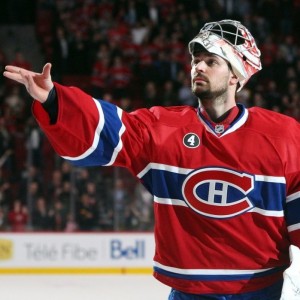 Perhaps the most notable absentee on this list of the top Montreal Canadiens poised to rebound next season is goaltender Carey Price. That's because, in spite of a near-season-long stint out of the lineup, he still posted great numbers during the games in which he did appear.
In spite of that pesky lower body of his that keeps on getting reaggravated, Price was still 10-2 with a .934 save percentage. Needless to say, he doesn't need to have a bounce-back season for the Habs to reach the playoffs or even contend for the Atlantic Division title. They really just need him to have a season, period.
The same can't necessarily be said for the following three, who, along with the team as a whole, will be looking to put 2015-16 as far behind them as possible.
3. David Desharnais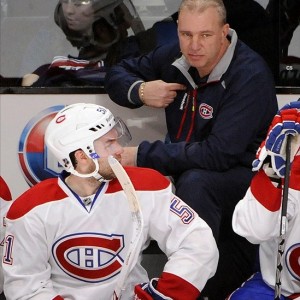 Many might not like David Desharnais for reasons beyond his control. His production last season was not one of those reasons.
Despite preferential deployment, including the fifth-most amount of ice time on the power play per game among forwards, Desharnais finished with just 29 points. To put that in perspective, he had 28 over the 48-game 2012-13 season.
Granted, Desharnais was injured and missed most of the last part of the season, finishing with just 65 appearances. However, considering it's that injury that opened the door for Alex Galchenyuk to end the campaign on the first line with Max Pacioretty and Brendan Gallagher and break out offensively, it goes to show just how badly Desharnais was producing in sharp contrast.
For instance, the Pacioretty, Desharnais and Dale Weise line enjoyed the fourth most time together as a unit last season (167:29), while Galchenyuk played with Pacioretty and Gallagher for less than half that amount (80:41). Galchenyuk still finished with nearly double the amount of points over the entire campaign.
Admittedly, Desharnais spent even more time (342:15) pivoting what was the team's third line, in between Weise and Tomas Fleischmann early in the season, but that's also where he found the most offensive success, with 14 points in his first 16 games, with the unit initially riding unsustainably high shooting percentages to great offensive success.
Desharnais ironically ended the season with the lowest shooting percentage in his career at 12.2%. The previous year, he had one of 15.6%. The year before that? A career-high 16.7%. Of course, Desharnais is not what you would call a high-volume shooter, but his struggles putting the puck in the net were potentially symptomatic of larger issues.
There's no guarantee Desharnais will get as many chances to produce as he did last year, as Galchenyuk seems to have found a permanent home on that top line. However, if he can replicate even some of that success he found away from Pacioretty early on with whoever he ends up playing, he should be okay… or at least not as bad.
2. Tomas Plekanec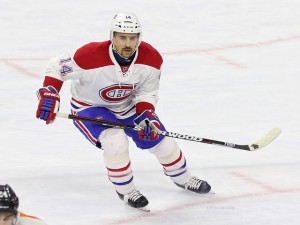 From one former Pacioretty pivot to another, Tomas Plekanec may have also had a bad season from a production standpoint, but it was almost to be expected. And that's not just in regard to his relatively advanced age of 33 going on 34.
Plekanec scored 54 points, but just 14 goals, which was significantly down from the 26 he scored the season before. However, in his 11 full seasons with the club, he's scored 22 or more goals four times. He's scored 20 or fewer seven times. Needless to say, consistency isn't Plekanec's strong suit, but, for a career 10.4% shooter, it shouldn't be hard to imagine him rebounding from the meager 7.4% he posted last year.
While, like Desharnais, Plekanec likely won't get much of a shot playing with Pacioretty on his left side, he should slot in comfortably as the team's No. 2 center. That isn't too bad of a consolation prize, seeing as the team's top two right wings are projected to be Brendan Gallagher and Alexander Radulov.
He wins either way, especially with it looking more and more like it will be a season rife with milestones for the guy. At No. 18 on the Habs' all-time scoring list, Plekanec can conceivably jump all the way past Mats Naslund at No. 12 with a decent 60-point campaign and reach over 600 for his career in the process. None of that last sentence is at all unrealistic.
1. Max Pacioretty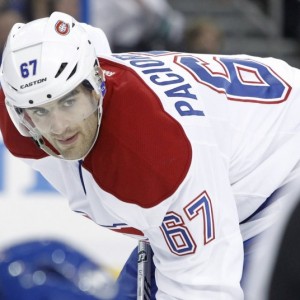 It needs to be said: Max Pacioretty didn't have a bad season, per se.
He led the team with 64 points and 30 goals (with Galchenyuk). Still, the 30-goal milestone was a bit of a letdown for the captain, who has become known for flirting with 40 instead… or at least he would have become known for that fact if his goal-scoring prowess were talked about more.
It's not like he's a one-trick pony either, with generally outstanding possession numbers year after year. Last season was no exception, as he even significantly outperformed his career average in that one respect… and many others. Considering he finished the season on a high, playing mainly with Galchenyuk and Gallagher (his presumed linemates moving forward) and scoring 19 points in his last 17 games, two things become clear:
With seven of those points being goals (34 over an entire season), Pacioretty doesn't need to score 40 goals to be effective
Any criticism he faced cannot justifiably be traced back to a lack of production alone
Indeed, many argued Pacioretty was an unfit choice to become the team's new captain as if he alone should have been capable of steering the team out from the storm that hit almost coincidentally just after Price and Gallagher went down with injuries.
Many of his critics conveniently forget or choose not to acknowledge Pacioretty was one of five players with a letter on his jersey. His was just more symbolic and entitled him to speak to the referees. And yet neither P.K. Subban, Andrei Markov, Plekanec or Gallagher seemed to attract anywhere close to the same level of rage from outsiders who believed Pacioretty should have been able to singlehandedly salvage the season, short of miracle healing Price. Which is probably what it would have taken.
In any case, with the team's unofficial captain in Price reportedly 100% and Shea Weber being added to the fold, a lot of that pressure should be alleviated from off Pacioretty's shoulders.
At the very least, considering just how many are calling the Subban trade a victory from at least a leadership standpoint, it would be hard to argue that any lack of on-ice success traces back to the captaincy, even if all Weber is getting is an 'A.'
So, all Pacioretty needs to do to enjoy a successful next season is essentially what he has been doing consistently for the last half-decade in a Habs jersey. That's as close to a guarantee as you can get.