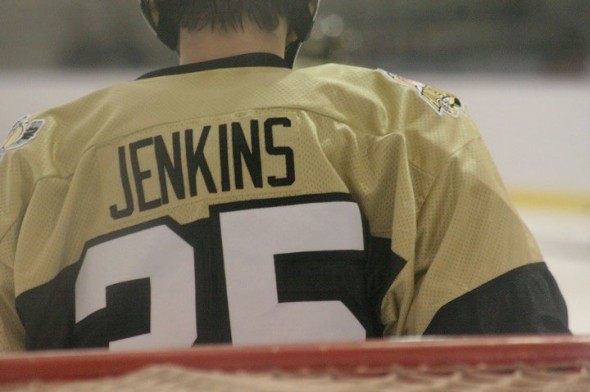 Last week the London Knights fell to the Shawinigan Cataractes in the Memorial Cup Final.  It was painful for Joel Jenkins.  But not as painful as the loss he suffered a year prior.
Ian Jenkins was riding high leading up the OHL Priority Draft in 2011.  It wasn't a matter of if his name would be called, but rather when and by what team.  On May 7th, the London Knights decided it would be in their best interest to take one of the most sought after goalie prospects since Jack Campbell or Ryan Miller.  The elation lasted only 12 days.  After being selected in the 2nd round by the Knights, Ian fell off a truck's flatbed, knocking him unconscious, and inflicting severe head trauma.  On May 23rd, 2011, Ian Jenkins lost his battle and so the healing process began almost immediately.
"Devastated beyond belief."  Those were the first words Joel Jenkins told me he felt after the whole ordeal.  "I was with his sister driving to pick him up when we were passed by the emergency vehicles proceeded by the dreaded call.  We were bringing him ice cream because it was Cassidy's birthday.  Life changed for all of us that day and will never be the same."
And dealing with the loss of a son/brother/friend can be even more difficult.
"Coping is a day to day program," Joel conveyed.  "He has never left my thoughts and I think of him constantly.  It's a nightmare that won't end.  I really haven't been strong.  The tears still flow easily and there is some days that I just pray the pain will go away."
However, the outpouring of love, compassion, and heartfelt wishes has been extraordinary.  Thousands upon thousands of people have heard about the tragic death and have reached out to Joel and the rest of his family.
"Just knowing so many people were touched by his story or touched by his friendship is up lifting.  Not one day has passed that I have not received at least one email or message about Ian," Joel said.
For those who aren't familiar with Ian as a person, he was a phenomenal human being who put people before himself.  He did what he could to change the lives of those around him for the better.  The letters "H-A-P" were engraved in his hockey pads since he was a kid.  The letters stand for "Have A Purpose".  Ian lived and died by these words.
"Ian was the hardest working person I've ever been around.  His motto 'Have A Purpose' is important to me now as it is to so many others," said Alex Talcott, a former teammate of Ian's since age 8.  "I try to understand the effects of my actions before I do them.  This can be for both negative and positive things, like whether or not to give up or if doing something is really in my best interest for the future."
"I hope Ian's message has changed lives, made people more responsible and given them the true meaning of positive work ethic; Having a purpose," he went on.  "This whole ordeal has shown us that the hockey community has lost one of its very best role models.  Not only that though, we learned how to be a loving brother, a respectful son and great friend.  The last conversation Ian had with Joel ended with "I love you dad" – something I don't think we tell our loved ones enough.  THAT Ian always had time for."
A few weeks after his passing, a memorial game was held to remember Ian player; Ian the brother; Ian the son; Ian the person.  Copious amounts of people, (friends, relatives, and acquaintances) flooded the ice hockey rink to honor a fallen friend.  One of those players who attended was a close friend of the Jenkins' family, Sarnia Sting goalie, Brandon Hope.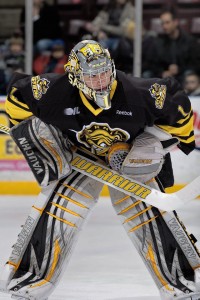 "Ian has made all of us a better person by teaching us all to have a purpose, not only in life, but each time I step out onto the ice.  Others will learn all the broad meanings of HAP and also to really think about something before they do it.  Ian was not a reckless kid, but just for one flukey moment that happened, and something devastating came out of it," Hope said.
He wanted to make this year in Sarnia special so he enlisted the work of Andrew Manning to customize a mask for him with Ian's foundation logo on the top.  He wears it proudly and never forgets a major lesson he learned from Ian's death.
"Really cherish your friends and family because you never know when something like this could happen.  I always tell my parents I love them every time before I walk out the door."
Yet another in the long line of hockey players who wanted to do something for Ian is close friend, Thatcher Demko, who is currently playing for the Omaha Lancers of the USHL.  The two had met when attending Bandits Goaltending School and became even closer when they signed up for Warren Strelow National Team Goaltending Camp just before Ian's accident.
"It was a weird thing because there were so many conflicting reports on Facebook and Twitter.  Finally, I just relied on getting the word from Stan, the owner of Bandits.  I couldn't believe what was happening.  I thought if anyone could pull through it would be Ian.  I still find myself in disbelief.  I miss him a lot," Thatcher said as he recalls the day he heard about Ian's death.
Demko decided to wear the number 35 (Ian's number) this season in remembrance, but his support didn't stop there.
"I painted the back plate of my helmet with his foundation logo.  I also have a foundation jersey framed that I keep in my room.  I make sure to let everyone know Ian's story when people inquire about my stuff."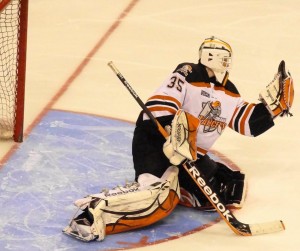 Thatcher, like many others learned a great deal from Ian and his habits.
"Ian taught me to have a purpose in everything I am doing, both on and off the ice.  He also showed me how important work ethic and character is and how it pays off.  The most important thing this has taught me is to not take anything for granted."
Joel thought it would be best to set up a foundation on Ian's behalf a few weeks after his death.
The Big 'E' Foundation was set up with its goal being to promote its theme of Have A Purpose (H.A.P.) by supporting amateur ice hockey and other sports through equipment donations, grants, event sponsorships and organized competitions; by enhancing closed head injury rehabilitation in children through athletic participation and other beneficial activities; and by fostering organ donor awareness.
"The Belle Tire corporation did donate $10,000 and that is much appreciated.  The foundation has issued twelve 'Financial Aid' scholarships for families that are in need and one 'Academic Achievement' Award," Joel stated.  "Also, we have granted our first organ donor recipient scholarship to a young child to attend The University of Michigan Transplant Center summer camp (Camp Michitanki). This is all possible because of donations."
In the weeks following May 23rd, 2011, donations poured in and a new opportunity arose for the foundation to spread out.  Partnered with various athletes, the Big 'E' Foundation created 'Athletes with A Purpose'.  The goal of this program is to raise money for the Big 'E' Foundation through Athletes with A Purpose fundraising activities. These special athletes will advance Ian's legacy through the teachings of HAP. The athletes have the ability to direct fifty percent of the fundraising net revenue to their charity benefactor(s). These athletes will give back to the communities that have supported their success in life.
The founding members of the program are Garrett Jenkins, Lester Lancaster, Patrick Sieloff, John Hayden, Tyler Motte, Trevor Hamilton, Anthony Louis, Scott Savage, Mike McCarron, Brandon Hope, Matt Roy, Drew Michals, Thatcher Demko, Brendon Kearney, Eric Israel, Evan Allen, Andrew Copp, Alex Talcott, Gordie Green, Matt Cimetta, Alex Smith, and Mike Downing.
There is just one thing missing that Joel could use for the organization, however.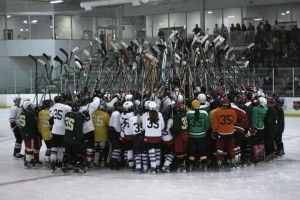 "It has grown in support and importance over the year.  The only problem is that it is a story that young kids have grasped onto but it lacks big money support on a continues basis.  I would love to have a big name professional athlete to promote his foundation and it's benefits…that would take it to the next level."
But what is bigger than any donations or scholarships is the power to give new life to those less fortunate.  Ian has left his mark, yet again, on Kevin Folster, the young man who received Ian's kidneys.
"I have had kidney problems since I was born in Russia," Kevin began.  "I found out about Ian's accident at my church and was asked to pray for him.  Later that night I received a call that Ian's family were donating his organs and wanted to direct one to me if he was a match.  My thoughts were all over the place.  There was excitement and sorrow all at the same time.  On the way to the hospital for the transplant I was not sure how to act. I had a mix of feelings from gratefulness to guilt."
When I asked him about how Ian has changed his life, Kevin responded, "I think it is obvious!  With this transplant my life did a 180.  I have more energy than I have had for years.  The situation has also showed me how selfless people can be."
"I first met him on Father's Day," Joel mentioned to me.  "He was my gift that day. It is remarkable to see how this has changed his life.  It's a true miracle.  Kevin has attended a lot of his events and shares his love with our family."
Kevin has gone to various different high schools in order to speak about Ian and the benefits of being an organ donor and he makes sure to conclude with the same message each time.
"I always ended it with the motto of H.A.P."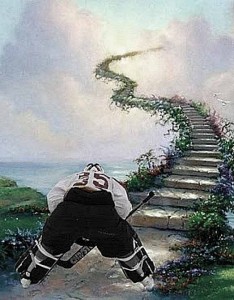 Thousands of people who have never met Ian, his family, or his friends have been deeply touched by his story, his purpose, and his life.  The hockey community has lost one of its most upstanding players, but the lessons learns have spanned all across North America.
"Ian was larger than life. He was a great son, brother and friend," Joel recounted.  "His death has caused me, and the rest of the family, to learn how to live again. When someone is that important to our family and they go away, everything is different. You have to redefine all the relationships you have and realize that they are now different. The sadness settles in and becomes apart of you."
The last thing Joel said to me was, "Life is priceless and it can be gone in an instant.  Every day is a gift and should be treated that way. We only get one chance on this earth so we all should live life like Ian…"
…by Having A Purpose!
For those who would like to donate money to the Big 'E' Foundation, please go to www.bigefoundation.org.
If you have any questions or comments you can email Joel Jenkins at joel.jenkins6@yahoo.com.
Follow Shawn Reznik on Twitter: @ShawnTHW