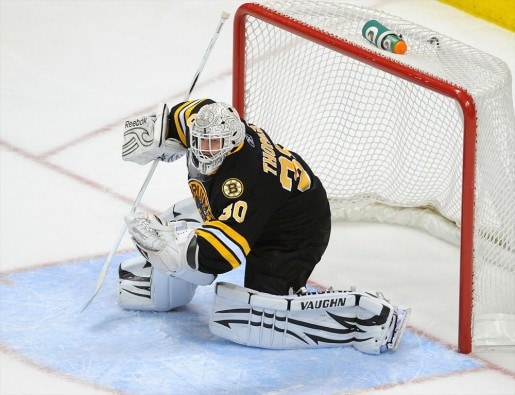 One year ago, Tim Thomas was backstopping the Boston Bruins to their first Stanley Cup in 39 years. The 38-year old won the Conn Smythe trophy as the NHL's playoff MVP, and he was sitting on top of the hockey world.
One year ago, no one knew Tim Thomas' political views, or how he viewed the leadership within the confines of the White House. Yet somehow in less than a year, Thomas has gone from being the best goaltender in the world to a political activist ready to step away from the sport.
Today, Boston Bruins general manager Peter Chiarelli confirmed reports that Tim Thomas is seriously considering not playing the 2012-2013 season. Thomas has one year left on his deal which is worth five million dollars.
THOMAS WON'T TALK ABOUT IT:
Chiarelli said Thomas didn't tell him why he was contemplating not playing this upcoming NHL season, he also said Thomas wouldn't be talking to the media about his decision. Chiarelli also added that if Thomas decides to explain himself, he'll do so on Facebook. Sounds about right.
According to Chiarelli, Thomas approached him in mid-May to say he was thinking of taking a year off. Thomas also said he wanted to come back for the 2013-2014 season because he wanted to play in the Olympics. Thomas indicated his potential decision to walk away may be family related, but he provided no details. Chiarelli said that the Bruins are operating on the premise that Tim Thomas will not be a member of the team next season.
WHY WOULD HE LEAVE?
Given the circus that has revolved around both Thomas and his Facebook account over the past six months, it is no surprise that rumours regarding Thomas' potential hiatus are running rampant.
Some people are speculating that the Bruins were planning on trading Tim Thomas so that 25-year old Tuukka Rask could take over. Thomas has one year left on his contract, so if he sits out next season he will become an unrestricted free agent in 2013 at the age of 39.
Given the fact that Thomas has always gone to the beat of his own drum, this scenario is definitely plausible. Thomas is in the midst of a 4-year $20 million dollar contract, so money shouldn't be an issue.
There are also whispers that Thomas was upset he didn't receive more support from the Bruins after he decided to miss the team's trip to meet President Barack Obama at the White House. Anonymous sources indicated that some Bruins players were upset that the celebratory event was overshadowed by Thomas' actions.
The Bruins were firing on all cylinders leading into the meeting with President Obama, but after the event, the Bruins began to falter.
WHITE HOUSE NO-SHOW WAS THE BRUIN'S TURNING POINT:
The Bruins won 10 straight games to start November and finished the month with a record of 12-1. Boston also went 9-3 in December to finish the last two months of 2011 with a record of 21-4.
After Thomas no-showed the White House on January 23rd, the Bruins finished January and February with a combined record of 6-9. The Bruins then played 17 games in March and completed the month with a record of 9-8.
That means in the two months prior to Tim Thomas no-showing the White House, the Bruins had a two month long winning percentage of 84 per cent.
In the two months that followed Thomas' political statement, the Bruins had a two month long winning percentage of 47 per cent.
WHAT HAPPENED TO TIM THOMAS?
It is not unusual for athletes to take a political stance or to have strong opinions on a variety of social issues. Muhammad Ali refused to fight in Vietnam and he was put in jail for his actions. Ricky Williams walked away from the NFL in his prime for a variety of issues. And perhaps most famously, Tommie Smith and John Carlos raised their fists in a salute to Black Power while standing on a podium at the 1968 Mexico Olympics.
Thomas didn't do anything criminal by refusing to attend the White House and by expressing his political views, but the real question is where did it come from?
For close to a decade, Thomas was toiling overseas and in minor professional leagues trying to make a living out of hockey. Finally at the age of 35, he earned his first major contract. To say the career of Tim Thomas was conspicuous up to this point would be an understatement. He was quietly going about his business and was slowly achieving the success he had probably always dreamed of.
Suddenly after winning the Stanley Cup everything changed.
Within the year, Thomas has become equally famous for his political views as he is for his goaltending skills. And for some reason, he continues to think the two are mutually exclusive.
This drama could have been avoided if Thomas elected to address these issues on a forum outside of Facebook, but he refuses to talk about it. So until Thomas decides to talk about it, no one really knows what he's thinking.
Perhaps his motivation to miss a year of hockey has nothing to do with the drama of the past season. I guess we'll all have to check our Facebook timeline to find out.
For sports updates check out www.unsortsmanlike.ca and follow on Twitter @Unsport4Real, you can also follow me @TomYawney
I'm a digital media strategist with CanEye Media. I help businesses build and establish their brand through internet marketing. I also blog regularly for Canada's Best Sports Blog – Unsportsmanlike.ca