By Mike Miccoli, Boston Bruins correspondent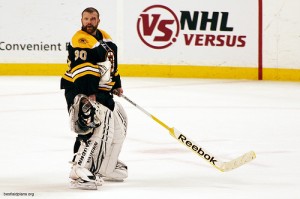 I didn't want to write about Tim Thomas today. Or yesterday. Or even tomorrow.
When Peter Chiarelli confirmed today that Thomas' agent approached him in the beginning of May suggesting that the Bruins goaltender was strongly considering sitting out the 2012-13 season, something had to be said.
Just a year ago Thomas was the biggest story in hockey, maybe even one of the biggest stories in sports. He capped off an unbelievable 2010-11 season by winning the Stanley Cup, the Conn Smythe and the Vezina Trophy, all within a week of one another. Thomas was on top of the hockey world, and why not? The 38-year old, Michigan native had reached what could be the pinnacle of his career.
Only one place to go from there, you know.
Last night, TSN's Pierre LeBrun speculated that Thomas would consider sitting out the 2012-13 season, what would be the final year of his contract with the Bruins. During a press conference announcing the re-signing of Daniel Paille and Chris Bourque, Chiarelli confirmed that the report was accurate. There is a strong possibility that Thomas has played his last game as a Boston Bruin; but to go out like this? It's questionable at best.
Sometime between last year at this time and today, Tim Thomas stopped being the underdog. After he boycotted the team's trip to the White House in January, it began.
The reports would say that Thomas wasn't a team player; that he was all about the individual first. Thomas would shut down interviews when a question regarding his political beliefs was posed (mind you, this was before a hockey game). There were even reports analyzing Thomas' choice of words (we vs they) during his post-game conference after the Bruins lost Game 7 of the Eastern Conference Quarterfinals to the Washington Capitals in overtime.
Writers of these stories would begin to vilify Thomas for characteristics and beliefs he's had since he arrived in Boston. But why now? Why this season?
Because Thomas had nowhere to go but down after his spectacular 2010-11 season. We watched it all unfold. It was Thomas' destiny to fail after he succeeded.
Aside from what you may see or read on Twitter or other blogs, the fans had Thomas' back–at least they should have. The loudest cheer for any Bruins player on Tuesday, January 31, the team's first home game since the White House incident, was for Thomas. This coming after many thought the veteran goaltender would be booed for putting himself first.
Thomas may be quirky, but aren't most goalies? While Ilya Bryzgalov is busy talking about the solar system and tigers, Thomas is using his personal Facebook page to post his own personal opinions as he has for the past two years now.
Thomas brought the Stanley Cup back to Boston after a 39-year drought last year. He posted four shutouts in 25 playoffs games in 2010-11 and won three Game 7s, the first of any goaltender to accomplish such a feat. At times, he carried the team on his back. Next time you're in the TD Garden, look up at the rafters. See that 2010-11 Stanley Cup Champions banner? That wouldn't be there without Thomas. Who cares what his political views are?
That's why this is such a bizarre situation. Thomas, ever the competitor, is considering sitting out the 2012-13 season. Why? To spite the Bruins and leave his $3 million salary on the table? That seems senseless.
If Thomas was unhappy, he could have requested a trade. Even though Chiarelli addressed that he had no plans to move Thomas at his end-of-the-year press conference, it could have been arranged. Did the media run him out of town? The fans? Unlikely given Thomas' "prove people wrong" mentality. If it didn't affect him during the 2010 offseason when everyone had his bags packed, it probably wouldn't affect him now.
Maybe he really does want to spend more time with his family. Maybe he feels strongly about being at his best and training to play for the Men's US Olympic hockey team at the 2014 Winter Olympics in Sochi. Maybe it's none of anybody's business because he can do whatever he wants and not owe anybody an explanation.
That might be it, too.
Maybe he just wants to get out of the spotlight after what could be described as a tumultuous year, both personally and professionally.
It might be selfish leaving the team in this situation, having to pick up the pieces and keeping his $5 million salary cap on the books. But then again, Thomas might still play–let's remember, he's only 'strongly considering' sitting out.
Most importantly, the Bruins will be able to rebound. Boston has two more-than-capable goaltenders in Tuukka Rask and Anton Khudobin to be an electric goaltending duo. The team can find ways to win without Thomas. Hell, we don't even know if he was even going to be in the cards before this whole situation happened.
With one year remaining on his contract, it's likely this is the end for Thomas with the Bruins. How many times has that been said before? The only difference is that this time, it may not be a clean break.
Years from now there might not be a Tim Thomas night at the TD Garden. We might not see Thomas' #30 hanging from the rafters either. If Thomas did indeed play his last game as a Bruin, will the most prominent memory Bruins' fans have of him be the moment he lifts the Cup for the first time or the moment everyone else told them about how Thomas was a bad teammate?
That's for you to decide.
Follow Mike on Twitter for more Bruins updates, commentary and news.