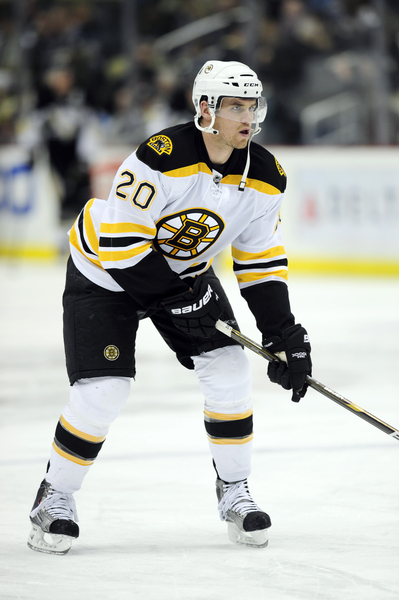 Friday morning the Boston Bruins announced multi-year contract extensions for forwards Dan Paille and Chris Bourque – but revelations about Tim Thomas' plans for 2012-13 may have upstaged the news of the signings.
With one month until the July 1 free agency bonanza, the Bruins came to terms with two unrestricted free agent wingers. Dan Paille, a member of the B's since a trade from Buffalo in October 2009, signed a three-year, one-way deal worth $3.9 million annually. The recently-acquired Bourque signed a two-year contract which is two-way for the first season and one-way for the second (valued at $200 thousand with Providence and $550 thousand at the NHL-level).
The extension for Paille includes an annual raise of almost a quarter-million – a modest hike for one of the Bruins key penalty-killers. Certainly, he's no threat for the Rocket Richard Trophy (since joining the B's his 82-game averages are 11-10-21), but Paille chips in the odd shorty, plays sound defense and brings speed and (additional) physicality to the Bruins' "Merlot" Line.
Bourque – the son of the legendary Bruin, Ray Bourque – was acquired last week from the Washington Capitals in exchange for former first-rounder (2007, #8) Zach Hamill. Bourque led the AHL in scoring with 93 points in 73 games with the Hershey Bears. It's hoped that his presence in Providence will help to guide some of the B's top AHL-bound prospects (Ryan Spooner and Jared Knight chief among these) and perhaps get the P-Bruins back to the postseason for the first time since 2009.
Thomas May Take "Break"
Bruins fans were throttled by the news Thursday that suggested embattled goaltender Tim Thomas might sit out the final season of his four-year, $20 million contract. With several not-quite-discreet rumblings that the two-time Vezina Trophy-winner was on the trading-block, some are seeing this as attempted leverage against a possible trade when his no-movement-clause ends on July 1.
Reported initially by ESPN's Pierre LeBrun, the idea of a single-season sabbatical from hockey comes on the heels of extensive trade-talk within the hockey community and a recent (and much-debated) article by CNNSE's Joe Haggerty detailing Tim Thomas' mid-season move to Colorado. In a conference-call with the press to discuss the aforementioned contracts, GM Peter Chiarelli indicated that there was a "strong possibility" that Thomas would take a year-off.
Chiarelli said he'd be moving forward under the premise that Thomas would not be back in '12-'13.
Aside from the hit of potentially losing the reigning Conn Smythe Trophy-winner, the Bruins would be hamstrung by his 35+ contract. Despite owing Thomas just $3 million for the 2012-13 season, the Bruins would be on the hook for the entirety of his $5 million cap-hit. This would represent a massive blow to any plans the Bruins might have of upgrading their roster via expensive veteran free-agents or trade-targets.
@TheBruinsBlog Suspended, retired, abducted by aliens, doesn't matter. Counts against the cap no matter what.

— Bob McKenzie (@TSNBobMcKenzie) June 1, 2012
Unless he's actively considering retirement, taking a year-off from hockey doesn't make much sense (from a hockey perspective) going forward. Even with Thomas' dominance in recent seasons, it's difficult to imagine there existing extensive demand for a 39 year-old goaltender coming off a year spent outside of hockey. Thomas thrives on proving the doubters wrong – but that might be too much to ask of himself. His competitive nature will certainly be a hurdle if he decides to go through with taking the 2012-13 season off.
But according to Chiarelli, Thomas wants to spend more time with his family. He has three children (ages 5, 7 and 11) and a year off might be just the thing to rejuvenate him emotionally after what was undoubtedly a draining '11-'12 campaign.
It seemed to some (initially) like an attempt to exert some control over his potential destination with the impending end of his no-trade status than much beyond a remote possibility. Obviously, he doesn't want to end-up going through the motions, playing for a non-contender in a hockey dead-zone. There are those who see this as fishing for a contract-extension before he signs-off on any trade. Chiarelli dismissed those beliefs saying the subject of a contract-extension was never discussed with the goaltender.
Whatever the reason, the Bruins will be moving forward. Tim Thomas may or may-not lace 'em up for the Bruins next season. Right now, it appears Anton Khudobin will back up Tuukka Rask in Boston with newly-signed Niklas Svedberg sharing duties with Michael Hutchinson in Providence.
Tim Thomas' tenure in Boston has been filled with drama and intrigue – it's not surprising that the potential end to his reign with the Black and Gold might mirror that history.