Sinking Sharks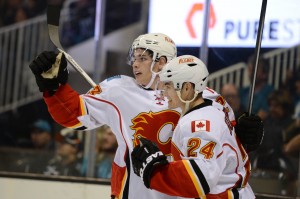 Usually a dominant regular season team, the San Jose Sharks are trending downward this season. The Sharks have lost three straight games at home to the Florida Panthers, Arizona Coyotes, and Calgary Flames to fall to 10-10-4 on the season. Two of the losses did come in a shootout, and prior to these games the Sharks finished up an historically brutal stretch of 16 road games in their first 21 contests. However, as noted yesterday, the Calgary game was the contest they had every reason to win. San Jose had been off for three straight days while the Flames played Tuesday night in Anaheim. While the Sharks out-shot the Flames 32-19, second chances were limited, consistent offensive zone time was limited, and only fourth liner Tyler Kennedy seemed to be gaining prime real estate in the offensive zone for dynamite chances. It was simply not a good enough team effort in a game they should have been chomping at the bit to get the two points.
It is no question why so many are expecting big changes to come with the Sharks. It is one thing to have been tired during the long road stretches and been losing to better teams. But the Sharks have simply struggled at both ends of the ice throughout the season against teams they should have no problems out-playing. In their last actual victory on Nov. 17 in Carolina, the Sharks were actually blown out of the building on the shot-clock, 45-18 if you don't count Joe Thornton's empty net shot.
Forty-five? To just 18? Against the Carolina Hurricanes? If that doesn't scream of a team collectively taking the night off, I don't know what does. If not for Troy Grosenick's heroics in net against Carolina, the Sharks could be losers of five straight to Carolina, Buffalo, Florida, Arizona, and Calgary. Not a single one of these teams was predicted to make the playoffs this season. To say the Sharks need a shot in the arm is an understatement.
Looking For a Spark
There has been plenty of talk recently about a coaching change being that shot in the arm. Perhaps a new coach would bring a different philosophy and style that puts players in better spots to succeed. There is a reason most head coaches don't last more than five or six years when not getting the job done. Heck, Dan Bylsma won a Stanley Cup with the Penguins as an interim head coach the same year McLellan was hired by the Sharks yet Bylsma was let go this offseason with the Penguins recent struggles. Bylsma, Larry Robinson, Darryl Sutter, three men who have won Stanley Cups in the last 15 years after taking over midway through the season. Coaching change can definitely spark good but struggling teams to a Stanley Cup.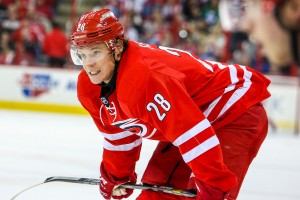 However, a coaching change isn't the only move Sharks GM Doug Wilson could make. Those same Hurricanes that the Sharks somehow managed to beat despite taking the night off, they have a struggling star named Alex Semin. Best known for his years with the Washington Captials, Semin has just five points, all assists in 16 games thus far this season and has at times even been a healthy scratch. However, he was a dynamite scorer with the Capitals. In three out of four seasons from 2006-07 through 2009-10, Semin scored at least 34 goals and 73 points, with a career high in 2009-10 of 40 goals and 84 points. While his last two seasons with Washington were a bit underwhelming, Semin sparkled in his first season with the Hurricanes. On a one year contract, Semin finished with 44 points in 44 games during the lockout shortened 2013 season. Two impressive numbers stand out from that season. Semin scored 13 goals and 31 assists, showing he can distribute as well as shoot, and only nine of those 44 points came on the man advantage indicating a strong five on five scoring ability (in fact Semin destroyed the competition in 2013 with a 62.5% goals for percentage at even strength). Last season his numbers weren't as great but 22 goals in 65 games is nothing to sneeze at.
Currently Semin is the second year of a deal that pays him seven million per year over five years. He would immediately become San Jose's highest paid player even over Joe Thornton and Patrick Marleau. That might be the shake-up the Sharks need. As for how his contract fits in next season, well, with Kennedy's $2.35M and Antti Niemi's $3.8M coming off the books this year, that combines for a little over $6 million in cap space. I think most people would rather have Semin than Niemi and Kennedy.
Now currently the Sharks heave a dearth of right-handed shooting natural right wingers. While Wingels is a key depth player, the Sharks don't have a single true right winger with clear cut top line talent as long as Brent Burns is playing defense. Chances are Semin would be a huge boost to the Sharks offense. He dominated teams playing on a Carolina team limited with talent, imagine what he could do with Joe Thornton and company?
With Semin, the Sharks could roll out the following lineup
Tomas Hertl—Joe Thornton—Alex Semin
Patrick Marleau—Logan Couture—Matt Nieto
James Sheppard—-Joe Pavelski—Tommy Wingels
Barclay Goodrow—Andrew Desjardins—Tyler Kennedy
Marc-Edouard Vlasic—Justin Braun
Brent Burns—Brenden Dillon
Mirco Mueller—Taylor Fedun
The Sharks don't seem to want to trade away young prospects or draft picks and that is what it would take to acquire a player of Semin's stature. However, prospects are never a sure thing, and Semin is only 30 years old, same age as Pavelski. With Semin under contract, this would not be a half season rental trade. Therefore giving up a prime prospect like Nikolay Goldobin to acquire Semin wouldn't have the potential to hurt as bad as past rental trades.
Past Sharks Trades Were Great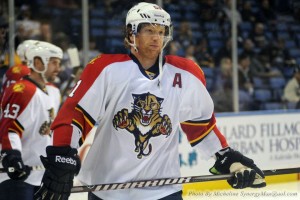 Speaking of past rental trades, the ones the Sharks have made actually weren't that bad. In fact, not bad at all. Sharks fans like to bemoan the fact Brian Campbell deserted them in free agency but to call the 2007-08 deadline deal to acquire him anything short of a success is plain wrong. After the trade, the Sharks took off down the stretch of that season and were nearly unbeatable, going a ridiculous 16-0-2 from Feb. 27 through Apr. 1. In the playoffs Campbell wasn't nearly as bad as fans like to believe. While he did have a bad giveaway in the Calgary series, he scored a huge tying goal in Game 5 against Dallas, and his seven points in 13 playoff games is solid offensive production from the blue-line. The Sharks gave up Steve Bernier, who hasn't done anything since the trade and a first round pick. It was well worth it.
The year prior the Sharks traded for Bill Guerin as a rental and who knows what happens if he doesn't get hurt in the second round against Detroit on a fluky shot by Christian Ehrhoff that caught him up high. Guerin had a hat trick capped off by a penalty shot during the stretch run and was a veteran presence out there. He later went on to help the Penguins win the 2008-09 Stanley Cup as a deadline acquistion. How anyone can say giving up Ville Nieminen and a first round pick wasn't a good move is beyond me.
And finally to a lesser extent Raffi Torres in 2013 was a rental trade, albeit not as expensive. Yes he has been injured and suspended in his time with San Jose but during that 2013 stretch run he was a huge boost of energy and skill that propelled them into the second round. Had he not gotten suspended on a terrible decision by the NHL, who knows how far the Sharks go in those playoffs.
Before I forget, while it obviously wasn't a rental trade, one would be remiss not mention the sheer success of the Joe Thornton mid-season trade back in 2005. Wilson has been a mastermind at making trades for big name players. That is his calling card as GM.
It doesn't seem likely to happen, but if the Sharks were to acquire Semin, they either get sparked to a strong finish and have a strong playoff, or if they don't, then management and coaches can legitimately blame the players. In that case management would have given them everything they needed to make a strong run.
Andrew has been credentialed to cover the Sharks since 2010 and the 49ers since 2012. He graduated with his BA in Broadcast Electronic Communication Arts in 2013 from San Francisco State University.