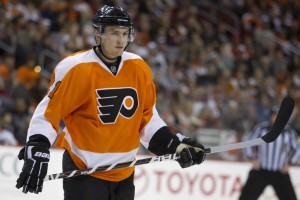 Everyone has been made well aware of the type of player James van Riemsdyk is over the last few months. Size, speed and finesse are all attributes that he will bring to the Toronto Maple Leafs when the season begins in October according to general manager Brian Burke.
"We are really excited by the parts of the game that James will bring to the Leafs,"  Burke said in a statement after the trade. "He will provide speed, size, and finesse to our top two lines and we know that he fits those needs that we have wanted to address for some time. We thank Luke for his tremendous on and off ice contributions to our organization. He's a true professional and we wish him the very best in Philadelphia."
The Leafs certainly did address one of their most crucial needs up front, but that doesn't necessarily make this trade an all-around good swap. It pleases fans, management and the coaches, but how should fellow Leafs forwards looking to maintain their ice time feel about it?
Prior to the trade that saw van Riemsdyk join the team on Saturday, the Leafs' top two lines looked something like this:
Joffrey Lupul – Tyler Bozak – Phil Kessel
Clarke MacArthur – Mikhail Grabovski – Nikolai Kulemin
These groupings worked relatively well for much of the season. Lupul, Bozak and Kessel all had career years while the second line had a nice year offensively with the exception of Kulemin. Even despite his offensive struggles, Kulemin was able to maintain his spot on the second line through solid team play and nice work in his own end and in the neutral zone. Now the problem is that someone will have to take the fall this October unless head coach Randy Carlyle plans to place van Riemsdyk in the bottom-six, which everyone can agree would not be a wise decision whatsoever.
It's difficult to judge where van Riemsdyk will slide into the lineup since the off-season has hardly begun. The summer is so young in fact that the free agent market doesn't open for another week. Because of that, there is still plenty of time for the Leafs to swing a deal to bring in a defenceman to fill the void left by Schenn through trading away one of the less impactful top-six forwards currently on the roster.
Both MacArthur and Kulemin have seen their names floating around as potential trade bait for the last few months and rumours including those two have only increased with the addition of van Riemsdyk. One would have to think that one or both of them will be headed out of town soon, which would likely be because the Leafs now have at least one expendable top-six winger. Hence 'at least.'
Lost in all of this commotion is prospect Nazem Kadri. The 21-year-old has struggled to stick with the big club over the last two seasons, having scored just eight goals and 19 points in 50 games. Many believe he could be one of the next players headed out of Toronto given that there is no longer a suitable role for him on the Leafs. Perhaps he would be able to mesh with van Riemsdyk's style and feed off of him, but unless one or both of MacArthur or Kulemin are sent packing, he likely won't be given the chance to play with van Riemsdyk any time soon.
It's been made clear that one or more of MacArthur, Kulemin and Kadri probably won't be in the blue and white of the Maple Leafs next season. If they all are, it's unclear just how well an over-abundance of top-six forwards will work out given that some would be forced to play on the third line, where they would receive minimal ice time and would likely be placed in more of a checking role.
Even now that van Riemsdyk is a Leaf, Burke has various holes to fill including one on defence and another in net. You have to think that a top-six winger will be leaving town soon enough, all thanks to the arrival of van Riemsdyk.
Twitter: @LukasHardonk | Email: lukas.hardonk@gmail.com | Lukas' archive
For every Leafs article on THW, follow @THW_MapleLeafs on Twitter.