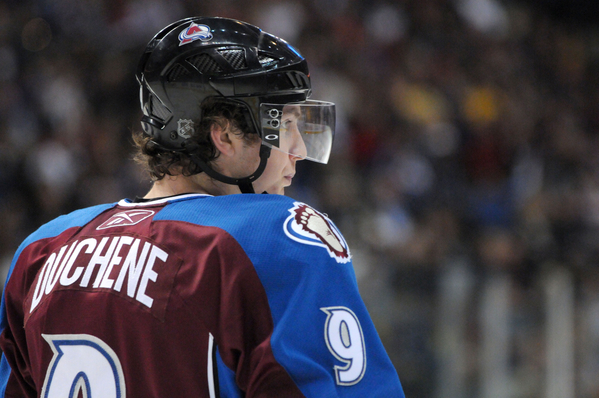 In November 2008, Paul Stastny signed a five-year $33 million extension, making his pay comparable to that of Anze Kopitar and Patrick Kane. This came after Stastny's 24-goal, 71-point rookie season in which he finished as a runner-up for the Calder Trophy. Since he signed the contract, Stastny has had three disappointing seasons out of four, and his totals have actually been declining since 2009-10. He faces constant criticism from the Avalanche faithful and based on the other guys making his salary, is probably very overpaid for the player he has been.
Fast forward to the present day. As a restricted free agent, Matt Duchene was in line for a decent pay raise. The Avalanche's presumed franchise player had a tough go last season, finishing with just 28 points in 58 games after suffering an injury in January. Still, on potential alone, it could have been rationalized (as it was for Stastny) that Duchene deserved a John Taveares-like $5-6 million deal for five to six years.
Instead, Duchene signed just a two-year deal worth about $3.5 million per year. Sure, it's not exactly chump change, but it's certainly a lot less than a presumed #1 center makes in this league.
There are a lot of theories about why this deal came to be. As Adrian Dater mentioned in the previous report, maybe it's because he wants to give the Avalanche more flexibility this offseason.
Because he wants to take a shorter-term, shorter-money deal as a personal challenge. He wants to be able to also make it easier for Avs management to sign other players, maybe a big free agent or two July 1.
Or, perhaps the deal speaks more to Greg Wyshynski's commentary:
Instead, it's a two-year window for Duchene to prove he's earned a Tavares contract. To prove that he's a foundational player for the Avalanche like Gabe Landeskog and Ryan O'Reilly appear to be.

He lost his leverage this season; he's got the talent and the drive to get it back. And the willingness to take less annually than David Jones shows a bit of character. Or perhaps humility.
Both are good theories, but let me just take a guess and provide a third one.
Maybe this contract comes about because Avalanche management learned from its Paul Stastny mistake. Signing guys to long-term deals based on one impressive season isn't the way to go in a cap-run world anymore. Maybe Duchene goes out these next two years and lights the world on fire. Then the Avalanche can confidently lock him up long-term for big money. I'm sure they would like nothing more.
But maybe Duchene continues to falter. Maybe this can't-miss third pick wasn't so "can't-miss" and he turns out to just be a really good #2 center long-term. In that case, the Avalanche will be able to pay him appropriately and not handicap themselves for half a decade, with a cap hit that puts the player under interminable scrutiny  and makes him impossible to trade. (I.e., Paul Stastny.)
There are some that have accused Avalanche management of overpaying free agents in attempts to reach the cap floor.
But this time, management got it exactly right.