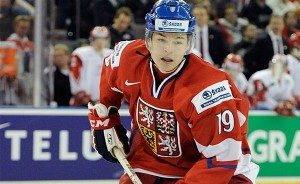 To apologize is to lay the foundation for a future offense.— Ambrose Bierce
Unless selecting at the very top of the NHL draft, a team's picks will always be poked and prodded by pundits and fans alike, attempting to glean the barometric pressure not only of the present, but especially the future of the team. Draft analysis, in and of itself, is merely an effort to quantify possibilities; what one might consider a great choice, another may well deem it a tremendous reach. Furthermore, consensus selections can bust, whereas long-shots occasionally do come in.
San Jose's forward prospects
The San Jose Sharks went into the 2012 draft arguably thinner in the forward ranks of their prospect pool than in any other position. At center, Freddie Hamilton, Travis Oleksuk, Tommy Wingels, Cody Ferriero and Sean Kuraly led a so-so group devoid of blue-chippers and, aside from Wingels (who played 33 games for the Sharks in 2011-12), unlikely to significantly impact the team in the short term. The right wingers were headlined by 2011 2nd round pick Matt Nieto, 2010 3rd rounder Max Gaede, and AHL'ers James Livingston and James Marcou. On the left side, the talent was particular lacking, as John McCarthy, Brandon Mashinter and Tony Lucia were 25, 23 and 24 respectively, and had yet to make an impact.
Thus, it was little surprise that the Sharks made offense their priority this year, drafting center Tomas Hertl (17th overall), center Chris Tierney (55th), right winger Christophe Lalancette (109th) and center Daniel O'Regan (138th) with their first four selections. Rounding out their draft, the Sharks picked defenseman Clifford Watson (168th) and Joakim Ryan (198th) with their final two choices.
A quick profile of the players chosen by the Sharks in this year's draft:
Tomas Hertl, 17th overall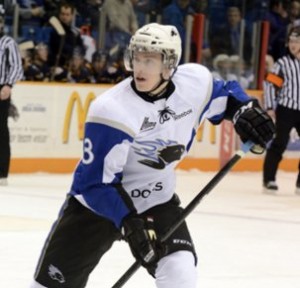 The draftee most likely to positively impact the club in the near term, of course, is first round selection Tomas Hertl. Due to the machinations typically required by contending teams generally at the trade deadline, Hertl represents only the Sharks' second first-round pick since 2007. Charlie Coyle, the other first round choice, was traded away last year in the Brent Burns deal. Thus, San Jose is in the relatively unusual position of likely retaining and developing a high draft pick, which explains the relative lack of top-end talent presently within the developmental pool.
Regarding Hertl, San Jose's Scouting Director Tim Burke said, "He has the upside potential to be a centerman that you can use in all situations. "He will defend, he makes plays, he has long reach, he strips pucks, he's able to play low around the net. There are a lot of good qualities."
Sharks General Manager Doug Wilson characterized Hertl as "a versatile guy". Hertl, a real-life Sharks fan, had five points in six games at the World Junior Hockey Championships this year, and is anticipated to remain in the Czech Republic for one more year before possibly joining San Jose for the 2013-14 season.
If you don't mind a bit of Czech babble, check out the strong backhanded goal Hertl netted during a WJC game against the U.S.:
Chris Tierney, 55th overall
Tierney is 6'0″ and 181 pounds, and at just 17 years of age, is expected to gain both size and strength as he continues to mature. Relegated to mostly a fourth-line role on the OHL's London Knights, he nevertheless scored 45 points in 112 games over two seasons. Burke noted, "They were a real good team and he was a good younger player on a real good team that had a lot of real good players. He should be able to step up into another role next year. If he's on a bad team, he probably goes higher because he's going to be seen more."
Tierney has said he patterned his game after Zach Parise and Dave Bolland, explaining: "Guys like that who work hard, can play both ends, good on draws and can also score."
Here's Tierney finishing off a 2-1 rush:
Christophe Lalancette, 109th overall
Lalancette, at 18 years old, needs to gain even more strength in order to compete at the highest level, as he is reported to be 6'0″ and yet a slight 168 pounds. In his first full season in the QMJHL, he notched 16 goals and 47 points in 63 games, fourth-best on his team. The Sharks traded up to get him, to which he said, "It does give me a lot of confidence. I really appreciate that and I'm real happy."
Two of his goals can be seen below, and note that the announcer feels compelled to recap the goal in both French and English:
Daniel O'Regan, 138th overall
In some respects, O'Regan makes Lalancette look like the Incredible Hulk by comparison, as he is an even smaller 5'9″ and 162 pounds. He considers himself a playmaking center, and described himself by saying, "I think I work hard in all three zones, but my main job is probably distributing the puck — making plays, being creative offensively."
One might argue his main job is to eat, at least for now.
Clifford Watson, 168th overall
Watson was the first of two defensemen the Sharks took in their final two picks of the draft. At 6'2″ and 188, he's already got NHL size, although he still just 18 and has years of development ahead of him. "I'm more of a stay-at-home defenseman, good first pass, good stick and physical in front of my net, physical on the ice in the corners and stuff," explained Watson. He also said others have compared him to Chris Pronger.
When asked about his willingness to drop the gloves, Watson said, "Absolutely. I'm not really against that."
Joakim Ryan, 198th overall
At 5'10", 182, the 19-year old blueliner is smallish by defensemen standards, but appears to have some offensive talent. Amidst some random chanting you'll here, watch Ryan smartly go to the slot to score a goal against hated-rival Princeton:
Overall draft
Like a number of teams that always make the playoffs, San Jose is rarely blessed with high-end draft picks. Having said that, it would appear that Hertl has the ability to hurdle through the impediments and reach the NHL in relatively short order. The remaining prospects are likely further away and need to eat their Wheaties before even thinking about stepping onto an NHL rink.
However, on an overall basis, the Sharks appeared to adequately address needs within their prospect ranks and certainly hope at least a few of them pack the pounds and rise all the way to circumnavigating the HP Pavilion sometime soon. Joe Thornton ain't getting any younger.
Walter McLaughlin is a Los Angeles Kings correspondent for The Hockey Writers. He is an avid sports fan, having followed the Kings since living in L.A. in the mid-1970's, as well as suffering through Seattle sports teams' general futility. He has a Bachelor's degree in Finance and has worked in community banking for over 25 years, specializing in SBA loans. He is married and has two daughters.