by Jas Faulkner, contributing editor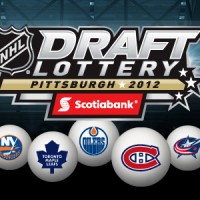 It's Sunday.  For some, this means a day of rest.  For those who have been busy scribbling down notes, tweeting their whereabouts to readers and making mad dashes to get the story out there, today will be a mix of last minute writes and rewrites, planning for next year, and maybe even a little bit of decompression from the pressure cooker environment in Pittsburgh.
For a look at some of the best of our Draft coverage, check out our features under the Prospects pulldown on our home page and be sure to take a look at Chris Ralph's guide to some of the highlights of THW's coverage.
Personally, I have a love/hate relationship with the Draft.  From a distance, it's fun to see it unfold. Up close, there are the players, sometimes sitting alone, often accompanied by parents or guardians who have invested long hours at rinks, money they may or may not have had easily on hand, and pieces of their hearts they'll never get back but never regretted giving to their sons in the pursuit of something they obviously love.
There are always the exceptional few whose names are already on everyone's lips before the first prospect is called.  It is exciting to see how right everyone is when it comes to when and by whom those shiny, talented stars in the making end up being chosen.  What is only glimpsed in the rush is the kid who sits and watches as name after name is called.  As the second day winds to a close, those hopefuls who were left seated in the stands begin to file out.  Many avoid making eye contact with the media while representatives from the thirty clubs hoping to find the Next Big Thing look through them as they make their way to quiet places to make phone calls or the jumble of reporters who are looking for a sound bite.
Some of those young men will find a side door into the NHL, others will spend their careers in other leagues, sometimes in other parts of the world.  They do it because they are first and foremost hockey players.  They do it, to steal a phrase from playwright Sam Shepard, because they can't not do it.  The next year will bring more training and hope for finding a place in clubs that are part of the global alphabet soup of leagues.
Around the League…
Mike Ribiero becomes a Cap, Jordan Staal gets hitched and pitched to Carolina and Alex Galchenyuk wants to assure everyone he is as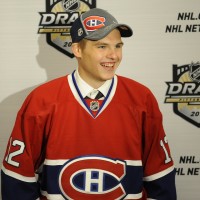 American as apple pie.  Meanwhile, Anders Lindback's exit from Nashville might be the start of a move to rebuild the Predators after some bold transactions in February and the return of Alex Radulov turned out to be a disappointment for everyone at 501 Broadway.  While some observers are laying odds on the return of Nashville's top D-Line, the latest chatter from Nashville is that fan favourite Jordin Tootoo has turned down a contract offer, stating that he wants to try the market.
You Asked, I'll Answer!
After the publication of last week's Planet, parents and some kids themselves started sending in questions.   Here are the questions of the week, courtesy of some of the smartest young'uns in North America:
How fast do hockey players skate?
Cody, age 7,  Boulder, Colorado
Heya Cody!  Those guys move pretty fast on the ice!  At top speed, they have been clocked at around thirty miles per hour.  On average, they skate fifteen to twnety miles per hour when the puck is in play.  That might seem a little slow when you're in the car.  On the ice where there is nothing but your equipment to protect you and other guys moving at the same rate of speed, it can feel a lot faster.
Which came first, the Mighty Ducks movie or the California Ducks? 
Thank you!
Skye, age 8, Topeka Kansas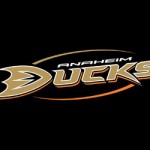 You're very welcome, Skye.  (And thank you for being so polite!)   The Mighty Ducks move premiered in 1992 and the Mighty Ducks of Anaheim was founded by the Walt Disney Corporation in 1993.  They changed their name to The Anaheim Ducks in 2006 and won the Stanley Cup in 2007.
How does the ice stay frozen when it gets hot?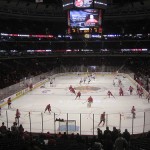 Tyler, age 4, Ft. Lauderdale, Florida
Tyler, there are pipes under the floor that keep it cold enough so the ice doesn't melt too easily.  To make the rink ready for a game,  they put layer after layer down until it's perfect for skating and Zamboni runs.  Most arenas use around 14,000 gallons of water every time they cover the floor!  That would make a lot of slush if it melted!
And that's it for now.  Questions, comments and rec league offers should be sent to jasfaulkner@gmail.com  If you or your favourite little hipchecker wants to see their question printed here, be sure to include their/your name, age, and city and state or province.
Love, peace and hockey!
Jas Faulkner