After bursting on the scene in the NHL during the 2011-12 season, Adam Henrique had a season to forget in the lockout-shortened campaign with the New Jersey Devils during 2013. Unless he scores a Stanley Cup winning goal, Henrique will always be remembered for eliminating the New York Rangers (the Devils' biggest rivals) in overtime in Game 6 of the 2012 Eastern Conference Finals.
Devils fans will always remember "Henrique, It's Over!":
Now in his third NHL season, Henrique has become a core player that the Devils have signed long-term and will lean on for years to come. Just before training camp started he was re-signed to a six-year extension worth about $24 million dollars. The 23-year-old started this season slow, but his game has recently started to come around and perhaps by coincidence his team's play has been a lot better as they have gone 3-1-1 over the last five games. He has three goals in those five games — one at even strength, one on the power play and one while shorthanded.
With so many new players on the Devils this season, their lines have been switched a lot during the first month, but lately it seems coach Peter DeBoer has settled on some combinations over the last five games. Henrique, a natural center, has been playing with Michael Ryder & Rostislav Olesz on his wings and the Brantford, Ontario native revealed to the Hockey Writers that he is a bit more comfortable in that position. "I think it's just more natural (for me), the position I've always played is center. I feel fine going to play on the wing, when need be, if lines need to be shuffled," he said after the team's first win of the season on October 19.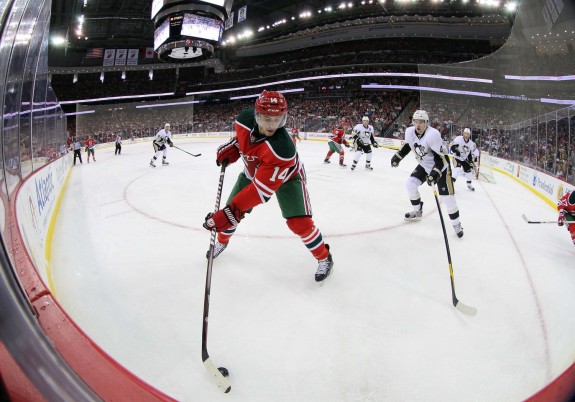 "I think that's something that we have on this team; a number of guys can play center or wing, either side," Henrique said. "Anytime you can do that, things happen where guys are in and out of the lineup and you can switch guys around like that, it's nice to have." He also sees time on the wing during power plays & shorthanded situations, so if he could keep up his production, he could become a valuable asset to the Devils as he was during his rookie season. "It's nice when we're able to roll all four lines for a full game. It's huge for everybody, it gives guys more rest on the bench."
To start the season, Henrique played a lot with two of the NHL's greats — Patrik Elias & Jaromir Jagr — but he was playing wing as Elias was centering that line. He told us he was enjoying playing alongside Jagr, and was learning a lot from the veteran who is in his 20th NHL season. "Playing with him you are just trying to learn and talk to him," he said when asked if the 'awe factor' of playing with no. 68 has worn off. "You talk to him after different situations, (find out) what he's thinking and what we need to do to create (more) offense.
Adam Henrique scores against the Rangers again, this one from long range two weeks ago:
http://www.youtube.com/watch?v=gSGntagUXfo
Even when the team was struggling through the season's first two weeks, Henrique was positive the team would come out of the funk and was sure that DeBoer is the right coach for New Jersey. "He's been great here, he's always positive and it starts with the coaching staff. They work hard everyday and bring that positive energy, and it goes right to the team," he said. "A few of the tough losses (we had) he still sees the positives in it, there's always areas to improve and he keeps the mood in here light and I think he's done a great job."
As the Devils continue to climb out of their early season hole, if they are to continue their assent up the standings they will need to see more of the Henrique they had during his rookie season — 51 points (16g-35a) in 74 games, and less of the player they saw during last season — 16 points (11g-5a) in 42 games.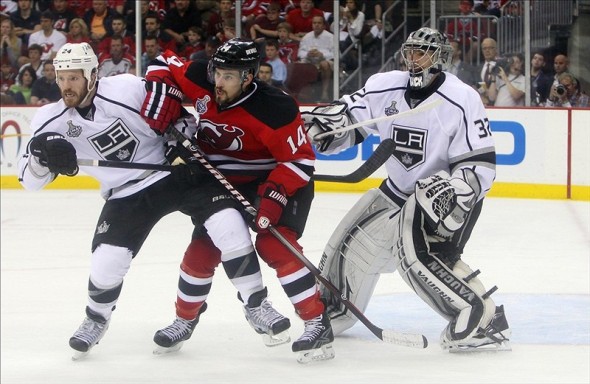 "He's a core player," GM Lou Lamoriello said on the day Henrique's contract was finalized. "He's an integral part of this team. He's one of the key players (on our team) that has to play well. He plays in all situations — 5-on-5, power play, penalty kill. So, he's relied upon and he has that responsibility and has to produce." Make no mistake about it, after tasting a bit of success as a rookie, this is where Henrique wants to play and become a star. "New Jersey is the place I want to be and I want to play. We have awesome fans. I think Mr. Lamoriello and the staff has done an awesome job this summer of filling holes where we needed to. I'm excited for the future."
Devils fans will be excited for the future also, if Henrique's game continues to develop and he continues to be an integral part of another run to the Stanley Cup Finals.
Dan Rice can be reached via Twitter: @DRdiabloTHW or via Email: drdiablo321@yahoo.com
Dan Rice is in his 9th year of reporting for THW & has covered NJ Devils home games for 15+ years at various websites. He began his journey working for legendary broadcaster/writer Stan Fischler from 2002-04 & completed an internship at the ECHL; he also has been writing features for the NWHL (nwhl.zone) website since 2016.