Saying that the Flames, who've dropped three of their past four games, looked mediocre in their losses would be putting it lightly. Lacklustre efforts and an inability to create sustained pressure in the offensive zone were consistent themes against the Tampa Bay Lightning, Columbus Blue Jackets, and San Jose Sharks. Those contests – particularly against the Sharks – were measuring stick games, and ultimately served to show that Calgary still has some work to do before taking the next step, and separating themselves from other middle-of-the-pack teams.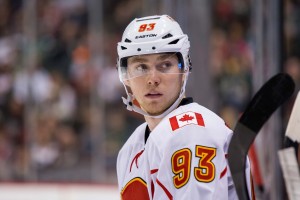 Perspective, though, is important here. Regardless of the anomaly of a 2014-15 playoff appearance and first round win, the Flames have been rebuilding for a few years, and they're doing it the right way. Fantastic depth down the middle, some cornerstone pieces on the back end, and a nice balance of speed and size are setting the Flames up to be a legitimate contender in the near future.
The great news for Calgary is that the core players – Sean Monahan, Johnny Gaudreau, Dougie Hamilton, T.J. Brodie, Sam Bennett, etc – are already in place. Beyond the continued development of those players, the greatest challenge now for general manager Brad Treliving is to find the rest of the pieces to the puzzle.
Filling the Holes Up Front
At only 22, Sean Monahan has already established himself as a legitimate number one center. Bennett, coming off of an 18 goal campaign in his rookie season, is keeping a similar pace this year and looks to be a formidable top-six center behind Monahan. And, although Mikael Backlund has seen a significant drop-off in his scoring (6g, 10a), his offensive decline is no doubt in part due to his changed role under head coach Glen Gulutzan. Last season, Backlund saw 48% of his starts come in the offensive zone, whereas this year that number has dropped dramatically to 37%. Despite starting the bulk of his shifts in his own zone, the Flames are still controlling the majority of the shots while he's on the ice (54% – third best on the team). He's fitting in nicely as a shutdown center.
[irp]
With those three pieces set down the middle, the Flames will be solid at center for some time, which is exactly what you want when building a forward group. The concern now, and Treliving's next task, is sorting out the wingers, where the picture isn't quite so rosy.
Obviously, there is some solid talent to build off of. Johnny Gaudreau is an established top-flight offensive threat, and – considering the early returns – rookie Matthew Tkachuk earns an exemption from criticism. Beyond those two, however, it's hard to say if there's another winger on the team who isn't being asked to play over their heads.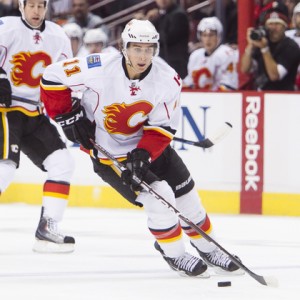 Troy Brouwer has been putting the puck in the net and has had a solid career, but at 32 years old he just isn't the same 200-foot player he used to be. On the other end, Michael Frolik does some excellent work defensively, but at a price tag of $4.3 million per season, the Flames are asking for more offensive production than they're likely to get from the Czech winger. Additionally, Alex Chiasson is consistently put into a role that so many coaches fall prey to when lacking some forward depth which is using a fourth line player on a line with more skilled players in order to "create space." It rarely works for long, and suffice it to say the combination of Brouwer, Chiasson, and Frolik on the right side is not the combination that will push this team over the top.
Surely, the front office is aware of this, and have some options moving forward. Beyond this season, the Flames have only five wingers under contract: Gaudreau, Brouwer, Frolik, Bouwma, and Tkachuk. This gives them a lot of room to improve, despite the big money tied up there. Perhaps the best case scenario is seeing one or two of the near pro-ready prospects take a spot that should be available. Morgan Klimchuk, Andrew Mangiapane, Mark Jankowski and Daniel Pribyl are all emerging players close to making the jump, and it would be nice to see one or two of them get their chance in the near term. Ryan Pike wrote a great piece on five potentially NHL-ready prospects earlier this week.
[irp]
Missing Pieces on the Blue Line
Similar to the wing, there are a couple of players on the back end that appear to be cornerstones to build around moving forward. Mark Giordano still has a few good years left, though we should see both Brodie and Hamilton begin to take over in the next couple of seasons. Hamilton, in particular, has all of the tools necessary to become a consistent number one defenseman, and will no doubt start to see his ice time climb.
So, again, the core pieces are in place, it's just the depth that is in need of improvement if the Flames are to contend. The bottom pairing, consisting of Deryk Engelland and Jyrki Jokipakka, has been one of the worst third pairings in hockey this season (46 & 44 CF%, per hockey-reference.com). Additionally, Dennis Wideman, unfortunately, is no longer a top four defenseman at his age. The silver lining is that all three of these players are on contracts that expire at the end of the season – freeing up a whopping $9 million.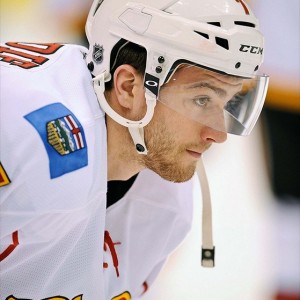 It is hard to imagine that Engelland will be back as he is turning 35, and Jokipakka looks to be an AHL defenseman. Wideman, however, may be a nice third pairing player to have back on a one-year deal. The door seems to be opening for Tyler Wotherspoon to finally get a longer look from the team, and if he is not the answer, Brett Kulak has acquitted himself nicely in his 15 games with the big club this year. Looking to next year, Oliver Kylington looks to be nearly NHL ready at only 19 years of age.
Ultimately, while the management team has some significant holes to fill in order to turn Calgary into a legitimate contender, the rebuild is on track, and most of the hard work is already done in finding some quality core pieces at each position. With only 12 players under contract for next year, and a projected $22.4 million in cap space (per CapFriendly.com) to work with, the Flames are in an excellent spot to find the depth needed, be it through free agency or with emerging prospects in the system. Managing these prospects, as well as the upcoming cap space, is going to be a critical step in completing the team's rebuild.
Calgary-based writer covering all things Flames. Follow me on Twitter @glenneberth