One of the challenges facing the general manager of a professional sports team is to decide on the best approaches to building that team. Each sport has its own idiosyncrasies, so what might work in one sport might not succeed in another.
Acquisition Methods
In the NHL, there are many challenges associated with each method of acquisition.
The Draft
Building through the draft requires the ability to identify talent at a very young age, typically 18, and projecting how that talent will pan out as the individual matures and develops. It is hard enough to project athleticism at 18, let alone project things like maturity. Yet, these are among the factors which determine whether a player will succeed in the NHL.
For example, Sharks defenseman Brenden Dillon said he was 5'2" at age 15. As an NHL defenseman in his early 20's, he stood 6 foot 4 inches and weighed 215 pounds.  A lot can change in just a few years when it comes to players who are in their late-teens.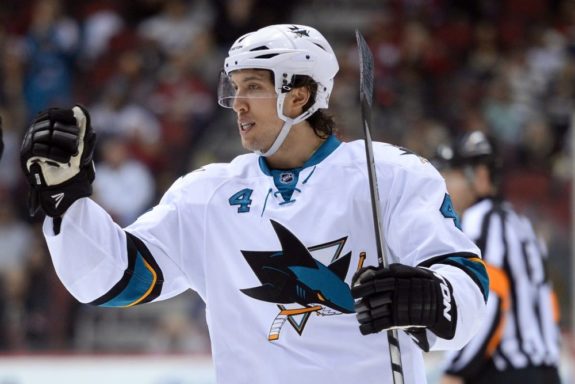 In practice, there is a large difference between high draft picks and lower draft picks. High picks garner plenty of attention before they are selected — lower draft picks are followed much less and as a result the latter part of the draft is often considered more of a crap-shoot.
Free Agency
Another method to acquire players is the competitive bidding process known as free agency. Because every team has the potential to bid on any NHL player with an expired contract, free agency tends to be an expensive method to acquire players, at least from a salary perspective. Because the salary cap limits the total amount a team can pay its players, it hard to build a team by placing major emphasis on acquiring the top free agents.
A secondary form of free agency is to acquire players who have not played in the NHL. Some of these players may have been drafted, others not. But what they share in common is that they completed their draft eligibility and never made it to the NHL. They are not assigned to any NHL franchise, making them available to any NHL team.
Trade
Finally, players can be acquired by trade. This is where teams swap players or assets, such as future draft picks. By design, trades are intended to be more than the sum of their parts. Trades happen when teams have different needs or deficiencies. The perceived need of one team can be filled by another team with a surplus in the area of need and vice versa. If done well, both teams benefit from trades.
The San Jose Sharks Roster
Looking at the roster of the San Jose Sharks there is no one method of acquisition which stands out. In fact, what stands out is the relative evenness of the methods by which players were acquired.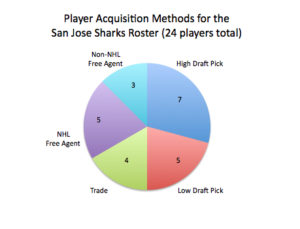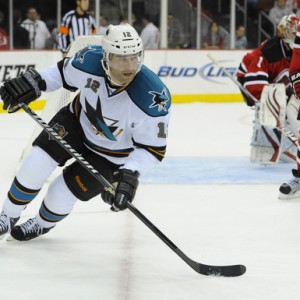 The category with the most players on the team is 'high draft picks' — seven Sharks were drafted by the team in either the first or second round. Only one of the seven, forward Patrick Marleau, was not drafted by Sharks general manager Doug Wilson and is the only player on the Sharks' current roster he was not responsible for acquiring.
The method used least often, for three of the players, is free agent acquisition of players who never played in the NHL. Two of the three were undrafted and the third was drafted but never signed. Two of the three were signed as older players from highly regarded Scandinavian leagues.
Age of Acquisition
One other dimension seems important — the age of the players when they were brought into the organization.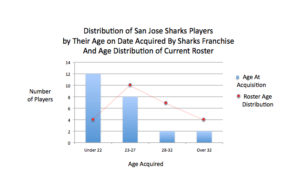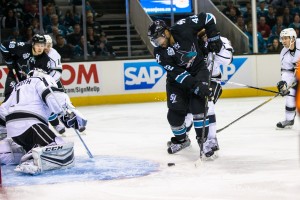 These results are telling. Wilson has acquired core talent either before their prime or early in their prime years, using acquisitions involving older players to fill more specialized roles. The four players acquired at an older age each have a specialty: Joel Ward is heavy player known for making key plays in playoff games; Paul Martin was brought in to partner with Brent Burns; David Schlemko was brought in to be a mobile defenseman opposite Brenden Dillon; Micheal Haley was brought in to fight.
Each of these four players was brought in at age 28 or older with a specific role to fill. So far, each appears to be meeting the organization's objective.
A Complete Approach
These breakdowns show the building method for this Sharks team is an "all of the above" approach. For this to work, the team must be proficient in all forms of personnel acquisition.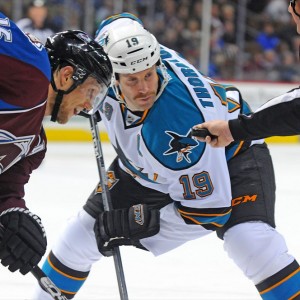 If there is one type of acquisition which stands out, though, it is the trade. While only four current Sharks have been acquired by trade, three are among the best at their respective positions.
Joe Thornton will go to the Hall-of-Fame as one of the best playmakers in NHL history. Brent Burns is the best defenseman in the league this season and a candidate for league MVP. Martin Jones is not at the elite level of Thornton and Burns, but he is among the league's better goalies. His big game performances in the Stanley Cup playoffs last season moved him into the upper echelon of NHL netminders. The fourth trade acquisition, defenseman Brenden Dillon, has provided solid value as a member of the third defensive pairing.
The Sharks are well on their way to the Stanley Cup playoffs with one of the league's strongest rosters. Certainly there are potential pitfalls — teams coming off Stanley Cup Final runs have a tendency to run out of gas the following season. Injuries, even on a team with good depth, can change a season.
Still, there is little argument over the potential of this team or the quality of the roster. In order to put this team together, it required an "all of the above" approach to roster construction. The Sharks hope "all of the above" turns into a long-awaited Stanley Cup.
ZEKE is a native of the DC area where he witnessed the birth of the Capitals franchise. After graduating from Cornell University, which had seen hockey glory before he arrived, he moved west to San Jose. There he witnessed the birth of the Sharks franchise. His wait to witness a Championship from any of these teams finally ended in 2018.