It happened. It really happened. And boy, were the fans mad.
The New York Islanders acquired a 2014 2nd round pick and prospect Sebastian Collberg from the Montreal Canadiens in exchange for Thomas Vanek. The Islanders will also send a 5th round pick to the Canadiens. If the Canadiens miss the playoffs however, then no picks will be swapped. The trade doesn't seem to be too fair for the Islanders, but that's what happens when you wait until five seconds before the deadline.
Who is Sebastian Collberg?
Sebastian Collberg is a 5'11 forward drafted in the 2nd round of 2012 draft. Considered to be a fringe first rounder, he fell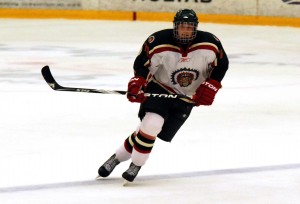 in the draft and was picked up 33rd overall by Montreal. He currently plays for Frolunda in the SEL and has scored nine points in 40 games played this year. While this is certainly underwhelming, it's important to note that point production is much less overseas than it is here. Therefore, while the nine points is in fact disappointing, it shouldn't be as big a red flag as people think.
Hockey's Future give Collberg a talent score of 8.0 which is actually pretty good, but they also gave him a "D" in probability of success, which means that if he does crack the roster he will likely fit somewhere in the 2nd or 3rd lines.
The real sticking point for me is the pick. I can't understand how Garth was not able to get a first round pick in this trade. To me, that was the biggest must in any sort of trade. While I did agree with the notion that the Islanders were smart to hold out for the best deal available but that started to fade once other bigs names started to move such as Callahan, Gaborik, and others.
That should tell you all you need to know about this trade. I don't get on Snow because I think he gets a lot worse of a rap than he deserves but this trade is really brutal for a few reasons. Since the trade for Vanek was made, there was a lot of uncertainty and it was always viewed as a gamble.
Thomas Vanek was clearly the crown jewel of the deadline and he will make the Canadiens much better. Due to this, I think the Islanders definitely dropped the ball with this when they let other trades happen before Vanek got moved. I'm surprised teams like Anaheim actually didn't trade for Vanek after moving a forward earlier before the deadline.
I don't think there was ever a real chance for the Islanders to get back what they gave up for Vanek, but it was important for the team to get back value for Vanek. After thinking through my initial thoughts, I'm not sure they did that. I actually have a pretty good feeling about Collberg, though. The kid has talent, but he's certainly a gamble. He could end up being a nice piece with this team for a while, but he'll always be associated with the Thomas Vanek debacle for better or worse.
We'll see what happens with the Islanders as the season moves on into the offseason, where this is the most important one for them in years. It has a lot of potential to be a great offseason with or without Vanek.