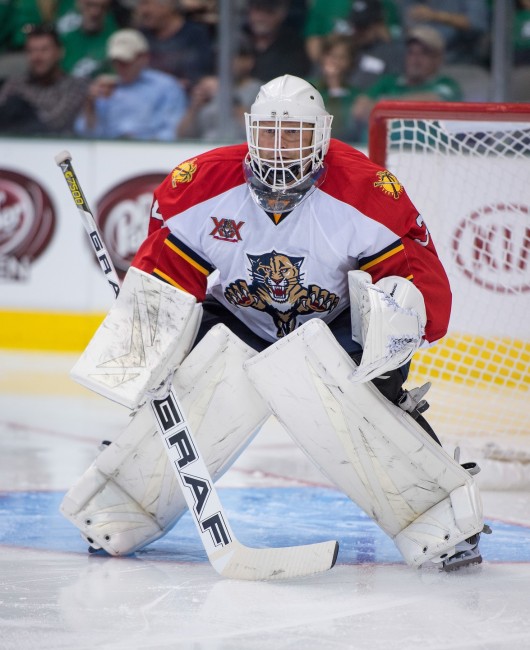 It wasn't the trade deadline that many Dallas Stars fans expected, but it turned out to be a very memorable one nevertheless.
Following months of speculation leading up to the March 5 deadline, the Stars, led by general manager Jim Nill in his first season with the team, made two big trades in the 24 hours prior, shipping out longtime heart-and-soul defenceman Stephane Robidas and then acquiring veteran goalie Tim Thomas. He also, notably, didn't move forwards Ray Whitney and Vernon Fiddler, two players whose named had been very prevalent in the NHL's rumour mill.
With the Stars currently grasping to the 8th and final playoff spot in the brutal Western Conference, yet still focusing primarily on a long-term rebuild that will help the franchise achieve extended success down the road, Nill was faced with a multitude of difficult decisions leading up to the deadline. While the final results of his recent decisions won't be known for a while, the early reaction is that Nill did a great job balancing a tricky situation, increasing his team's chances at making the playoff this year while simultaneously looking towards the future.
Let's take a look at the moves (and non-moves) in further detail:
Stars Trade Stephane Robidas To The Anaheim Ducks In Exchange For A Conditional 4th Round Pick In 2014
No matter which way you look at it, this one hurts.
To an outsider, it might seem like a no-brainer that the Stars dealt Robidas, a 37 year-old pending-free agent that is still recovering from a broken leg that has caused him to miss his team's last 38 games. The rest of Dallas' blueline has been making due without him, and the pick they got in return isn't bad: a 4th rounder that gets bumped up to a 3rd rounder if the Ducks make it to the Western Conference Finals and Robidas plays half of the team's games. One more asset for the team's future.
But none of that accurately tells the tale of what Robidas gave to the Dallas Stars team, which was, without trying to sound over-dramatic, everything.
A true warrior in every sense of the word, Robidas gave everything he had during the best playing years of his career to Stars teams that never fully returned the effort. What he lacked in size, he more than man up for in heart. Never a flashy player or of a high pedigree, Robidas was consistently asked to play over his head in the role of Dallas #1 defenceman, against the toughest competition that other teams had to offer, and I'll be damned if he didn't live up to the task. He kept his own zone protected defensively, he gave out hits and absorbed necessary hits, he blocked shots, and he even chipped in offensively from time to time. No matter how much punishment he received, he kept bouncing back, earning him a reputation as one of the toughest players in the league.
Despite his efforts, the Stars continued to struggle, missing the playoffs for the past five seasons. Robidas knew that he didn't have much time left in his career to get a real good run at the Stanley Cup, but as presented with that opportunity by Nill in the lead-up to the deadline.
"Some teams started to call on him four or five days ago, so I sat down with him and said, 'Stephane, in the end it really is going to have to be your decision,'" Nill said, as reported on the Stars' official website. "I respect Stephane a lot for what he has meant to the organization. We sat down and I told him there are some teams that are Stanley Cup contenders, top, top contenders and they had called on him, and would you like to max out your opportunity to win a Stanley Cup?
"He said he loved the guys here, I don't want to leave them. We discussed that and in the end he said it would be a great opportunity, at my age, to go win a Cup. He was very appreciative."
And so, too, are Stars fans appreciative of everything that Robidas gave to the team. You may be gone, but you won't soon be forgotten.
Stars Swap Goalies, Sending Dan Ellis To The Florida Panthers In Exchange For Tim Thomas
This one was certainly a shocker.
Out of all the trade speculation surrounding the Stars leading up to the deadline, almost none of it revolved around goaltending.
It's not to say that the need wasn't there, however, considering backup Dan Ellis' play this season has been less than ideal. Ellis' save percentage on the year is only a flat .900, and he looked downright terrible in Tuesday night's 4-2 loss to the Columbus Blue Jackets. And with Kari Lehtonen getting overworked and fading down the stretch the last few seasons, Nill clearly wanted to do something to shore up the goaltending side of his team.
By picking up Thomas, Nill certainly might have done just that.
Now, Thomas certainly isn't a sure thing. He's 39 years old, took the entire 2012-2013 season off from hockey, and has a rather well known, interesting history off of the ice.
But with a .909 save percentage this season behind a woeful Florida Panthers team, Thomas still looks like he can play the game. With a Vezina, a Conn Smythe, and a Stanley Cup on his resume, Thomas also brings a wealth of experience to Dallas, and as one of the most competitive, determined goalies of the modern era, he could certainly be a major driving force in Dallas' quest for the playoffs this spring.
Stars Trade Ray Whitney And Vern Fiddler…Or Don't, Actually
In another surprising twist, the Stars actually didn't end up trading the two players that seemed the most likely to move.
Both unrestricted free agents at the end of the season and unlikely to be re-signed, moving Whitney and Fiddler for picks or prospects would have made sense for the team's future. However, with some of the big name forwards that got moved today (Vanek, Gaborik, etc.) going for smaller returns than what was initially anticipated, the question remains as to what the Stars hypothetically could have gotten in return, if anything at all. Would any other teams have moved a 5th round pick or better for Whitney or Fiddler? And if that offer was ever on the table, would Nill have even taken it? We may never know.
What we do know is that Whitney and Fiddler are both capable, wily veterans that have been in this position with previous teams before. The Stars badly want to crack their current playoff slump and are still in the hunt, and they are certainly more capable of doing it with the two pending-UFAs than they are without them.
Now, with the trade deadline in the past and only 20 games remaining in the regular season spread out of the next 39 days, we'll soon get the first glimpse into whether the moves that Nill made, or didn't make, will be enough.
Derek Neumeier primarily covers the Dallas Stars, but also other various topics related to the sport of hockey. A Journalism graduate of Mount Royal University, Derek also writes for Defending Big D, and has done previous work with the Edmonton Oilers as a communications intern and Hockey Canada as a freelance writer. You can follow him on Twitter at @Derek_N_NHL