While it is the National Hockey League that is the ultimate destination for almost every hockey player, many of them have had to hone their crafts in other leagues such as the American Hockey League. Over the years, we have seen numerous players make the jump from the AHL into the NHL and flourish. A lot of the time, players are just waiting for their opportunity in the limelight and when their time comes, they don't look back.
With the uncertainty surrounding the return of hockey, many hockey fans were wondering how minor leagues such as the AHL were going to be able to make a safe comeback with the pandemic still raging on. Safety is the most pressing issue but there was also the question of money. There have certainly been struggles, but fans were ecstatic when the AHL announced that they hope to start their season on Feb. 5.
Although fans won't be allowed into games at this point, there is certainly reasons for fans to be excited. The AHL is filled with immense talent and it will be extremely exciting to see them drop the puck on the new season. Here are five players to watch for the 2020-21 season.
Gerald Mayhew
The second-leading scorer for the Iowa Wild before the COVID-19 pandemic ended the season, Gerald Mayhew has been one of the best AHL players over the past few seasons. In 49 games with the Iowa Wild last season, he scored 39 goals and added 22 assists for 61 points. He also managed to get into 13 games with the Minnesota Wild where he scored two goals.
At 27 years old, some people may think that Mayhew has hit his ceiling but that may not be the case. He has continued to put up more points as each AHL season passes and he was well on his way to being the top point-getter in the AHL last season. Mayhew is a great play driver and knows what it takes to win games. He is willing to sacrifice his body to make a play and loves to be physical when given the chance to do so.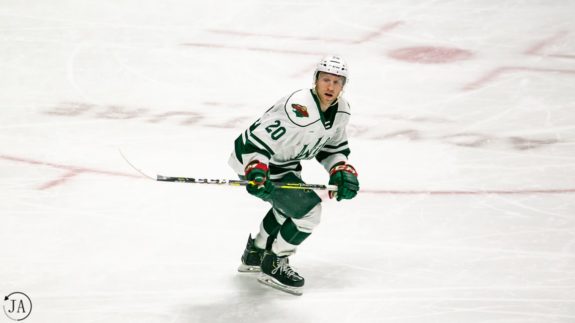 Mayhew is once again going to be relied upon by the Wild to be one of their top producers. If they wish to do as well as they did last season (they finished second in the Central Division), he will have to be the play driver that Wild fans have grown to love. He has shown that he can dominate on a nightly basis and he has been special to watch over the past few years.
If any player goes down with an injury with the big club, he will no doubt be one of the first guys called up to take their spot. If I had to put my money on someone being the leading scorer this upcoming season, he would certainly be one of the players on my list.
Sam Anas
The leading AHL scorer last season, Sam Anas formed a deadly duo for the Wild with Mayhew. The native of Potomac, Maryland managed to score 20 goals and added 50 assists for 70 points in 63 games with the Wild last season. Having recently signed with the St. Louis Blues, Anas will look to make a seismic impact when the puck drops once again.
Standing at 5-foot-8, many people have doubted Anas' abilities to make an impact but he has continually silenced any doubters throughout his playing career. While he is 27 years old and has never played an NHL game, Anas is a threat with the puck on his stick and continually make opponents look silly last season. Although he does not play a physical game, he is more than capable of battling against bigger opponents and is great at finding open teammates in the slot.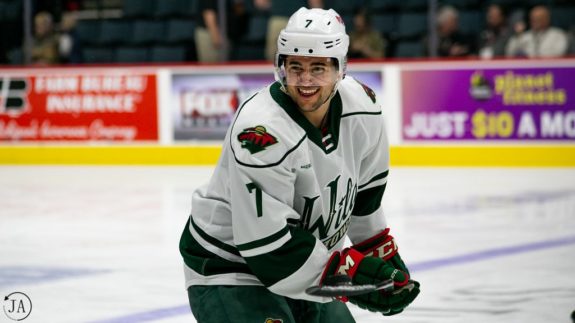 Although Anas will have to get accustomed to a new environment and new teammates, he has the chance to be a difference-maker for the Springfield Thunderbirds. Coming off a decent season where they finished fifth in the Atlantic Division, the Thunderbirds picked up one of the better playmakers in the AHL to try and help lead them back to the playoffs. If the Blues have a player go down with an injury, he could be a reliable option to come in and make his NHL debut.
Alex Barre-Boulet
One of the younger players on this list, Alex Barre-Boulet has been turning heads since the day he signed with the Lightning. Having gone undrafted, no one expected Barre-Boulet to make a big impact but he has arguably cemented himself as one of the top prospects in the Lighting organization. Playing with the Syracuse Crunch last season, he managed to score 27 goals and added 29 assists for 56 points in 60 games.
What impressed me the most about Barre-Boulet's game is the fact that he is always moving his feet on the ice. Whether he has the puck on his stick or not, he is always giving it his all and is often rewarded for his efforts. His anticipation of the play is superb and while everyone who follows the AHL knows his offensive game is great, his defensive game is impressive as well. He plays with an active stick, routinely breaking up scoring chances, and is able to transition the puck up the ice effectively.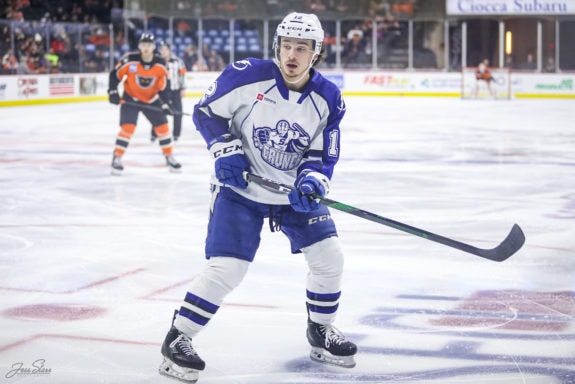 I would not be surprised to see Barre-Boulet make his NHL debut this upcoming season, but until then, he will be one of Syracuse's most important players. If the Crunch want to improve off of their fifth-place finish in the Atlantic Division last season, they will really on guys like Barre-Boulet to be at the top of their games on a nightly basis. Having just won the Stanley Cup, the Lightning are already a heavy favourite to win it again this season and knowing that they have talent on the sidelines makes it even scarier to think about.
Alex Formenton
The youngest player on this list and arguably one of the top prospects for the Ottawa Senators, Alex Formenton has been on my radar ever since he started playing for the London Knights of the Ontario Hockey League. He has blazing speed and can pick apart defencemen with his speed through the neutral zone.
While playing for the Belleville Senators last season, he made some serious noise alongside fellow prospect Vitaly Abramov and Josh Norris. In 61 games he managed to score 27 goals and added 26 assists for 53 points. Another aspect of his game that was really solid last year was his defensive play. He used his speed to his advantage and was able to get back to help out his defenders consistently. His positioning is good and he is able to read the play and adapt to the play admirably for someone so young.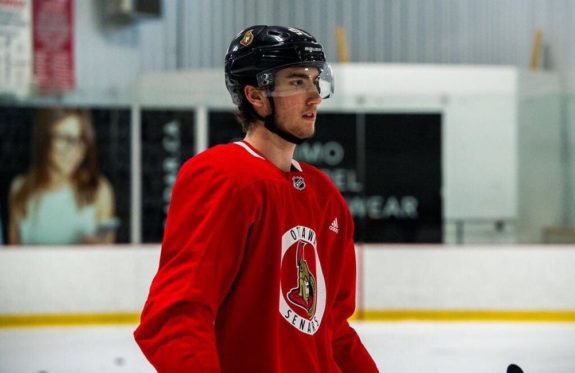 While Formenton may not start the season with the Senators, he will almost certainly see some time with the team during the upcoming season. He proved that he can be one of the better players in the AHL and it is not long till we see him suit up for the Senators in the nation's capital. Until that moment happens, Belleville fans will be in for a treat.
Kenny Agostino
The leading scorer for the Toronto Marlies last season, Kenny Agostino was one of the only bright spots for a Marlies team that struggled mightily, finishing seventh in the Atlantic Division. In 53 games, he scored 27 goals and 22 assists for 49 points to go along with 36 penalty minutes.
With the depth that the Toronto Maple Leafs have up front, Agostino will most likely not see anytime with the Leafs this upcoming season. With that being said, he will be playing an important role on a young Marlies team that needs all the veteran presence that it can get. Agostino is still a very effective player who knows how to score. He reads the play well and is very good in transition. His defensive positioning is good and with his active stick, he is able to close off passing lanes and limit scoring chances.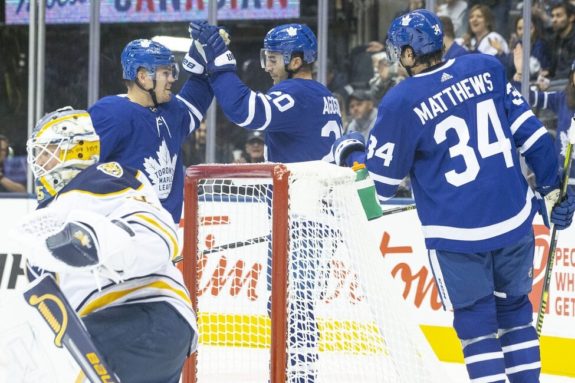 With the expanded rosters for the upcoming season, no one knows who will be on the Marlies as of yet but they will have some good options to help them with players like Agostino and Travis Boyd. At 28 years old, Agostino still has some good hockey left in the tank and it will be exciting to see how he will come out after almost a year without playing due to the pandemic.
Important Pieces
Having depth in the NHL and in the farm system is always crucial to success, and all of these players highlighted above have all made their impacts felt at the AHL level. It will be interesting to see how they fair after having been out of commission for so long. I know I'm speaking for a lot of people when I say that hockey cannot come back soon enough.
---
---