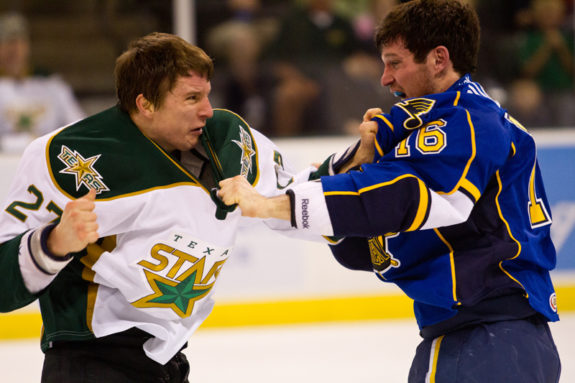 It's time to show them what you can do.
With training camps officially underway, up-and-coming players for all 30 teams have now begun their quests for NHL stardom as they battle one another for a small number of remaining roster spots.
The 2013 regular season begins on January 19, so training camps this year will be short and extra competitive, meaning that players will only have a small window with which to showcase their stuff and impress team brass.
On Sunday the Dallas Stars formally recalled six players from their AHL affiliate, the Texas Stars: Cody Eakin, Reilly Smith, Antoine Roussel, Brenden Dillon, Jordie Benn and Cristopher Nilstorp. The Stars already have 19 players accounted for on the roster so there is not enough room for every call-up to stick with the big team, but a few will certainly earn that right.
With the exception of Eakin, none of these players is currently expected to be a lock to stay with the Stars, but the other five all bring interesting intangibles to the table and any one could find himself in Dallas for the remainder of the season.
Eakin played respectably well in 30 games for the Washington Capitals last season and has been Texas' best forward so far this year with 24 points and a +8 in 35 games, making him an easy choice for extended NHL duty. Though only 21, the young center is talented and versatile, and is expected to be tried out in a variety of situations for Dallas.
Smith, Eakin's left wing linemate in Texas, leads the team in points with 25 in 37 games, but has been on fire as of late following a slow start. He had a scoreless three-game cup of coffee in Dallas at the end of last year, jumping straight there after a tremendous NCAA career, so he is clearly high on the team's prospect list, but he likely still doesn't have a roster spot guaranteed. Unless Smith has a huge camp, the big question will come down to whether Stars management thinks Smith's development will be better suited to limited minutes in Dallas or dominating weaker opposition in the AHL.
Dallas has consistently rolled with seven defencemen the past few years, and with six pro defencemen currently ready to go that leaves that last spot open for either Dillon or Benn to grab. Both defencemen looked very good in limited stints in Dallas last year and have been equally up to the task this season in Texas. They play very different styles, however, with Benn possessing more of an offensive-minded, powerplay-specialist role while Dillon relies more on shutting down opposing forwards through strength and physical nastiness. Both guys are so close to being pro-ready that this battle could go right down to the wire.
Nilstorp is enjoying a tremendous first season in North America after coming over from the Swedish Elite League. Hardly considered a young prospect at age 28, the lanky goaltender could be a real diamond in the rough as shown by his 16-10 record, 2.13 G.A.A., .916 save percentage and four shutouts so far this season in the AHL. Dallas already has Kari Lehtonen and Richard Bachman between the pipes, but Bachman might be rusty after not playing any games during the lockout and is still eligible to be sent down to the AHL without going through waivers. Nilstorp and Bachman will compete head-to-head in what will probably be the tightest competition of training camp, with the better of the two goalies staying in Dallas and the other going down to Texas.
The biggest surprise out of the call-up list, however, has to be Roussel. Signed as a free agent without much fanfare this past summer, Roussel's strong play this season in Texas has turned a lot of heads. Fast, feisty and not afraid to mix things up with opposing players, his play has rightfully drawn comparisons to infamous former Stars agitator Steve Ott. Roussel possesses moderate scoring capabilities, but physical play and penalty killing prowess will be the key skills that the Stars will be looking for out of him. Despite being the longest shot out of all the call-ups, Roussel's style of play is perfectly suited for the 4th line, so he might continue to surprise and wind up there in Dallas to start the season.
Also worth mentioning is that Brett Ritchie and Radek Faksa, two of the Stars' most valued prospects, have also been called up for camp from their OHL clubs. Both are extreme long shots to stay in Dallas, but will benefit from the early experience of an NHL training camp.