As the St. Louis Blues enter their third full season under the eye of coach Ken Hitchcock, many followers of the team suspect that this might be the deepest and most well-prepared Stanley Cup-run team in many years. From top to bottom, goal out, the Blues don't have a major weakness, looking like an NHL 15 team. Following the high-profile acquisition of Paul Stastny, important pickups such as Jori Lehtera and Carl Gunnarsson and the no-nonsense jettisoning of Ryan Miller, GM Doug Armstrong has made it clear he and ownership are tired of falling short. With a team this talented and experienced, the primary concern is whether coach Hitchcock is truly compatible with the personnel on board.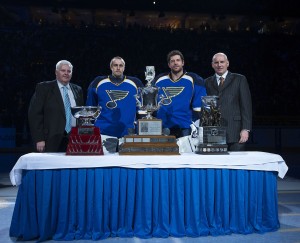 Can Hitchcock make the right adjustments?
There's no question the Blues have achieved great success in the regular season since 2011-2012, each season in the thick of President's Trophy contention. For the Florida Panthers or Winnipeg Jets that would be cause for celebration in the streets. However, outside of a few post-2004 lockout rebuilding years, the Blues have routinely had their shot in the big dance to varying degrees, only to squander promising regular seasons and leaving fans with a severe case of Blue pucks. Ken Hitchcock made an immediate impact in 2011, taking over for an overmatched Davis Payne (who, ironically, has won two Cups as an assistant in LA). However, that success needs to translate somehow in the postseason for anyone that cares about the franchise moving forward. A primary platform for criticism of Hitch has been whether he can successfully match wits and make the proper adjustments on the fly, a necessary skill in the playoffs. And there's no excuse this year especially: deep teams like Chicago and Los Angeles have coaching that can clearly do this, and the Blues sport a similar embarrassment of riches in their organization. Questions linger whether Hitchcock can properly utilize this newfound wealth to achieve at least a Conference Finals run. Many pundits speculate Hitchcock is poised to be involuntarily separated from the franchise if he can't improve things come March.
Hitchcock's regular season record with the Blues is a source of frustration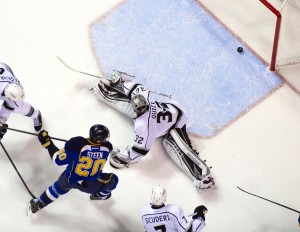 If the Blues were a fringe team, routinely scrapping to secure the seventh or eighth spot in the Western Conference, the discussion might be very different. However, the team is cresting a wave of regular season success over the past three campaigns, setting franchise records for wins and points along the way. Common sentiment among many in the Blues fan base is that this is working against Hitchcock's potential longevity as coach, since gaudy regular season success indicates teams that have it are talented enough to beat almost anyone with regularity. This talent base doesn't change dramatically — barring significant injuries of course — but even then, any team with legitimate depth and a coach that knows how to plug holes effectively shouldn't use this as an excuse. The fact that the Blues have routine success with nearly 180-degree turns in the postseason indicates something else is going on outside of the players' ability to win. Ownership and management have made the commitment, and most players on the team have more than proven their worth. Only one variable remains, and he's behind the bench.
The personnel is in place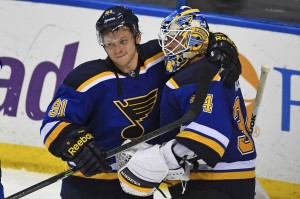 The St. Louis Blues commonly place in the top five in the NHL's power rankings, behind Stanley Cup winners and sometimes everyone's persistent favorite Anaheim. Ken Hitchcock's issue isn't ability — he's 657-405-178 in 1,240 regular season games — it's compatibility. Competent and smart people are fired everyday in the workforce not due to a lack of talent, but to an often ambiguous thing called "fit." Either the culture is misaligned or the messaging isn't resonating at the most important time of the year. Looking at the team's projected opening night lineup, it looks as if they could win by substituting nearly anyone in and out of four lines at will. From October through February, this is acceptable. When the game changes to a higher level of cerebral planning in March, matchups matter more and teams can't just hit the ice and skate off with a win. With enormous potential and more buzz around the team within possibly the last two decades, this may be coach Hitchcock's last chance to prove he belongs in the same breath as Sutter, Quenneville and Julien.
Freelance writer and public relations practitioner. 20+ years in goal and long-time Blues fan.