Much has been made about the Edmonton Oilers and the amount of recent top end draft picks that they have featured in their lineup.
In fact to start the 2014-15 season, the team will ice a roster that has their last six consecutive first round picks all in the lineup together and seven of the last eight if you include Jordan Eberle.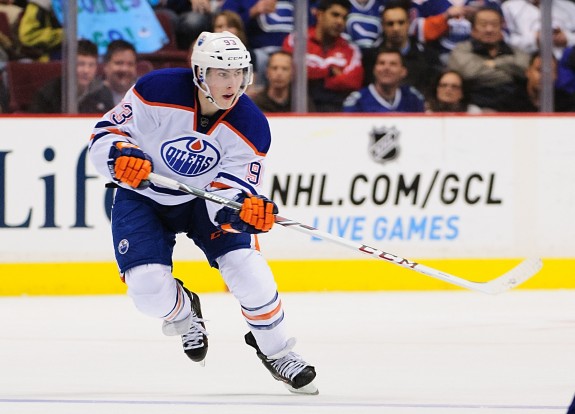 2014 – Leon Draisaitl (#3)
2013 – Darnell Nurse (#7)
2012 – Nail Yakupov (#1)
2011 – Ryan Nugent-Hopkins (#1)
2011 – Oscar Klefbom (#19)
2010 – Taylor Hall (#1)
2008 – Jordan Eberle (#22)
Certainly players like Hall, Eberle and to a lesser extent Nugent-Hopkins, have already proven to be on their way to being productive NHLers if not stars in the league.
The issue is that if you look past the first round, there are very few success stories in Edmonton. The team has struggled over the past decade with providing impact depth players from the later rounds.
Jeff Petry Stands Alone
With Martin Marincin, Tyler Pitlick and Anton Lander being sent down to Oklahoma City, Jeff Petry is the lone Oilers product on the current roster to be drafted by the team outside of the first round.
Petry was drafted in the 2nd round (45th overall) in the 2006 NHL Entry Draft. He made his debut in the 2010-11 season and has established himself as a regular on the Oilers blueline since that time.
The American born defensemen has played 236 games as an Oiler, far and above what any other player in the system outside the first round has done.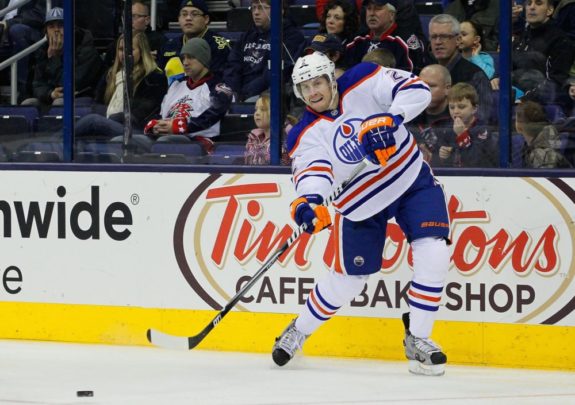 Last Decade Has Been a Disappointment
It's not only over the past few years that there has been little impact from players drafted after the first round, it's gone on much longer than that.
There have been only a handful of players even establish themselves as NHL regulars let alone contributors in the past 10 years. Few have played what amounts to more than a full NHL season. Here's a look at the games played leaders over the past decade.
Jeff Petry – 45th overall – 236 games
Theo Peckham – 75th overall – 160 games
Liam Reddox – 112th overall – 100 games
Anton Lander – 40th overall – 94 games
Linus Omark – 97th overall – 79 games
Taylor Chorney – 36th overall – 61 games
Danny Syvret – 81st overall – 59 games
Teemu Hartikainen – 163rd overall – 52 games
Of the group only Petry and Peckham have stuck with the team over a full NHL season and have been a regular in the lineup and even Peckham struggled to stay in on a nightly basis.
Anton Lander was one of those players who was expected to become an anchor in the bottom six for the Oilers as a productive two way centre. He still has time to become that but time is running out and he will again start the year in the AHL. At 23 this is the sixth Oilers training camp he has been a part of and yet to establish himself. In his 94 games over three seasons he has managed just 2 goals and 8 points and is a minus 22.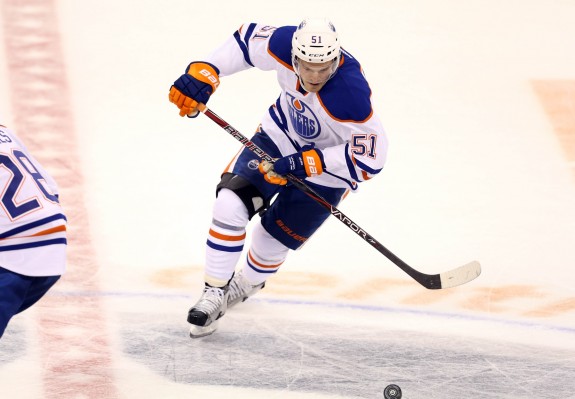 At some point this season Anton Lander will be traded. #Oilers have given him numerous chances to become an NHL regular. Too inconsistent.

— Shane Sander 🏒 (@SanderEDM) October 6, 2014
Even if you consider Petry and Lander as two of the more successful picks outside the first round, they were chosen in the second round which does carry some expectation.  It just goes to show how little the team has for success in the later rounds.
Depth is Crucial to Success
When you look at the most recent Stanley Cup winners, they have former first round, blue chip talent in their lineup and leading the way. Los Angeles had Drew Doughty and Anze Kopitar and Chicago Jonathan Toews and Patrick Kane over the past few seasons.
However if you look deeper into their lineups, they also had significant contributions from other homegrown talents.
The Kings had important depth players such as Dwight King, Tyler Toffoli, Slava Voynov and Alec Martinez, all players drafted by the team outside of the first round.
The Blackhawks complemented Toews and Kane with Andrew Shaw, Brandon Saad, Bryan Bickell and Marcus Kruger, all of whom drafted outside of the top 30.
Even in 2011 with the Boston Bruins, they had stars Patrice Bergeron, David Krecji and Milan Lucic front and centre, and all three were Boston second round picks. Not to mention Brad Marchand who was a Bruins third round pick.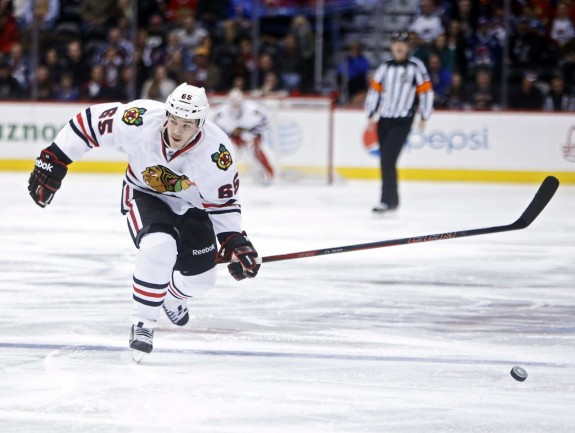 ****
The Oilers certainly have more first round picks in their lineup at one time than most, and perhaps that will be enough to carry them through. They have added some complementary pieces to those top players in an effort to balance their lineup this season, but at considerable cost.
In the age of a salary cap teams with long term success are able to use their farm system to supplement their NHL roster and fill in many of their depth holes. It is far more cost effective and more often than not it is players that they are familiar with coming up through the ranks. 
It's an inexact science and even the good teams miss more than they connect, but they do connect on a few. Something the Oilers cannot claim.
Not everyone can be the Detroit Red Wings and find steal after steal but at some point a team needs to be able to justify all the work their scouting staff does.
Recent draftees such as Mitch Moroz, Bogdan Yakimov, Jujhar Kahaira or Greg Chase among others have shown early promise, and the Oilers hope some turn into productive regulars.
However until that happens, the Oilers appear to be destined to troll the free agent and trade markets each year searching for the depth they wish they had in their system.
__________________________________________________
Follow Carl on twitter @CarlTHW or Google+ for more articles
Carl covers the Edmonton Oilers for THW as well as providing additional prospect coverage. Follow him on twitter @carlTHW, connect on Facebook or contact at carl.maloney@hotmail.com for questions, comments or if you're interested in him writing for you.