Humpty Dumpty sat on a wall,
Humpty Dumpty had a great fall.
All the king's horses and all the king's men
Couldn't put Humpty together again.
Humpty Dumpty may have been beyond hope, but under the steady leadership of General Manager Dean Lombardi, the Los Angeles Kings appear to have finally been built to last.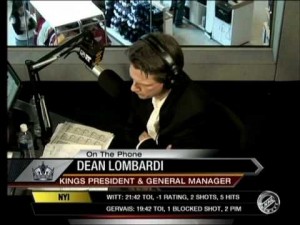 It was a vastly different league when the Kings initially joined the NHL. The "Original Six" — the Chicago Blackhawks, Montreal Canadiens, Toronto Maple Leafs, New York Rangers, Detroit Red Wings and Boston Bruins — had represented the entirety of the league for 23 straight years. In a bold expansion effort, the league doubled in size for the 1967-68 campaign, adding the Los Angeles Kings, California Seals, Minnesota North Stars, Philadelphia Flyers, Pittsburgh Penguins and St. Louis Blues.
Initial mismanagement
Portending things to come, Los Angeles whiffed on its very first draft pick in selecting defenseman Rick Pagnutti first overall, a prospect who ultimately never played a single game in the NHL. Shortly thereafter, the Kings went six straight seasons without possessing a first-round pick due to one trade or another, and after a short period in the late 1970's/early 1980's in which they retained their picks and selected players such as Jay Wells, Larry Murphy, and Jim Fox, went back to their dubious ways in 1981, trading away first rounders in six out of the next twelve seasons.
The lack of a plethora of good, young top-end talent, combined with generally-weak drafting when they managed to retain their picks, kept Los Angeles on the periphery of success for most of their first twenty years in the league. This was true despite the franchise icing its prolific "Triple Crown Line" (Marcel Dionne, Dave Taylor and Charlie Simmer) during the late 1970's through mid-1980's.
The Grezky era
And then, it came: the trade.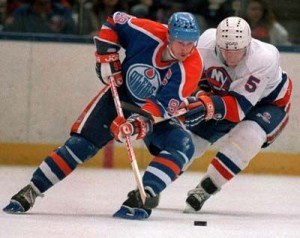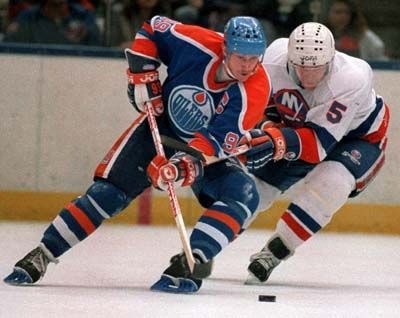 On August 9, 1988, Wayne Gretzky, Marty McSorley, and Mike Krushelnyski were traded to Los Angeles for Jimmy Carson, Martin Gelinas, two first round draft choices and $15 million in cash. Not only did Edmonton moving Gretzky to the Kings shake the NHL to its very foundation, but it served as the catalyst to the team's only division championship (1990-91) and Cup run (1992-93). Alas, the Gretzky era did not result in a championship, and after their Finals appearance, the team sank back to the depths of the NHL, missing the playoffs five out of six campaigns during the late 1990's.
Due to the string of losing seasons, along with the crash of former owner Bruce McNall and both his and the club's bankruptcies, Gretzky's relationship with the team ultimately soured, culminating in his trade to the St. Louis Blues for Patrice Tardif, Roman Vopat, Craig Johnson and a couple of draft picks.
The LAPD Line
The Dave Taylor era, which started in 1997, saw the Kings rise to respectability once again between 1999-00 and 2001-02, as their top line of Jason Allison, Ziggy Palffy and Adam Deadmarsh lead the club to three straight playoff appearances, including an epic Quarterfinals victory over the Detroit Red Wings in 2000-01. However, their brief momentum was derailed by record-setting numbers of injuries over the following two seasons, with all three stars missing huge amounts of time and ultimately off the team by 2003-04.
The net result from expending all the capital necessary to acquire the three headliners who saw their careers cut short early was yet another rebuilding period. Three seasons later, Dave Taylor was fired and replaced by Dean Lombardi.
The Lombardi era
Before taking over in Los Angeles, Dean Lombardi had previously served as General Manager of the San Jose Sharks from 1996-2003. Even though he was fired in 2003 due to his teams' sporadic on-ice success, his drafting of Patrick Marleau, Brad Stuart, Scott Hannan, Marco Sturm, Marcel Goc, Ryan Clowe, Jonathan Cheechoo, Mark Smith, and Christian Ehrhoff, along with trading for Owen Nolan, Teemu Selanne, Adam Graves, Vincent Damphousse, Mike Ricci, Kyle McLaren, and Mike Vernon, helped set the stage for the five division titles to follow.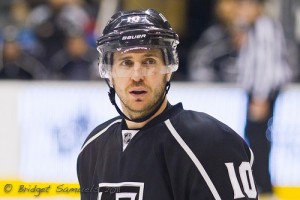 Lombardi's draft-centric focus has continued in Los Angeles. In his early seasons, he stockpiled picks from various trades, resulting in the selection of 29 prospects between 2007-09 alone. Rebuilding the farm system has been a major focus, both for future callups along with providing the necessary capital for subsequent deals. Lombardi has also been a proponent of acquiring players on long-term deals or locking up younger players to cost-certain contracts; thus, six key players are locked up through 2014-15 or later, headlined by the Richards and Carter deals that run into the next decade.
Youth has been a third tenant of the rebuilding process. Despite the trades of the past season, the Kings still have one of the youngest teams in the NHL. As of this writing, only Willie Mitchell and Rob Scuderi are over 30.
Lombardi's acquisitions
The Kings' gradual rise under Dean Lombardi can trace its DNA to the Dave Taylor era, with lynchpin players Anze Kopitar, Dustin Brown and Jonathan Quick selected during his regime. Other key players components were obtained as follows:
Justin Williams: Acquired via a 2009 trade with the Carolina Hurricanes that sent Patrick O'Sullivan and a second round draft pick to Carolina for Williams.
Mike Richards: Traded by Philadelphia to Los Angeles in 2011 with Rob Bordson for center Brayden Schyenn, right winger Wayne Simmonds and a 2012 second round draft pick.
Jeff Carter: Acquired near the 2012 trade deadline from the Columbus Blue Jackets for defenseman Jack Johnson and a conditional 1st round draft selection.
Jarret Stoll: Traded by Edmonton with defenseman Matt Greene for defenseman Lubomir Visnovsky.
Dustin Penner: Acquired at the 2011 trade deadline from Edmonton for defenseman Colton Teubert, a first round pick and a conditional second rounder.
Brad Richardson: Traded by Colorado to Los Angeles for a 2nd round pick in the 2008 entry draft.
Dwight King: Selected in the fourth round of the 2007 entry draft.
Kyle Clifford: Selected in the second round of the 2009 entry draft.
Jordan Nolan: Selected in the seventh round of the 2009 entry draft.
Colin Fraser: Traded by Edmonton along with a 2012 7th rounder to Los Angeles for left winger Ryan Smyth.
Drew Doughty: Drafted second overall in 2008, behind Steven Stamkos (Note: had the Kings lost their final game of the 2007-08 season in regulation instead of overtime, Stamkos would likely be in Los Angeles instead of Doughty).
Willie Mitchell: Signed as a free agent in 2010.
Rob Scuderi: Signed as a free agent in 2009.
Matt Greene: Acquired in the Jarret Stoll deal listed above.
Viatcheslav Voynov: Selected in the second round of the 2008 entry draft.
Alec Martinez: Selected in the fourth round of the 2007 entry draft.
Jonathan Bernier: Selected in the first round of the 2006 entry draft.
Summary
The Kings head into their Western Conference finals series versus Phoenix in virtually uncharted waters. While early navigation of the franchise tended to eschew a slow, steady building process in favor of attempted quick fixes, the Dean Lombardi era has seen a full rebuild executed within the span of five years. The net result has been three straight playoff appearances and, for the first time since Gretzky donned the silver and black, a Conference Finals appearance.
In the Phoenix Coyotes, Los Angeles plays their virtual twin, a team that plays a physical, disciplined style and has a lights-out goaltender between the pipes. Regardless of the eventual outcome, they have come a long way under Dean Lombardi, who knows that if you want to make an omelet, you have to be willing to break a few eggs. Just don't call his club "Humpty Dumpty" anymore.