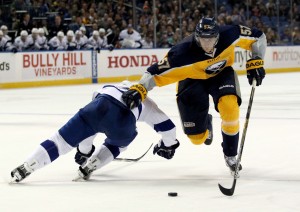 We've all heard the sarcastic comments concerning GM Kevin Cheveldayoff and his lack of trades over the past few seasons. Nicknames like "Chevel-SummerOff" or "Chevy-TakesDaysOff" have been heard in coffee shops, lunchrooms and in the stands at games for the past two years. I know I'm guilty as anyone. However, in less than a month, Kevin Cheveldayoff has silenced all of those voices, by showing them and everyone else why he was brought in as the GM for the Jets.
Kevin Chevaldayoff made it clear when he took over as the GM for the Jets that the plan was to build a team from within and through the draft. The fans in Winnipeg had no problem with that idea and were just happy to have our beloved Jets back. However, after the first few seasons garnered no post season action for Winnipeg, fans and media alike started to question the mentality of building from within. Chevy would make the odd trade or free agent signing but many of them were gone after a season. Fans were getting sick and tired of having to settle with a recall of Patrice Cormier as the big move of the month.
Silencing The Masses
On February 11th, 2015, Kevin Cheveldayoff forever changed the look and perception of the Jets by shipping Evander Kane, Zach Bogosian and unsigned goaltender, Jason Kasdorf, to Buffalo for Drew Stafford and Tyler Myers. The trade that had been talked about, gossiped over and called on by fans had happened- and it was as bold and brazen as any.
Cheveldayoff had silenced the critics who said he was "gun-shy" but he was far from done. A mere two weeks later, Chevy sent two picks to Carolina in exchange for former Toronto first round pick, Jiri Tlusty, who had 23 goals in 48 games during the year of the lockout. The coffee shops and lunchrooms were now beginning to praise the former Brandon Wheat King, turned GM, for his savvy acquisitions, thinking that this was the team he was going with for the remainder of the year.
On March 1st, Chevy topped off his busiest month as GM by acquiring Lee Stempniak from the New York Rangers for Carl Klingberg, a player who much like our friend Cormier, was having a tough time sticking with the Jets. Lee, another winger, has played for five different teams before coming to the Jets. In his second season with St. Louis, Stempniak finished the year with 52 points in 82 games.
Intangibles
At first glance and to maybe play a bit of the devil's advocate, one might look at the recent flood of activity and say so what? Myers hasn't played well since his Calder winning rookie season. Stafford is overrated and Stempniak is over the hill already. However, just like Kevin Cheveldayoff, the man responsible for these trades, there is more than meets the eye when it comes to these acquisitions.
Winnipeg Jets fans want a playoff series, nothing less will not be tolerated. However, on a relatively young team where many players have never made the playoffs or some not since 2010- wouldn't you want guys who have been there to lean on? Or more importantly, guys that know what it takes to get there? When Cheveldayoff acquired Stafford, Myers and Stempniak that is exactly what he addressed, by adding three guys who have at least made the playoffs twice over their careers. February was a whirlwind and I can't imagine what March will bring as the Jets look for that first ever playoff birth since the move.
Former CJAHL hockey player turned coach, turned scout.